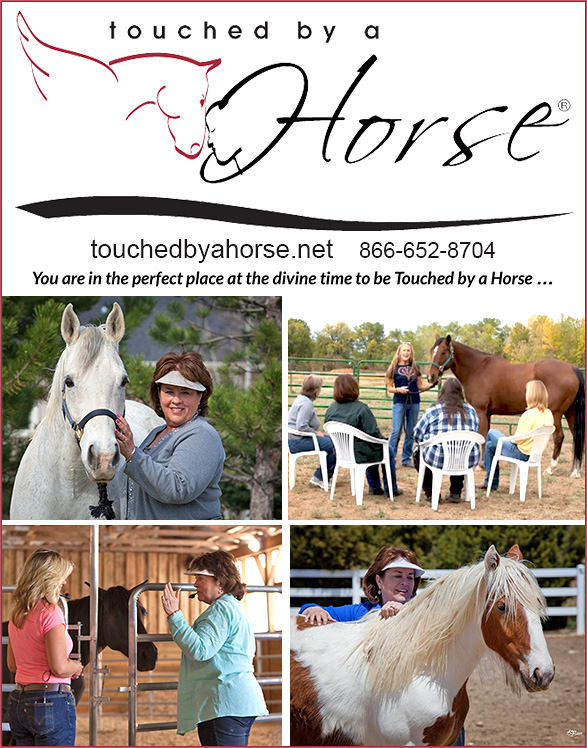 Touched By A Horse Equine Coaching Certification by Melisa Pearce
The Touched by a Horse Certification© Program trains women and men all over the world to step into their higher callings as coaches and, with their equine partners, help people create better outcomes for their lives.


Your Exciting Equine Career Can Begin Today!
You can create your own unique Equine Gestalt Coaching Method career with Melisa Pearce, a core founder of the horse-human healing movement since 1989, and the Touched By A Horse® Certification Program—the only EGCMethod® Certification Program in the U.S. and Canada. This highly comprehensive program fully prepares you for a change in careers in the exciting and expanding industry of equine supported healing and coaching.

Do I Need To Be A Horse Person or Therapist To Qualify?
No! Our students range from the equestrian expert to the novice who has never been around horses. Similarly, we have experienced coaches/therapists enrolled in the program, as well as those who have never even considered a coaching career. The Touched by a Horse® (TBAH) Certification Program is a fully-integrated program that offers the opportunity for anyone to develop a career in Equine Gestalt Coaching, no matter your background or expertise. Over the course of the two-year program, you will gain a wide range of skills in deep process Gestalt coaching and human dynamics, somatics (body awareness) and intuition, horsemanship and equine knowledge, facilitation, business development and marketing. A commitment to your own personal growth, a desire to learn, and a love and respect for horses is all that is required to start your journey with TBAH.

Is This An Animal Communication Program?
You will experience and practice essential elements of equine communication through the program, but it is not an animal communication certification. Many animal communicators are attracted to our program, and many students discover their gifts as animal communicators while in the program.

You will develop (or discover!) your natural intuitive abilities through this program. You will strengthen your ability to connect with your horse at a deeper level. You will learn to read the body language of horses and work with the energetics of their chakras as well as your own, as a form of communication. You will develop a common language with your equine partner as you get to know each other in a new way, as co-coaches in an exploratory experience with your client.

How Is Melisa's ECGMethod© Different From Other Types Of Coaching?
The EGCMethod® is different than any other type of equine coaching you may have experienced or seen. Melisa's fully integrated method takes the work far beyond the reflective round pen techniques or the "games" oriented approach of other programs. This is a deep process technique based on Gestalt principles that fully honors the insight of the horse as they partner with the coach in the coaching and healing process.

Using their combined wisdom and intuition, the EGCM coach and their equine partner guide clients through an in-person, on-the-ground exploratory experience (clients typically do not ride the horses). Working together, they help clients isolate the unfinished business that is causing them pain or blocking their path to success and happiness. Then, through experiential interaction, they assist their clients in clearing the energy that has been holding them back or keeping them from their best self. The human/horse connection and methodologies taught in the EGCMethod can be applied to any life situation where healing or personal growth is being called for: grief and loss, addiction, family and personal relationships, life purpose/soul work, leadership and business dynamics, and more.

See Our Video ABout EGCM Below:


Why Use Horses?
Horses are highly intelligent spiritual beings and divine healers. Most of them want to help humans discover their own spiritual natures and inner greatness so they can live more fulfilling and joyful lives. In her unique method, Melisa teaches you how to partner with your horse in a co-active coaching environment that taps the innate spiritual being of your horse and their desire to help humans achieve greater awareness. As you develop your skills as an Equine Gestalt Coach, your equine partner will reveal their strengths and preferences as healers and coaches as well. In this work, horses are never considered tools for healing or objects to mirror people. We fully honor the horses' part in the process and invite them to be our partners. They are our colleagues and teachers!

What Inspired Melisa To Develop This Program?
Melisa is a lifelong horsewoman, entrepreneur, and psychotherapist. Through her therapeutic Gestalt work with clients at her ranches, Melisa discovered her clients became more grounded and secure when working with horses. She began to offer experiential workshops and retreats to expose people to the beauty and wonder of horses. Over and over again, the horses helped people examine how they had chosen to create their past and how they could create a better future. Over the years, Melisa developed her own Equine Gestalt Coaching Method, an integrative approach of horse interaction combined with positive coaching and Gestalt guidance that assists clients in examining their life and choices made with a focus on designing a positive future. Melisa began receiving requests from people who wanted to apprentice with her to learn her unique method, and from there, the Touched by a Horse® Certification Program was eventually born.

What Can I Expect To Learn With Melisa?
The intensive 500-unit curriculum includes Six Core Competencies:

Human Dynamics: Melisa is an expert in human dynamics, a trained Gestalt psychotherapist, and a Master Coach. She has been a private practicing psychotherapist and taught a 400-hour Gestalt certification program. Melisa has been practicing her own Equine Gestalt Coaching Method with private clients for over 20 years.

Equine Knowledge: Melisa is a lifelong accomplished horsewoman, has taught riding, won two World Championship American Paint Horse Association awards, bred over 200 foals, and owns multiple ranches. Melisa lectures nationally at Equine Affaire and Equine Extravaganza and was named one of the Top 50 Most Influential Horsewomen by Horse South Magazine in 2008.

Intuitive Insight & Somatics: Melisa lectures nationally on Energy Fields and Horses. She is an intuitive reader of horses. She is the author of Whispers from a Horse's Heart, a spiritually influenced card deck for inspiration; Wisdom's Journey, a guided 3-CD series to discover and create your future; and "Eponalisa: a Life's Purpose Parable;" as well as co-author on several other projects.

Facilitation: A lifelong teacher, Melisa is a Master Instructor and has facilitated retreats for executives, sales teams, families and individuals for over 20 years. She won the Editor's Choice Best Spiritual Retreat in Denver's 5280 Magazine.

Coaching: Melisa has been a life coach, professional business coach and has trained other coaches in several areas of expertise, including her own EGCMethod.

Business Development: Melisa is a highly successful entrepreneur and owner of several companies. She is a top expert in coaching individuals and teaching innovative professional marketing programs to elite entrepreneurs. She is a skillful instructor in how to use creative marketing skills to coach organizations to success.

Hear What Our Graduates Have To Say...




The coaching program provided me with a superior, comprehensive, training experience that far exceeded any of my expectations! I have been with horses throughout my life but not until I was in the program did I experience the true healing nature of our beautiful equine partners. What an incredible opportunity to learn, grow, transform and step into my vision!
Brenda Westwood, Montana


Becoming a certified practitioner in the Equine Gestalt Coaching Method has been, hands down, the BEST decision I have made, personally & professionally, to date! Not only do I feel I have trained with the best of the best, Melisa Pearce, I have learned a method that can assist people in literally changing the trajectory of their lives, increasing their joy and empowering them to live life full out, relieved of the baggage that has kept them stuck. And, as if that isn't enough, I get to do that in full partnership with horses.
Sara Sherman, Minnesota

What Will I Be Able To Do With My Certification Once I Have Graduated?
Touched by A Horse© Certification Program includes everything you need to become a successful entrepreneur in your own EGCMethod business, including an in-depth two-year curriculum with hands-on coaching experience; an active, supportive community that will nurture your growth as a business person and coach; a true certification — not just a certificate — to show you know what you're doing; and business education that will help you market your new skills. The program equips you with the skills, knowledge, and confidence to make this your full-time profession, should you choose that path.

Students are encouraged to create their unique vision of their ideal practice; every participant is challenged, supported and guided through private 1:1 and group coaching. Melisa and her team of coaches help each student to find their specific talents as they develop their niches, brand, and unique coaching style.
Note: There's a need for skilled practitioners in this industry—you and your equine partner could be on your way to a new, exciting future that will change your life and the lives of your future clients!

Is There Really A Demand For This Kind Of A Career?
Yes! More than you know. Dedicated students who complete our program are making $200 an hour and are booked days and weeks in advance! In fact, Melisa has more requests and demands for her work nationally than she can perform herself. TBAH is a strong community of practitioners who support each other through referrals, as they know they can trust each other with competent work.

What Is The Program Investment? (cost, time, etc.)
The Certification is a two-year commitment. Weekly classes are offered in the evenings via teleseminar format. All calls are recorded and archived if you can't attend them live. The curriculum is an intensive 500-unit course covering a wide range of topics (see "What can I expect" section for details). Students are required to attend eight experiential, hands-on intensive CORE Workshops at Melisa's ranch near Elizabeth, Colorado or other TBAH locations across the United States and Canada. The investment for the Certification program is approximately [$dollars], not including your travel costs to attend CORES.

What Support Is Available To Me After I Graduate?
Touched by a Horse is a thriving community, a close-knit "herd" of students and graduates. Upon graduation, you are encouraged to stay connected and continue your learning.
Some of the post-graduation opportunities include:

Annual SUMMIT featuring guest speakers, networking and business opportunities as well as furthering the sense of community and professional camaraderie.
Opportunities to take special courses and training from some of the industry's leading minds in business, personal and professional development, and equine science.
A Continuing Education Unit (CEU) program that assures program participants remain current on skills and methodologies.
Marketing Community that is free to all graduates where Melisa personally assists in further development of graduate careers.
Active Facebook group provides invaluable connection, networking, support, and sharing.
The EGCM Association is an organization made up of EGCM® certified practitioners that protects the values, integrity and ethics of the EGCM program.
How Do I Apply For- or Get-- More Information?
Please visit our website and don't hesitate to call! There, you can read more about the program and request a program handbook. We also have several informative videos that will give you a really good understanding of who we are and what we're all about! Please get in touch with us today.

---
Contact: Melisa Pearce
P.O. Box 1490
Elizabeth, Colorado 80107
Phone: 866-652-8704 or 303-440-7125
Email:
Website: Click Here To Connect

---