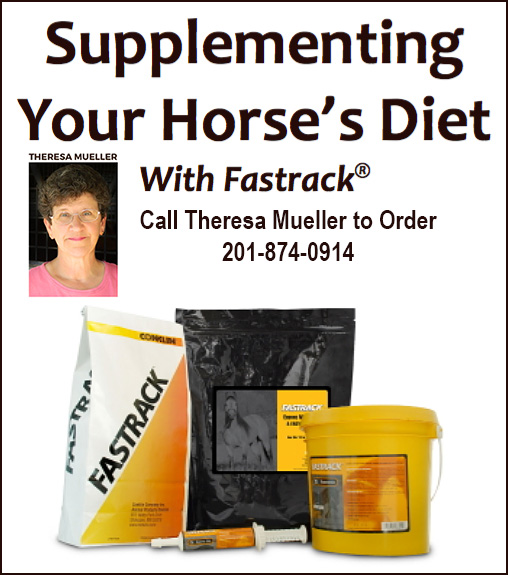 FASTRACK by Conklin
Conklin's Equine Fastrack product line provides a host of benefits, the most important being that it supports the digestive and immune systems.



The Company
Conklin has been in business for more than 40 years as a manufacturing and distribution company with more than 130 products across six major divisions. Its mission is to serve and support Americans in the fields of Agronomics, Animal Production, Building, Health & Home, Vehicle, Lawn and Garden products. Every product has the company's personal commitment to provide the best product and service.

As a family owned company, it acquires the best resources to produce outstanding products! Conklin understands quality is one key element in order to remain successful year after year because results matter!

Conklin's Years in Service Have Been Able To Withstand Market Volatility. Why?
It is simple. It's done by word of mouth and supported by individual business owners. These are individuals, like me, who have used the products and shared them with others because of their success! As a user of Conklin's Fastrack equine products I can tell you honestly and sincerely how well they work and why I continue to use them. As an independent business owner I can provide you the best advice or suggestion on which product to use based on your needs. We are not in some foreign country reading from a script over the phone. Conklin realizes its strengths are in the people who use and share its products. Word-of- mouth advertising for quality products and personalized customer service equals success!

This Chinese proverb sums up how we do business in Conklin:
When someone shares something of value with you and you benefit from it, you have a moral obligation to share it with others.

In 2015 Conklin Celebrated 30 Years With Fastrack!
Conklin has been—and continues to be—a leader in the animal direct-fed microbial field long before it was fashionable and trendy! In the 1980s Conklin scientist, Dr. Eugene Sterns, recognized and understood the role of direct-fed microbial, known today as probiotics, in response to animals' digestive systems. As a result there are 16 different direct-fed microbial products for equine as well as animal producers and domestic animals.

How Do I Know If My Horse Needs Direct-Fed Microbial (Probiotics)?
If your horse is breathing, it needs a probiotic! I am not being smart or funny, I am serious! A direct-fed microbial shouldn't be reserved for when your horse is sick, but rather, it should be part of your horse's daily health maintenance program for life. A balanced, healthy gut helps to keep your horse healthy.

Under What Conditions Should I Include Probiotics In My Horse's Feed?
As stated above, we recommend using probiotics consistently for overall health. By including probiotics in your daily routine, your horse may be able to better handle the stresses of everyday life. These include:

Environmental stress
Weather: Changes in barometric pressure can impact the horse's digestive system by upsetting the pH in the gut. Think about this… Do you experience joint pain or other discomforts when the weather changes?
Herd group dynamics: Is it possible there is a bully in the herd that upsets your horse?
Travel from one location to another; for example, to multiple shows.
Hospital stays
Bouts of diarrhea or a watery stool
Reproductive stress for broodmares before and after birth
Medications. Make sure you understand the side effects of ALL medications, including antibiotic therapy and Bute.
Illness. An illness generally stresses the digestive system. Do your homework when your horse is diagnosed with an illness!
Changes in feed and quality of hay and forage. If the hay or feed you buy is deficient in certain nutrients, then your horse isn't getting those nutrients that are necessary to support a healthy digestive system.
Probiotics also support a newborn foal with beneficial organisms.
Will Feeding Fastrack Prevent Colic?
There are many theories on what causes colic, and it is complicated. One school of thought is that a greater concentration of grain can potentially put a horse at greater risk for colic.

Supplying the right combination of direct-fed microbial such as Lactobacillus acidophilus, Enterococcus faecium, or Saccharomyces cerevisiae, could facilitate better digestion and absorption of starch and glucose, thus decreasing the amount of undigested starch that can cause digestive upset in the large intestine.

Note: There are no known products, including Fastrack, that prevent or treat colic. We recommend using probiotics because we are beginning to learn and understand the role of a direct-fed microbial in facilitating a healthy balanced gut.

The Feed I Currently Purchase Includes Direct-Fed Microbial, So Why Supplement With Fastrack?
Many animal feed manufacturers have added probiotics into their feed; however, I can't tell you whether or not they are sufficient. Direct-fed microbial are very sensitive to temperature changes, moisture and heat. Is the feed heat-pressed, and at what temperature? What is on the label? What the animal actually consumes may be different due to the manufacturing process and time spent in storage and shipping.

Can Probiotics Help Manage My Horse's Weight?
Whether your horse is underweight or overweight, probiotics support the digestive system by helping to manage the metabolism. You want to ensure it has the proper nutrients to facilitate the digestion and nutrient absorption process. Direct-fed microbial support the breakdown of starch to glucose and supports fermentation in the large intestine. This complex process plays an important role in managing weight.

What Differentiates Fastrack From Other Competitors?
Testing guaranteed analysis: Conklin tests its product, beginning with the purchase of raw materials and again at the time of packaging. Samples are taken from each batch, labeled and kept for years to ensure at the time the sample was taken the number of colony forming units (CFUs) is what is on the label!

The Conklin Company has gone to great lengths to preserve the quality of the probiotics in its packaging and in its shipping policies and practices. Instructions are provided on the proper care of your product to ensure its viability so you get what you paid for and your horse gets what it needs! With Conklin Fastrack your horse will get what is on the label, providing you practice proper storage of your product. This is very important to understand.Conklin Sponsors Fastrack Training Programs to anyone who is interested in attending. How many manufacturers offer this?

Longevity. Conklin has been creating direct-fed microbial for 30 years.
Diversity. All of Conklin's Fastrack products contain a diverse set of direct-fed microbial.

What Benefit Do Most Horses Experience With Fastrack?
Your observation will be the best indicator, so be observant. You may notice change in your horse's coat, eyes, and the amount of feed consumed, bowel movements, and even behavior. It is different for every horse.

Says Theresa Mueller,
The first observation I had with my horse, Dakota, was attitude. He felt better within a few weeks and was a happier horse. He looked alive and wanted to engage in activities. Prior to feeding probiotics, Dakota was heat-sensitive and would rub constantly against the barn causing open sores. Within a few weeks, the rubbing diminished and his sores healed. He looked the best he had in years! This is why I became a Conklin independent business owner; if I could help Dakota, I might be able to help someone else.

When Will I See Results If The Fastrack Is Working?
Every horse is different. Some horses are more compromised than others so it may take longer to observe results. My recommendation is to try Fastrack for at least two months. For best results, be consistent with its use. If you are not observing results, give me a call and we'll review your protocol. You may have to modify it before you observe any changes.

Note: Health challenges will take time so have patience with the process. We are here to help you, so don't hesitate to call us. If we don't have an answer, we will research and help you find the answer, so we can all learn together.

When I Worm My Horse, Should I Use a Direct-Fed Microbial (Probiotic) and if so, How Should It Be Administered?
We recommend that you wait approximately 48 hours after you worm your horse before using a Conklin Fastrack product. My personal preference is to use the gel and double the dose. If you usually give 2 ml, then double it to 4 ml after worming. I use it until the tube is finished (one per horse), then I resume the equine microbial routine.

Call Theresa Mueller Today To Order Your Fastrack From Conklin
Your horse deserves a healthy digestive system that has the capability of absorbing all the beneficial nutrients you are feeding from both hay and grain. Theresa Mueller is an authorized FASTRACK dealer. Make sure FASTRACK is part of your supplement program and see the difference your horse will feel!

---
Contact: Theresa Mueller
P.O. Box 23
West Milford, New Jersey 07480
Phone: 201-874-0914
Email:
Website: Click Here To Connect

---