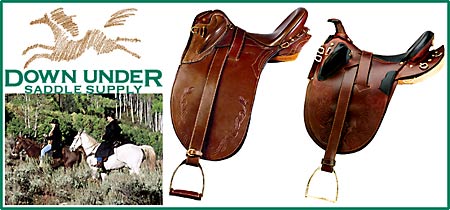 Down Under Saddle Supply
Australian Saddles offer both superior security to rider and overall comfort to the horse!

Why Ride Australian?
The Australian saddle was designed nearly 200 years ago to deal with dangerous riding conditions, long hours in the saddle, and an unforgiving landscape. We feel that it remains the best saddle available for trail riding, ranch work, and endurance riding. Here's why:
Improved Rider Comfort
The Australian saddle naturally puts the rider in a balanced position, with the feet slightly forward of the hips. This results in better weight distribution, with less stress on the knees.
The 2 ½ inch leathers make it easy to turn the stirrups in the correct position.
The suspended seat system has far more "give" to it than a Western saddle, making it possible to ride longer in comfort.
Better Comfort And Fit For The Horse
Most Australian saddles are far lighter and compact than their Western counterparts. In addition to being more comfortable for the horse, the Australian saddle will fit a broader range of horses.
Australian saddles sit more forward on the horse's back than traditional Western saddles, with the stirrups in a more forward position. This places the rider's center of gravity and weight over the load bearing muscles of the horse's shoulders rather than the middle of the back.
The serge panels used on most Australian saddles gives extra padding for the horse's back. These panels will actually conform to the shape of the horse's back over time, giving a custom fit.
Greater Rider Safety And Security
The feature that is common to all Australian saddles are the "poleys" or kneepads at the front. When the rider is properly seated in the saddle, the poleys are parallel to the rider's thighs and about ½ inch away. This makes them close enough to come into play quickly if needed, but far enough away not to rub the rider's thighs during normal riding. The main purpose of the poleys is to keep the rider in the saddle if the horse moves or stops suddenly. They are also a great help riding in steep terrain.
The stirrup leathers are hung from steel stirrup bars. If a rider does come off the horse and is hung up in the stirrup, the leather can slide off the stirrup bar.
A double girthing system is used, with one billet strap sewn to each side of the saddle, and an overgirth strap that goes all the way across the top of the saddle. This effective system helps reduce slippage. Also, if one of the straps break, the overgirth is still holding the saddle on the horse.
Light Weight. In addition to being more comfortable for the horse, the lighter weight of Australian saddles make them easier to lift up onto the horse's back.
ABOUT DOWN UNDER SADDLE SUPPLY
Down Under Saddle Supply is a family owned business with a commitment to excellent service, quality products, and good value for your money. The company was originally founded in 1992 by an Australian couple who wanted to bring the "Aussie Experience" to America. The current owners, Mike and Jan Bergin, bought the company in 2002 when the original owners moved back to Australia. They bring with them a love of the equestrian industry and a dedication to superior customer service. Down Under Saddle Supply has the right Australian style saddle to fit you, your riding style, your horse, and your budget. They have Aussie saddles in all styles and price ranges, backed by a friendly and knowledgeable staff.
In addition to its Internet presence, Down Under Saddle Supply also has a large retail store in Denver, Colorado. With over 1,000 saddles in stock,
THE SADDLE COLLECTIONS
Syd Hill & Sons. For five generations, Syd Hill & Sons has been making the world's premier Australian saddles. Made in Hill's factory in Brisbane, Australia, their saddles feature only the very best construction, leather and fittings. Syd Hill & Sons saddletrees are made in a proprietary process that makes them light weight, yet exceptionally strong. You can expect a Syd Hill saddle to be durable, functional, comfortable, and beautiful as well. These saddles are widely considered the finest Aussie saddles in the world.
Toowoomba Saddlery. Situated in the picturesque country town of Toowoomba, Australia, Toowoomba Saddlery is known for its high quality construction and inventive designs. Founded in 1968 by Garth Delbridge, the company is now run by Garth and his two sons, Barry and Robert. It is one of the largest distributors and manufacturers of saddlery, saddlery hardware, and saddlery leather in Australia.
Down Under Collection and The Kimberley Series. Syd Hill & Sons and Toowoomba Saddlery make truly wonderful saddles. However, the top of the line materials and expensive production costs in Australia put these saddles out of many people's budget. The Down Under Collection and Kimberley Series saddles were created to give riders the Australian saddle experience at a more affordable price. Down Under Saddle Supply has these saddles manufactured in India to its strict design, quality, and materials specifications. Down Under Saddle Supply has been working with the same manufacturers for many years, and Mike and Jan meet with the manufacturers on a continual basis (including in India!) to make sure that the saddles are worthy of the Down Under name. You cannot find a better saddle for the price.
Most Down Under Collection and Kimberley Series saddles have a special tree that can be adjusted to fit the withers of your specific horse. We offer this service to customers at no extra cost.
Kimberley Series saddles may be low in price but they are certainly not short on value. The tree is wood and steel, reinforced with fiberglass. The tree is guaranteed against breakage for two to five years, depending on the model. The leather is supple, vegetable tanned, naked leather. This means that it is porous, and able to accept oils and conditioners. Many inexpensive saddles are made with painted leather, which will eventually dry up. The seat is a suspended system that gives terrific cushion to the rider. But most important, the saddles are properly designed and have been proven all around the world for over ten years.
Down Under Collection Saddles are a step up in materials, featuring excellent quality drum dyed smooth and nubuck leathers. Made in small quantities, extra attention is paid to the details during construction. Down Under Collection trees are guaranteed against breakage for ten years.
HORN OR NO HORN?
In Australia, you won't find any horns on Australian saddles. The saddle horn is an American invention used for roping cattle from horseback. If you want to do serious roping, then a Western roping saddle may be your best bet. Roping saddles are long and heavy to be able to take the stress and weight of cattle roping. However, if you like the look of a horn or if you want something to hang your canteen or horn bag from, most of our saddles are available with a horn.
What Is The Advantage Of Not Having A Horn?
They cost less.
They weigh less (by one to two pounds).
There is nothing to poke you in the stomach on a steep uphill trail.
HOW LONG DOES IT TAKE TO GET MY SADDLE?
Normally we ship within 48 hours of receiving an order (weekends and holidays excluded). Most saddles are shipped via Federal Express and will arrive in three to five business days. It is quite possible to order a saddle on Monday and receive it on Friday!
What do Horse Owners say about Down Under Saddle Supply?
Horse owners love the comfort, security and great looks of our Down Under Saddle lines. We have numerous testimonials that come to us by email and phone and we welcome you to read them!
GET YOUR DOWN UNDER SADDLE TODAY!
Both horses and their owners deserve the comfort, security and balanced ride that Australian riders have been enjoying for decades. With over 1000 saddles in stock, Down Under Saddle Supply has the right saddle, at the right price for you and your horse. Be sure to call today!
---
Contact: Down Under Saddle Supply
2250 Airport BLVD
Aurora, Colorado 80011
Phone: 800-395-8225
Email:
Website: Click Here To Connect

---