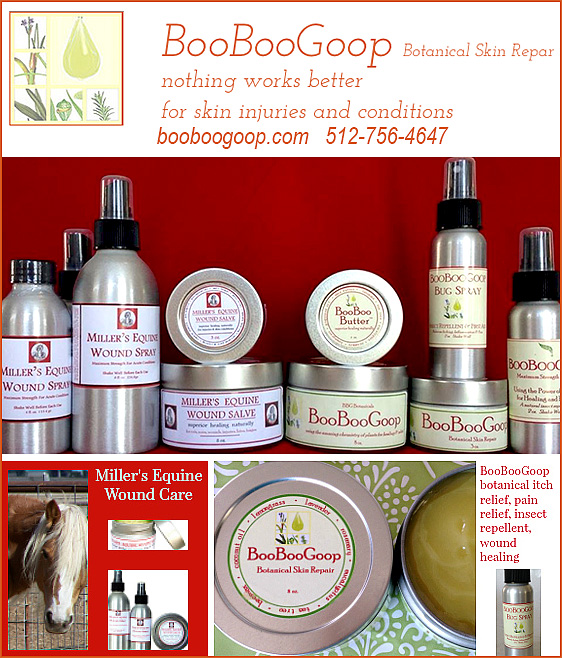 Millers Equine Wound Care
Millers Equine Wound Care Salve or Spray offer horse owners the maximum strength botanical formula for healing injuries and skin conditions while BooBooGoop offers the same powerful help to humans!

What Sets Miller's Apart From Other Wound Products?
Miller's Equine Wound Care combines into one formula the critical elements of healing and relief you want for your horse recovering from an injury or painful condition
Miller's contains only ingredients harvested from plants and bees.
Miller's provides a physical barrier to pathogens and moisture.
Miller's accelerates healthy skin and hair re-growth.
Miller's quickly stops itching, relieves discomfort and reduces inflammation.
Miller's is a universal, one-stop healing product.
Miller's helps simplify daily inspections in large barns and equestrian operations, making daily inspections of a large number of horses less time consuming;
Miller's helps relieve the worry about healing and infections in horses who spend their days in pastures and harsh outdoor conditions.



Why Are Essential Oils A Part of Miller's Formula?
Because many horse owners want to use "natural" or nature-made products and they want products which can be carried and used in all kinds of conditions without being requiring the entire vet kit. Horse owners are looking for solutions to healing issues that do not require a multitude of products. Horse owners are always looking for ways to cut costs without eliminating essential tools for healing and pain relief. The healing blend botanical formula for Millers salve and spray incorporate into one all of the essentials except the compassionate attention of the horse owner and the skills, knowledge and advice of a veterinarian.

Can I Use Millers On Open Wounds?
Yes, but....we always recommend that you consult your vet or medical professional for treatment of ​severe injuries, ​open wounds and chronic sores. If, for whatever reason, a vet is not available, Miller's may be used for emergency first aid and as a wound cleaner. Be advised that most vets will recommend that skin injuries needing to be stitched should not be treated at all prior to the vet's arrival.

What Are The Cautions For Using Miller's?

Miller's is for external, topical use only
Miller's is not for ingestion and when used on dogs effort must be made to keep the dog from licking off the oils. (plus dog owners will want to protect their floors and furniture!)
Don't not spray or apply directly in the eyes or mucus membranes.
Some people and animals may be allergic to the plants in our healing blend formula. A patch test is recommended. Both salve and spray may be diluted with any vegetable oil or removed with mild soap and water.
Miller's is not a substitute for proper vetinary care.
Some show organizations prohibit the use of essential oils which may have a calming effect, such as lavender oil. Be sure to learn about these rules before competing.
Miller's is not intended as an all-body treatment for conditions like demodectic mange in dogs. For severe cases requiring an all-body treatment, diluting Miller's with any vegetable oil or a product like petroleum jelly or Bag Balm.
Is It True That Millers Can Help With Virtually Any Skin Condition? Yes! …But...
The first rule for using Miller's is to know when to call your vet. Most vets are not familiar with Miller's products, so if you use them, please let your vet know about them.

What Conditions Can Miller's Be Used For?

Wounds, sores, burns, bruises and lacerations
Rain rot, rain scald, dock itch, sweet itch, ringworm, seborrhea, secondary infections caused by fungal infections
Hot spots (dermatitis) ear infections and skin rashes
White line disease, thrush and other bacterial/fungal condition in hooves
Warts, pox, herpes and other viral conditions
Ear mites, ticks, lice and fleas and treats related dermatitis
Surgical wounds and stitches
Injuries that cannot be stitched, are too sensitive to touch or hard to reach safely
Abscesses, chronic sores and open wounds
Inflammation and irritation associated with inter-digital infections
Pain and itching and itchy, dry or irritated skin
Lick granulomas (hot spots)

Sunburn and prickly heat
Repels gnats, flies, mosquitoes, midges and other insects
Can be used as a hand cleaner in field conditions
Can be used as a wound cleaner when a vet is not available.
How Often Should I Apply Miller's Spray or Salve?
For maximum benefit, apply Miller's several times a day until the area is completely healed. Daily treatments will keep new cells forming, help prevent scarring, inhibit itching, repel insects, and keep the skin soft and protected from pathogens during the healing process.

Is It True That Miller's Equine Wound Products Are NOT Made For Cats, Reptiles, Birds, etc.?
YES! Essential oils are powerful plant chemicals and should be used just as prudently as any other medication. Some individuals, horses and other animals may have an allergic reaction to the plant oils, so a patch test is recommended. ​Essential oils can be toxic, especially when used undiluted. ​Cats in particular do not metabolize plant oils and should not be treated with our products. Our products are for topical, external use only and not intended for ingestion. Use on dogs can be tricky and it is important to keep your dog from licking a treated area. Wraps, booties and other barriers should be used to keep your dog from licking the salve off and to protect your floors and furniture!.
​ Miller's and BooBooGoop are not substitute​s​ for proper medical or vet care. ​

What Are The Ingredients In The Salve and Sprays?
Miller's Equine Wound Salve Ingredients: organic grape seed oil, beeswax, essential oils of lavender, tea tree, rosemary, eucalyptus and lemongrass

Miller's Equine Wound Spray Ingredients: Grape seed oil, essential oils of lavender tea tree, rosemary, eucalyptus and lemongrass... and our packaging is very durable too... just see video below by Nationally known trainer-- Missy Wryn!



What Do Horse Owners Say About Millers Equine Wound Spray or Salve?

My stallion had a sarcoid tumor in his groin that had become badly infected. I live in Germany but found Miller's Equine via Linked In and wrote to Helen. She donated samples of spray and salve for my horse. After just one use of the spray I was able to safely get to the sarcoid and remove the wire that had been applied by my vet. Over the next 4 months the sarcoid resolved and my stallion is now back under saddle. This was in 2014 and he is still in great health in 2016" N vL

My mare stepped in a fire ant bed and was bitten all over her left hind leg. It was so bad her leg swelled up. It was a good thing I had the tin of Goop handy because I just slathered it all over her leg and in about 1/2 hour the swelling was gone and she was obviously not in any pain. When she first got wind of the salve, she raised her head and stuck her upper lip out. After that she would always softly sniff any place I put the salve. I think she likes it.
M.M.

My filly suffered a severe burn wound on her neck from another horse product! In desperation I looked for something on the internet and found Miller's. Helen got my order out Priority mail and with a day of first using it, I could see it was going to work. I have never seen any horse product work as fast or as well as Miller's I highly recommend that you keep it in your barn at all times!
D.L

I have been a farrier for nearly 40 years. I learned about Miller's from shoeing Helen's horses. I started recommending it to my clients with horses with fungal diseases and mites in their pastern area. I really was amazed at how well it worked. Me and my wife use it ourselves and I keep a tin of it in my shoeing kit at all times.
S.W.

At Only $14.99 For The Spray and $12.99 For The Salve, Why Wouldn't You Order Today?
Millers Equine Wound Spray and Salve are simply the only wound sprays or salves you will need in your tack room. Intensive maximum strength completely natural wound salve for faster healing and relief. You never know when life's accidents will happen, but with Miller's you can be prepared to take care of it! Call and talk to Helen to order today!

---
Contact: Helen Candler Miller
P.O. Box 1030
Burnet, Texas 78611
Phone: 512-756-4647
Email:
Website: Click Here To Connect

---