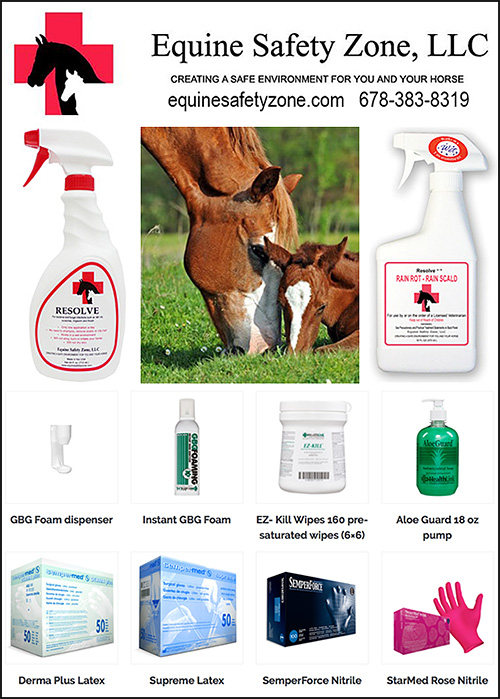 RESOLVE "Works in a Wet Environment!"
RESOLVE is a powerful, effective and safe remedy to both help prevent and treat all forms of bacterial and fungal skin and hoof problems for your horse. Originally designed for our military to combat dermatological problems in harsh conditions.



About RESOLVE— Truly A "One of a Kind" Effective Spray!
If you have horses, you are going to face the struggle of an "itchy" tail, mane or skin fungus at one point or another— it is just part of horse ownership. RESOLVE by Equine Safety Zone is an easy to use, fast acting anti-microbial spray for equine skin disorders that is extremely effective and yet, absolutely safe. Our RESOLVE formula was originally developed to prevent, under extreme conditions, combat dermatological problems for our military. It was tested and approved by the Surgeon General for use by all branches of the armed services and awarded a federal contract as a Department of Defense antimicrobial. The solution was then tested and efficacy evaluated for equines and the result was a formulation specifically designed for horses. Skin disorders that respond to RESOLVE are rain-rot and other conditions known as scratches, mud-rash, rain scald and saddle rash, thrush, ring worm and other skin irritations such as insect bites and itchy tails.

But Is RESOLVE Safe and Effective? YES!

No need to shampoo before applying
No need to clip hair or pull off scabs
No need to take your horse out of the pasture because it works in a wet environment
Only one application a day
Will not dry out your horses skin
Does not sting your horse when applied
It will deliver what we promise
Money back guarantee
So What Conditions For My Horse Should I Use For RESOLVE?
Rain Rot/Rain Scald
Scratches/mud rash
Ring worm
Thrush
White line
Saddle rash
Mudrash
Itchy tails and insect bites
Sweet Itch sores
Steptococcal dermititus/folliculitis causes by streptococcus equi (Strangles)
Any bacterial or fungal infection
Is It True That RESOLVE was Approved By The Surgeon General as an anti-microbial spray for the US Military? YES!
The RESOLVE formula was originally developed to prevent, under extremely harsh conditions, combat dermatological problems for our military in Vietnam. It is extremely effective and helped our soldiers to prevent the dreaded feet infections (and more!) due to swamps and damp climate.

Tested and approved by the Surgeon General for use by all branches of the armed services
Awarded a federal contract as a Department of Defense antimicrobial
This original formula was then tweaked for equine skin disorders and developed into an anti-microbial spray
This chemistry is the basis for our Resolve product for rain rot, scratches, mud-rash, thrush, ring worm, and other skin irritations such as insect bikes and itchy tails
About Kathy Anderson, Owner of Equine Safety Zone
From New York to Saudi Arabia, from Atlanta to the farm, the path to launching Equine Safety Zone (ESZ) and owning her own company was a long and winding one. Kathy Anderson, owner of ESZ, grew up in western New York day dreaming of owning a horse but it wouldn't be until many years later that it would become reality. After graduating college with a chemistry degree, she joined the Army as an U.S. Army Military Police Officer. After completing four years in the military at Ft. Bragg, N.C., Kathy began her sales career at Proctor & Gamble, while also becoming a member of the North Carolina Army National Guard. In 1990 she was deployed to Saudi Arabia during Operation Desert Storm as the company commander of the Army National Guard Unit. Upon returning, she continued her sales career and has more than 33 years of sales and sales management experience.

Note: RESOLVE anti-microbial spray will only be the first of many products that ESZ will offer. ESZ's vision is to design and to develop products that will help create a safe environment for the horse owner and their horses. All while striving to become a leading informational resource for bio-security topics.

What Is Rainrot?
Rainrot is one of the most common bacterial skin infections seen in horses and is often mistaken as a fungal disease. It is also referred to as dermatophilus congolensis (derm-ah-TOF-ill-us con-go-LEN-sis). It is characterized by crust-like scabs or small ¼ inch matted tufts of hair. The organism that causes rain rot appears and multiplies in warm, damp conditions often with high temperatures and high humidity present. The condition is not life-threatening, so don't worry. However, while the horse has rain rot, any equipment that may rub and irritate the infected skin (brushes, saddles, leg wraps, etc.) should not be used on another horse and should eventually be washed with an anti-microbial solution to eliminate spreading of the disease or a reinfection.

What Is Scratches?
Scratches, is a term used to refer to a loose conglomeration of diseases, also called pastern dermatitis, dew poisoning, greasy heel or mud fever and can be caused by a variety of skin conditions including bacterial or fungal infection, parasite infestation, or contact irritants. It most often occurs in the pastern and fetlock area and can be at best, uncomfortable for the horse and, and at worst, can cause severe pain, bleeding, itchiness, and lameness. Horses in excessively wet or muddy environments are at greater risk of getting scratches and large horses and horses with "feathering" are particularly more susceptible . Read more

How Much Does RESOLVE COST?
The better question is "How much does RESOLVE save me?". If you can nip a skin disorder in the bud with RESOLVE at the beginning, it is going to save you hundreds on medical costs— not to mention comfort (and even beauty) to your horse! RESOLVE 24 oz is only $29.95. We confidently say you will use less RESOLVE, to effectively get rid of the skin and hoof infections, than any other solution out on the market. With only one application a day, you will start to see improvement in 2 - 4 days of use. Many of our customers have said, when their schedule only permitted every other day application, it was still effective.

What Do Horse Owners Say About RESOLVE?

I give it 5 out of 5 Stars!
If you want to get the most for your dollar this is the way to go. Fast and effective – and it works! Just follow the simple instructions and rain rot is gone – in days (not weeks). Even chronic cases are easily handled with this product. Like the new larger bottle size. Can't run a barn without it!
-D. Simons

Really great solution. I have had various issues over the years and thought I would give this product a try. So glad I did. In fact I called my neighbor and they are now using my bottle. Really worth every penny.
- Sam

This stuff (Resolve) really does work on rain rot! I'm so glad I found it! I am about to order another bottle and will keep it on hand for the rainy, humid weather we have in the spring and summer! Romeo will finally get relief!
A. Lowrey

Regarding my results with your Resolve spray product. The beautiful quarter horse we adopted, came to us with lots of underside irritation from gnat and fly bites, from a few months prior to us getting him. Once here, he constantly chewed and bit his belly and groin area and scratched with his hooves. We were concerned about further injury he would cause. After only three applications, spaced every other day, the itching and constant biting ceased. We're fortunate that this horse had been handled and groomed extensively and took no issue with being sprayed. We just wanted to thank you for a superior product.
T. Newman. Eatonton

Hello Kathy. Your product was recommended by a friend of mine (Lisa Reynolds) who is the manager of Woods Edge Farm in Lexington. She recently tried your product and posted about it on Facebook. Here locally it seems to only be available at Hagyard Vet Clinic. I understand since her post they have had many people coming in to ask about the product.

Here was her original post along with a photo of the product. This stuff is AMAZING, cleared up nasty mud rash completely on white hind in about a week. No washing, no scrubbing or picking scabs. Just spray once a day and you are done! I first tried to find the product at Dover, SmartPak and Amazon before coming to your website. I hope that you can expand your product to be offered in other places, for me many times it is about saving the shipping costs. I am looking forward to getting the product and testing it out myself. I will like you on facebook. Best of luck!
K. Micalizio, Lexington, Kentucky

I was very impressed with your product. I take care of an older Appendix TB who has digestive issues and very runny bowels. It has been a constant battle to clear up the Scratches on the heels of both rear legs due to the feces that continuously runs down each leg. It took only 1 week of using the Resolve and the condition was mostly gone. I also treated my Spotted Saddle Horse because of small patches of rain rot along his back and hips. This has cleared up and there are no signs of residual skin issues at all.
R. Pesserilo, Loganville, GA

I'm SO thrilled you're back with the only product that has EVER worked for rainrot on my horses! When my now 13 year old mare was 2-4 years old, she repeatedly got rainrot on her topline. I can remember winter nights treating it with cold, messy gel products that made neither of us happy! Not only that but I would treat her morning and night and it would still take ages to improve but didn't seem to ever fully clear up. I searched and searched for different options and then one day, there was Resolve! I bought it, used it on her for the 3 days and the rainrot "resolved"! Not only that but she's rarely gotten rainrot on her topline since. Plus it never causes irritation on her or my gelding and in most cases I only use it once or twice and that's enough to resolve the rainrot. I'm SO grateful and I believe my equine friends are as well! Thank you!
T. Kinsella Campbell Hall, New York

Resolve has been the only product that has ever worked for the scratches my saddlebreds get every year. I have five horses in a pasture 24/7 and one of them ended up with just huge scabs that looked awful. The scabs started to fall off after 2 days of using Resolve and it was all cleared up within a week. I didn't have to remove the scabs, irritating my horse, nor did I shampoo. Now I spray it on their pasterns before every rain and it hasn't come back.
N. Bullock, Acworth, Georgia

Order RESOLVE Today!
Skin problems take a toll both on the comfort, health and looks of your equine friend. Make sure you have a product that is tough enough to be effective, yet safe enough to use whenever you need. RESOLVE can "resolve" your skin issues— join hundreds of horse owners across the USA who depend upon RESOLVE to keep their horses looking— and feeling— their best and order today! RESOLVE is also available through Heartland Veterinary Supply and Pharmacy Or call and order directly from Equine Safety Zone


---
Contact: Kathy Anderson
1200 Gore Lakes Road
Dallas, Georgia 30132
Phone: 678-383-8319
Email:
Website: Click Here To Connect

---