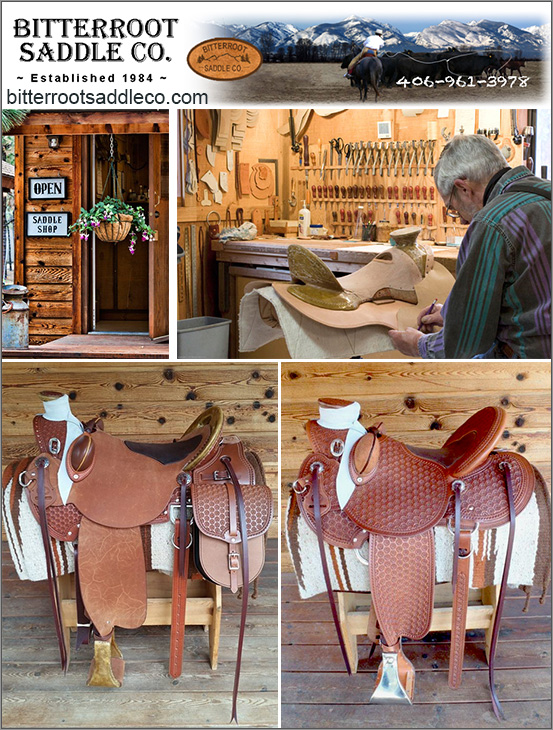 Custom Made Saddles by Bitterroot Saddle Company
Bitterroot Saddle Company offers the Finest Custom Made Trail Saddles. Bob Trezona is known nation wide for his superior quality and absolute attention to detail. Truly the saddle of a lifetime!



About Bob Trezona, Craftsman of Bitterrroot Saddle Company
Bob Trezona, craftsman behind Bitterroot Saddle Company, is one of the 'old cowboys' who grew up on 'natural horsemanship.' He was born in 1947 in Enterprise, Oregon into a family of ranchers that homesteaded in Wallowa County in the 1880's. This is the rugged country that produced legendary horsemen of the Wade and Dorrance families, contemporaries of Bob's grandfather. Countless miles of riding and packing, learning what works and what doesn't Bob learned from real life experience. He worked six years as an outfitter's guide in Oregon and the Bob Marshall Wilderness of Montana then ten years as a certified horse shoer. After apprenticing for two years with a saddle maker in Oregon he opened his own custom saddle shop in 1984.



What Sets Bitterroot Saddles Apart From Other Saddles I Could Buy?
Says Bob...
To start out I'd have to say that my first advantage as a maker of Wade Style Saddles is that I grew up around the people who originated the design. Cliff Wade, after whom the tree was named, was a contemporary of my grandfather and I can still recall him, after he retired from his own ranch, doing day work, moving cattle from winter to summer pastures, gathering in the fall, on ranches that I worked on as a boy. Raising cattle in Wallowa County, Oregon was not a job for 'sissies'. Terrain there was known to be 'steeper than a cow's face' and equipment failure was not an option. 'Wades' had a deep seat, a slick fork and a big horn that allowed the cowboy to rope, hold and release a cow without tying off solid. This kind of history isn't necessary to build a saddle but it imparts a level of authenticity that a person can't get any other way.

How Are The Bitterroot Saddles A Better Balanced Saddle?
We believe in the idea that, in order for the horse and rider to work together as one, both need to be comfortable (as in the equipment must fit properly, be secure, and allow and enable correct movement). The saddle needs to be rigged in such a way that it will move with the horse and keep the rider in the most effective position. The stirrup leathers need to be hung in a position relative to the seat to allow the rider to rise with minimum effort. It shouldn't be necessary to have to pull your legs back under you then hoist your bottom out of the seat to stand up, nor should you feel like you're always about to tip forward. Stirrups should be placed directly under the seat for good posture. To achieve these goals we custom tailor the proportions of the saddle to fit both horse and rider. Esthetically, the lines, proportion, decoration of the saddle needs to be pleasing to the eye. In my opinion nothing is truer than the statement 'form follows function'. If these goals are met then you have a saddle that is 'balanced'.

But Why Is A Balanced Saddle Important? Aren't ALL Saddles "Balanced"?
To start with it may be easier to approach this question from 'what can happen if a saddle is not 'balanced'? An improperly balanced saddle's rigging may position the saddle in a way that is not comfortable to the horse's body, it may tend to ride up too far on his withers causing pain, it may want to slip back putting the rider in an awkward position for the horse to carry. If the rider cannot achieve the athletic posture (correct alignment of head, shoulders, hips and heels) that will enable him or her to move with the horse, safety and effectiveness are at risk.

If a person would seriously consider the almost unique circumstance of animal, equipment, and human working in harmony to efficiently accomplish a demanding task, the idea of balance would be the first thing to come to mind. Sadly there are an enormous number of saddles on the market that fail 'the balance test'. That's not to say almost anything will work in some circumstance but we need to look for saddles that will meet as much of the desired criteria as possible. Beyond the consideration of rigging position is bar shape, if the bars are not shaped to mimic the contours of the horse's back then 'balance' is lost (maybe literally).

Note: Due to a poorly balanced seat shape the rider may struggle to maintain a seat that keeps him or her 'with the horse' (the outlook for this situation isn't too good either). So you see, 'balance' is not just a pretty picture-it's everything between the horse and the human.

What Is The Difference Between "Buckaroo" Saddle, "Mountain Saddle", and "Close Contact Saddle"?
Over the years we've identified certain categories of riders that we can identify with through our own experience or interest. From growing up in a ranching community and being immersed in the great basin culture our first saddles were 'buckaroo': slick forks with big post horns, round skirts, flat plate rigging and tall, straight-up cantles. We loved them and thought we'd never build anything else. With time and experience we've refined our proportions somewhat, perfected the in-skirt rig, we usually do Cheyenne rolls and most of our saddles are half breeds. They represent our interpretation of the traditional saddle of the buckaroo.

At one point in my life I spent a few years as a packer, both in the Wallowa mountains of eastern Oregon and in the Bob Marshall Wilderness of Montana. One day while riding with the boss (a former mustanger, bronc rider, later outfitter and renowned horseman) he said: "Ya know, there's just no reason a guy needs a big ol' roping saddle in the back country. It's not handy". I got to thinking on this and a decade or so later came up with a design that minimized the big skirts down to just encasing the bars, trimmed up the fenders, left parts uncovered, exposing a bit of the rawhide covered tree, added some practical details like a crupper dee and attachment rings and in the process stripped almost a third of the weight off the original saddle. Even though I've always believed there's no such thing as a new idea when it comes to horse gear (we've been riding for a long time now), I was pretty excited about my interpretation and it seems to work for a lot of folks who appreciate a lighter, more minimalist design.

The Close Contact model goes a step further. I pared it down to a 'skeleton rig' that eliminates the sheepskin lining under the bars. With this saddle you can easily see whether it fits the horse or not, it's about as light as a quality saddle can be, and it's a cute little rig, but it does require responsibility on the part of the user in that it must be paired with a top quality saddle pad, preferably made of 100% wool and shaped to the horse's back.

Each of these saddles are designed to facilitate the cooperation between horse and rider to do a job, whether it be to rope a cow, navigate the back country or to properly execute a haunch turn. The lighter weight models can enable those of us that can't or don't want to lift a thirty five pound saddle over our heads unto our horse's back to continue our careers a little longer without sacrificing quality or dignity. It's more fun to enjoy your passion when you have as many things as possible working in your favor.

What Comfort Level Does Bitterroot Saddles Offer Horse and Rider?
Let's be honest here, riding horses is an athletic pursuit-comfort depends on knowledge, training, practice, conditioning and skill as well as a great saddle. We've discussed the need for the horse to be comfortable through proper tree fit and rigging appropriate for him. Let's talk about the seat as it applies to the rider. Sculpting the contours of the seat while it's under construction is an art, learned over time from careful consideration. Early on in my career I was encouraged by knowledgeable saddle people to not quit too soon when shaping a seat, to go a little further to make a place for the rider to sit. Narrowness in the front is equally important to the rider's comfort and can be a challenge if building for a wide withered horse.

I believe the horse's needs come first so I have to find the balance between raising the ground seat in front to get the feel of narrowness without losing the close contact that the rider needs to feel the horse. Many riders complain of pain in hip, knee and ankle joints, we've done our best to address these issues. Our stirrup leathers and fenders are permanently turned and shaped to allow for a close, comfortable leg position.

Note: We've paid special consideration to stirrups; we offer a wide variety of styles and sizes, they can be wedged for a custom fit. These features go a long way to relieve muscle and joint stress.

Who Makes The Saddle Trees?
I have been using Sonny Felkins' trees, Quality Mfg. from Monticello, Utah for 31 years. Knock on wood, I have never had a broken tree or a tree that sored a horse in all that time. His rawhide work is the best out there,the seams are pounded flat which makes my job much easier. I only build 58' Wades and he has 3 different bars that will work on the 58' so he can fit most any horse or mule that I need to build for.

Can I Get A Custom Saddle For My Mule?
Yes! I build saddles that fit a particular type and shape of horse or mule. Just because a saddle has mule bars under it, or it has a britchin' hooked to it, doesn't make it a mule saddle. There are horses with a 'mule' back and mules with 'horse' backs. I rode saddle mules for quite a few years in the back country and I've built quite a few saddles for mules and probably close to 50% of the saddles I have built for mules had horse bars under the tree.

What Leather Is Used On Your Saddles and Accessories?
The only brand of leather I have ever used is Herman Oak from Saint Louis, Missouri. It is a truly outstanding leather. We use different weights from 5 oz. up to leveled 12 oz. for our saddles.

What Is The Average Weight Of Your Saddles?
Our full covered custom saddles run around 34 pounds and the Bitterroot Mountain Saddle is about 28 lbs. and the lightest model at around 24 lbs. is the Close Contact.

How Long Does It Take To Make A Saddle?
I am much slower than most saddle makers are. I am VERY particular on leather quality and craftsmanship so it takes me about 4 weeks on our full covered saddles and about 3 weeks on our mountain saddles.
(Webmaster's note: Bob is a perfectionist when it comes to his saddles. I have never seen anyone as picky about the quality of his work as Bob is.)

How Long Has Bob Been Building Saddles?
I opened my first shop in 1984 and was running it part time because I was doing my apprenticeship Monday through Friday from 9 am to 5 pm and then shoeing horses until dark. I started running my own shop full time in 1986. I was in Oregon at the time. I moved back to Montana in 1991 and have been running Bitterroot Saddle Co. seven days a week ever since.

What Is The Cost Of Materials For The Saddles?
At the present time we have a little over $1600.00 in materials in every saddle and the cost just keeps going up. We experienced 3 price increases in leather last year alone. Call and we'll get you the best price we can without sacrificing our extreme level of quality.

Do You Ever Have Used Saddles For Sale?
We don't deal in used saddles because we just build new saddles as they are ordered and have our online store. I do have an apprentice that has a store in downtown Hamilton, Mt and she will come across one every once in awhile. Most of the folks that are selling are retiring from horses and they end up selling to one of their friends, but they do show up every once in awhile.

What Do Horse Owners Say About Their Bitterroot Saddles?
Over the last fifteen years I've ridden two saddles that Bob has built for me. The quality, craftsmanship and functionality of these rigs is second to none.
Brad Hobson Ranch Manager - The Stock Farm

Hey Bob, Just wanted you to know how much I appreciate my new saddle and all the effort you put into making sure it fit my horses. I've made several 20 mile rides already and my mares are moving out really well. What was amazing to me was the 11 hour cattle drive I did and I wasn't even sore the next day, thanks, Bob.
John Spaeth, Phillipsburg, Mt.

We have ridden Bitterroot Mountain Saddles on both our horses and our mules for the past fourteen years. Our riding has included lots of day rides, several clinics and many weeks of pack trips in the Bitterroot-Selway and Anaconda-Pintler Wilderness. The saddles have been a constant source of pleasure. They are durable, comfortable for both us and our animals, lightweight and totally functional. It is also like riding a work of art, which is kind of nice. 
Thanks again for the great work!

Jim and Carol Hansen - Hamilton, MT

The saddle is truly beautiful and my horses really like it. The horse that I ride the most has noticeably lengthened his stride since the Orthoflex came off and your saddle went on. Our winter has been very mild so I have had more opportunity to ride then usual. My thanks for working with me to make the right choices. If you are ever asked for a reference feel free to use my name!
Howard Parker - Moscow, ID

Call Bitterroot Saddle Company Today For Your Saddle Of a Lifetime!
Few things can enhance your ride like a great saddle! We design these saddles with both the comfort of the horse-- and human in mind. You'll love the beauty and the way you feel balanced and in control while you ride-- your horse will love the comfort. Call and talk to Bob today-- you'll never regret the joy it will bring you!

---
Contact: Bob Trezona
360 Mill Creek Road
Hamilton, Montana 59840
Phone: 406-961-3978
Email:
Website: Click Here To Connect

---