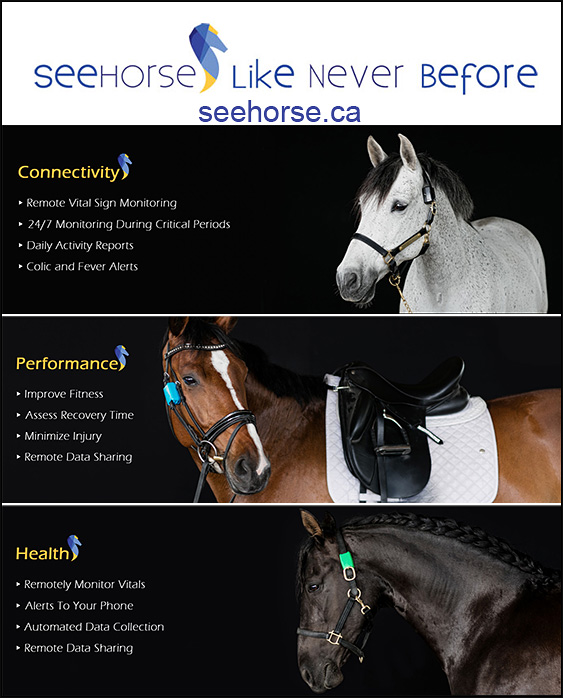 SeeHorse
SeeHorse is the single solution to wirelessly and continuously scan your horse's vital signs (temperature, pulse and respiration) as well as movement and activity levels.



What is SeeHorse?
SeeHorse is a wearable monitor designed specifically with the needs of horses, and their owners in mind. SeeHorse is the single solution to wirelessly and continuously scan your horse's vital signs (temperature, pulse and respiration) as well as movement and activity levels. The incoming data being collected by the SeeHorse device is instantly sent to an app on your smartphone, where it can be viewed in real time or viewed and shared as historical data in graph or chart format. In addition to scanning and building reports, SeeHorse has a built in alert system, which will notify you and your care team if your horse goes outside of the normal range for any vital sign, to aid in detecting early signs of colic, stress, illness, foaling and many others. SeeHorse can be placed in many places on the horse and works with your existing tack, making it an essential tool for you, and your horse!



How Did SeeHorse Come To Be?
SeeHorse resulted from a collaboration between two very different worlds, the world of innovation and technology and the traditional equestrian world. Two former Blackberry scientists (Peter Mankowski & Iouri Besperstov) decided to start their own company, and using their technical skills and previous experience in the medical technology field, they began developing new wearable technology tailored to animals. When an avid equestrian and horse owner (Jessica Roberts) joined the team, it quickly became evident that a wearable device that could remotely monitor a horse's vital signs among many other features could be potentially lifesaving. SeeHorse the company was founded soon after.



How Does SeeHorse Help Me As A Horse Owner?
The mission of the company is to allow anyone involved with horses, whether you are a vet, trainer, breeder or just loving owner, to 'See' their horses, like never before. Horses being prey animals often hide what they are feeling, whether it be illness, stress or anxiety, but vital signs will often give away these secrets, which can be extremely difficult to monitor continuously -but not anymore!

What Does SeeHorse Do?
We listened to our customers closely and designed SeeHorse to meet the needs of anyone involved with horses, whether you are a professional competitor, trainer, veterinarian or simply a loving owner. SeeHorse has a place in your tack trunk and can perform the following functions:

Real time monitoring of:

Pulse
Temperature
Respiration
Movement (motion sensing avatar)
Foaling alarm
Horse location alert
Watch your horse's progression towards reaching daily goals (Steps, Distance & Calories)
Historical data logging for:
Pulse
Temperature
Respiration
Foaling
Activity (Steps, Distance & Calories)
Set alerts for:
Exceeding set limits for any vital sign
Foaling
Horse location
Monitor daily activity levels and set goals for:
Calories
Steps
Distance travelled
What Sets SeeHorse Apart From Other Equine Health Monitors?
Aside from being one of a very few equine health monitors on the market today, SeeHorse has several functions which make it unique:

SeeHorse is the ONLY wearable with the ability to scan all 3 vital signs (temperature, pulse and respiration)
Has a function designed specifically to detect foaling.
Designed to work in many places on the horse, and with a lot of your existing equipment which makes it useful in many situations whether at home, on the road or at the show.
SeeHorse automatically builds in-depth reports and automatically logs historical data, this allows you to select any date you wish to look at data for and select how you wish to view the data (report or graph form).
SeeHorse allows you to pick and choose specific data you wish to share with others via email or share on social media.
So, How Does SeeHorse Work?
SeeHorse uses a variety of sensors and properties of light to scan vital signs and movement, the device easily attaches to the horse's halter, bridle or included elastic surcingle. The data being collected is viewed by logging into the SeeHorse app on your smartphone and connecting to your device via. Bluetooth. You can then choose which vital sign you wish to monitor in real time, view as Historical data or choose from one of the other functions such as activity monitoring.

How Does SeeHorse Connect To My Phone?
SeeHorse uses Bluetooth (BLE) to connect your device to your smartphone. Bluetooth (BLE) does have a limited range; but this doesn't stop SeeHorse from being able to scan when you are out of the Bluetooth range.
By leaving an older phone within range (up to 200ft) to your SeeHorse device you can continue scanning, even when you are anywhere worldwide! By logging into the same account on any phone, anywhere, you can see the incoming data being collected and still receive alerts.

Why Bluetooth?

Longer lasting battery life (up to two weeks)
Low monthly cost
Worldwide/Any carrier coverage
Are There Any Special Requirements to Work With SeeHorse?
Monthly Fees:
To view data in real-time within the Bluetooth range, no monthly fee is required.
To view data in real time, outside of the Bluetooth range and as sharable historical data in graph or chart form, a low monthly fee of $10/month (USD) is applicable.

Attachments:
SeeHorse is designed to work with most of your existing tack and equipment. Also included in the box, you will find an elastic belly strap and a foam holder which comes with the device at no charge.

Do You Need Wi-Fi To Use SeeHorse?
It is not necessary that you have a Wi-Fi connection to use SeeHorse, if you are using a smart phone with a minimal data plan, the app will simply use a small amount of data from your phone plan when it is not connected to Wi-Fi.



How Do I Know If My Horse NEEDS SeeHorse?
Horses with under certain circumstances who Need SeeHorse are:

Horses prone to colic, casting & tying up
Mare's in foal
Horses recovering from illness or surgery
Competition/performance horses
Older horses
Horses in quarantine
Will SeeHorse Work With Pregnant Mares?
Yes! In addition to monitoring a pregnant mare in the precious months leading up to foaling, SeeHorse also has an alert designed specifically to be triggered when the mare shows signs of foaling. This alert can go to as many people as you like and is totally non-invasive.

Order Your SeeHorse Equine Wearable Today!
For only $499 USD you can unlock the mysteries behind your horse and catch early signs of illness, stress and over exertion before they present as a major health risk. Some horses never get a 2nd chance. Make sure you can "see" your horse's condition, night or day and be alerted to problems— before it is too late. Call us today and let "SeeHorse" be your partner in care for the horse that you love.

---
Contact: Jessica
25 Milling Road, Suite 202
Cambridge, Ontario, Canada N3C 1C3
Phone:
Email:
Website: Click Here To Connect

---