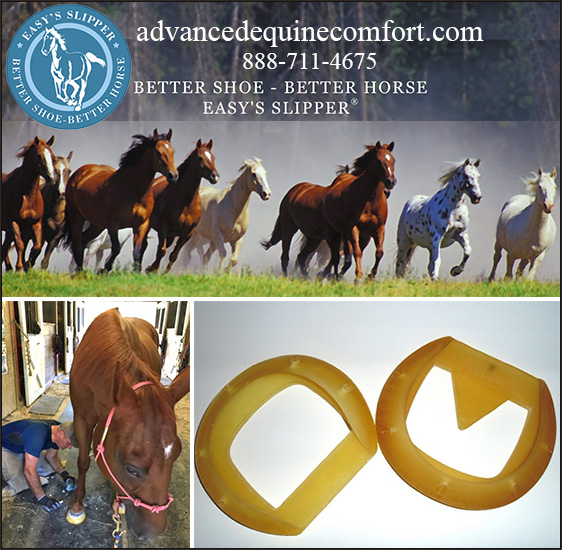 Easy's Slipper® by Advanced Equine Comfort, LLC.
Easy's Slipper® from Advanced Equine Comfort is a flexible horseshoe alternative, providing therapeutic benefits by utilizing scientific data and innovative materials to grow healthier hooves and happier horses.



Our Story... How It All Began
Easy's Slipper® was designed, developed and patented by horsewoman Sue Blair. After a life-ending laminitis diagnosis of her magnificent Morgan, "Delta" (Precious Promise), Sue was devastated when the vets delivered a grim prognosis. After Delta was humanely euthanized, Sue became determined to find a solution that could help horses - she never wanted to feel so helpless or hopeless again.

Sue says, "Had I known then what I know today about ways to treat, relieve pain and inhibit rotation with the proper support of the hoof, I believe Delta would still be here. Doing nothing but watching and waiting is not my nature."



Fast 'n' Easy & Sweet Pea
Two beautiful Quarter Horses joined the heard in 1999, Fast n' Easy and her daughter, Sweet Pea. Both had flat feet, and had to have special shoeing to raise the sole plane off the ground with a 5/8 inch shoe that prevented stone bruising and their resulting abscesses. Whenever they threw a shoe they were lame due to the soreness of their feet.

"My journey began in making cushions for their feet," remembers Sue. "I used everything I could think of: rubber, insulation board, pool floats - all duct taped on their feet. The farrier would come in a few days and put the lost shoe back on, and we were good to go again. That process went on for years. As Fast 'n Easy aged, the wear on her knees began to cause severe issues with her ability to be shod. The banging of the hammer on her hooves shot pains up through her shoulders that were unbearable. I would have to give her pain medications for days before and after just to get her feet comfortable for another six weeks. In the meantime, Sweet Pea's feet continued to get worse, she rotated and was unable to have metal shoes put on. We began gluing on aluminum shoes that just wouldn't stay on, which resulted in more experimenting with tape-on materials."

Sue learned so much from each horse in her herd. She was dedicated to creating a glue-on shoe that would allow the impaired horse to be out of their stall with their herd, moving at least in a small paddock in the sunshine with their friends.

Q&A with Founder and CEO, Sue Blair

What was the inspiration for Easy's Slipper®?
Nearly 20 years ago, when I was faced with the heartbreaking reality of having a beloved horse with laminitis, my initial thoughts were to make her comfortable. I tried everything I could think of from duct taping foam board to her feet to various types of rubber, in addition to the accepted protocols at the time. Some provided some relief, but none were the answer.

I discovered that if she was comfortable she would move about. If she moved, she would be pumping blood in her feet providing oxygen and nutrients, while removing waste, on a cellular level. In fact, her whole well-being was dependent on her ability to move.

It also occurred to me that a glue-on shoe would be preferable, since it doesn't involve nailing and allows the foot to flex naturally. Many horses are simply too sore to use traditional shoes when experiencing laminitis. The next step was finding a product which dissipated shock and vibration and was durable as well as light weight. Hundreds of products were tested before we decided on our current material, a urethane rubber.

The material we use wears and can be handled similarly to aluminum; you can make modifications by grinding, rasping, cutting and more. It is slightly heavier, and dissipates approximately 220% more shock than a steel shoe. Easy's Slipper provides the perfect balance between shock absorption, weight and durability. We have also found that by supporting the hoof symmetrically, the growth is focused downward. The result is hoof growth that is two to three times more than normal. Substantial hoof growth is the basis for resolving most problems associated with the hoof. We are currently working on a University study to quantify the dynamics involved in the rapid hoof growth we are seeing.

Is It True That More Than 12 Years Went Into The Design Of Easy's Slipper®?
After 12.5 years and 37 shoe renditions, the patent was finally awarded and Easy's Slipper was launched! On September 3, 2012, Easy's Slipper was granted a patent. The first homemade tape-on shoe had grown into a glue-on slipper with rails and an adjustable break-over that can be used for riding horses or therapeutic purposes, helping those with lameness, laminitis, white line, navicular disease, flat feet and injuries to the hoof.

Have you tested Easy's Slipper® against any of the competition?
Yes. We are the only company to date to put their product to the test in a full scientific study conducted by an independent laboratory on shock absorption and vibration dissipation. The results were astounding! The full study and all results are on our website. Here are a few of the results:

Easy's Slipper had more shock absorption and vibration dissipation than:

An Aluminum Shoe by 222%
A Steel Shoe by 221%
Renegade Glue-On by 169%
Cavallo Boot by 121%
Cavallo Boot with insert by 81%
Easy Boot Trail by 64%
Easy Boot Glove by 64%
What makes Easy's Slipper® so unique from other boots and shoes?
Easy's Slipper from Advanced Equine Comfort is a flexible horse shoe alternative, providing therapeutic benefits by using scientific data and innovative materials to protect and grow healthier hooves, reducing pain, lameness, inflammation and stress on ligaments, bones, joints and tendons. Regardless of the discipline, any horse can benefit from Easy's Slipper.

Many years of research and development have given us a glue-on slipper with a rocker motion and a built-in breakover. It can be used by most horses as a general horse shoe. Alternately, Easy's Slipper can be used as a therapeutic shoe with a closed bottom, heart bar or fill-in pad, and it can be modified in a variety of ways. It is by far the best therapeutic solution on the market if you are faced with lameness, laminitis, chronic founder, white line, navicular disease, flat feet, injuries of the hoof, keratoma surgeries, suspensory issues, arthritis in the leg, shoulder, or back, abscesses, bowed tendons, sesamoiditis, ligament damage, ringbone, chronic subluxation of the coffin bone, stifle joint issues and more we haven't even discovered yet.

Can I ride my horse in Easy's Slipper®?
Yes. The slippers have been FEI and USEF approved for dressage and vaulting so far. We are sure the other disciplines aren't far behind, as soon as someone asks permission. Barefoot is great if it works for your horse. But when it doesn't, Easy's Slipper is the glue-on alternative that you should use. They last the normal six to eight week shoeing cycle.

Our original plan was to market for therapeutic uses only. It was exciting when one of our vets who uses the slippers for a variety of issues decided to put them on a client's world champion endurance Paso Finos. The horses are now sound and comfortable running 50 to 100 mile endurance races in Easy's Slippers.

So How Do I Size And What Is the Pricing?
Our website has a complete sizing chart. After you or your farrier have completed a trim, measure toe to heal and across at the widest part of the hoof. This will give you the proper size. If your horse has been in traditional shoes, you can also just select the corresponding traditional size. Or just call us, and we can help.

Note: Four sizes of miniature open bottom rockers are available for miniature horses at $20 per pair.

What Sizes Are Available?
Easy's Slipper® comes in standard sizes 00 to 2 for open bottom rockers, closed bottom rockers and open bottom heart bar rockers. Each pair is $70 to $75.

Sizes 3 to draft horse 9 range from $90 to $135.

Important Note to Horse Owners: It's the best money you will ever spend to help your horse. Our success rate is pretty remarkable, and horses LOVE them!

What Do Horse Owners Say About Easy's Slipper®?

Butterfly Healing in Easy's Slippers
"My 15 year old horse Butterfly had old ligament/tendon issues and sesamoiditis that got steadily worse over last winter. My vet did not give us much hope, stating that Butterfly was as good as she would ever get – a truly crippled horse, and one that could barely walk. She could not stand on the left foreleg for shoeing, and we were nearly at the point of having to put her down. After talking with my farrier Dave Giza, we decided to try Easy's Slipper. Within 24 hours of having Easy's Slipper on only the injured leg, she was able to stand on it again. Her gait dramatically improved with little head bobbing. Her turns and rein back were drastically improved. This was a horse that could not do either the previous day. We have been amazed at her progress. I just want to say thank you to Dave and Easy's Slipper. You have saved her life."
-Vicki Bowling, Horse Owner, Culpepper, VA
Read more about Butterfly

Mavi wins 2nd place in the International Vaulting Competition Performing with Confidence in her Easy's Slippers®
"Soundness is critical for a vaulting horse like Mavi [a 13 year old, 17.3 hand, Percheron mare]. When we go to competitions, each vaulting round at the show requires six minutes of quality canter. If you have a horse that's going in eight classes in a given day, that's a lot of cantering. I know Mavi wouldn't be sound without Easy's Slippers. She'd probably be dismissed from competition after the lameness check if she didn't have them on, especially when competing at the higher levels. "The slipper is really helping with the quality of Mavi's gaits. It's given us a competitive edge in the show arena, and every horse on our vaulting team wears Easy's Slippers."
-Maria Blackstone, Founder of The Transition Vaulter, Renaissance Farm, Bulls Gap, TN
Read more about The Transition Vaulters

If Your Horse Has Laminitis, Founder, Flat Feet, Sore Feet, Navicular or Hoof Problems, Easy's Slipper Can Help!
Don't let your horse be miserable, not when there is an affordable, comfortable, easy to apply solution that can make a world of difference. We love horses and would love to hear from you to discuss how we can help your horse. Call us today— when your horse is in pain, every second counts.

Easy's Slipper – Better shoe, better horse!

---
Contact: Our Friendly Staff
544 Western Rhodes Drive
Highlands, North Carolina 28741
Phone: 888-711-4675
Email:
Website: Click Here To Connect

---