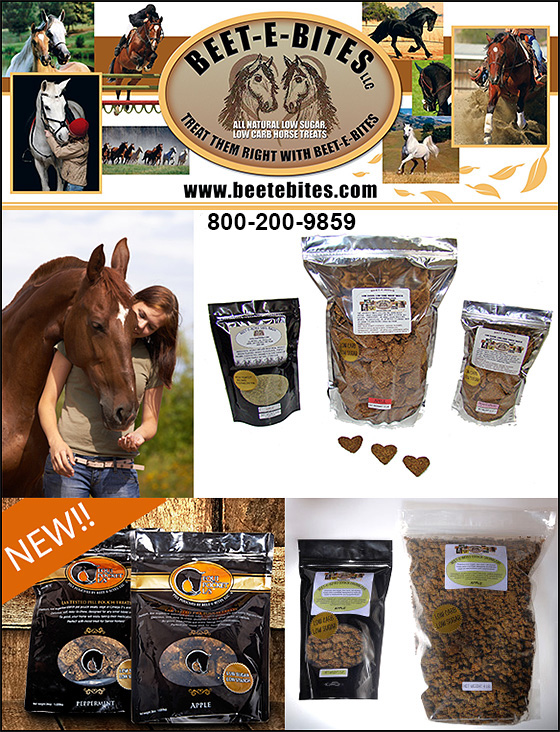 BEET-E-BITES and EquiPockets by BEET-E-BITES, LLC
Giving pills to your horse is a breeze with EquiPockets while BEET-E-BITES provides the low starch, low sugar health treat your horse will crave!



About BEET-E-BITES, LLC.
Says Cherie, creator of BEET-E-BITES
My best friend was only 8 years old when I heard the words"Cushing's" disease. He was tall and beautiful, and had that "look at me" attitude. He was at the top of his game when we tested him. Being my soulmate , I needed to do everything humanly possible for him. I dug into veterinary journals, picked the brains of the great veterinarians I worked for, and constantly bothered our staff veterinarian for updated information.

After years of keeping up with all of the great research and studies into the connection between diet, and it's effects on disease, I decided to make a treat that was not only safe, but actually has nutrition packed into it. Of course I had to make sure my test buddies would like them as well! They passed all tests with flying colors. We have now created Equipockets so you can hide medication within our delicious, low sugar, low starch, soft treat. Taking medicine was never so delicious to your horse!



Why Should I Worry About Sugar and Starch In My Horse's Treats?
If your horse has been diagnosed with any metabolic disorder such as Insulin Resistance, Cushing's disease, Equine Metabolic Syndrome (EMS), or PSSM— you need to be concerned with sugar and starch!
High starch and sugar diets result in an increase in blood glucose concentrations, followed by an increase in insulin concentrations. It is believed that such fluctuations can reduce the effectiveness of insulin, resulting in insulin resistance–essentially, the horse's body becomes resistant to insulin, glucose can't reach the body's cells from the bloodstream, and while the body can compensate for a short period by increasing insulin levels, the end result is abnormally high circulating levels of glucose in the bloodstream. Owners of insulin-resistant horses should limit their animals' starch and sugar intake. Starch is a complex form of a carbohydrate in plants that is broken down to produce sugar.

Are Equipockets and BEET-E-BITES Sugar Free?
Our treats are low sugar, low starch and are under the veterinarian recommendations of 10% TOTAL ESC and Starch. Any treats that are made from plants, which manufacture sugar for growth, are not "sugar-free". We will never mislead by advertising our treats as "sugar-free". Horses and ponies that require a low sugar, low starch diet should not be receiving any treats that contain oats, wheat bran, oat bran, corn, barley, or any other grains, or added sugars that can come disguised as "all-natural", such as molasses, applesauce, honey, brown sugar, or agave.

Equipockets Are The Delicious, Nutritious, Low Sugar/Low Starch Pill Pocket For Horses!
Equipockets L/S are the delicious way to give your horse medication. They are tested at Equi-Analytical Laboratories and are under 10% ESC and Starch, which are the recommendations from veterinarians for horses with Insulin Resistance, Cushing's disease, PSSM, and Equine Metabolic Syndrome.

• Premium. low sugar/low starch pill pouch treats
• High in Omega 3's and easily digested fiber.
• Delicious, soft, and easy to chew.
• Designed for any small tablet or capsule.
• Perfect for daily Pergolide tablets!

Note: Our Equipocket pill pouch treats are so good, your horse will enjoy taking their medication! They are an ideal soft, moist treat for all horses… especially senior horses!

What Flavors Are Available With Equipockets?
Horses have favorite flavors too. So, we have chosen 2 especially popular and delectable flavors that your horse will love--Apple and Peppermint. Equipocket pill pouch treats are excellent for horses that require a low sugar/low starch diet… or any horse that wants a healthy way to take medication. You will love seeing your horse readily take the treat from your hands, knowing they are enjoying a great, healthy treat, and getting important medications at the same time! Starting at only $28.95… giving medication was never so good!

How Should I Store My Equipockets?
Equipocket pill pouch treats do not require refrigeration, but can be refrigerated or frozen without effecting their yummy soft-moist texture. Best stored in a cool, dry place, out of sunlight.

How Should I Introduce My Horse To Equipockets?

• Feed pouch without pill for several days to get your horse accustomed to the treat before feeding with the pill inserted.
• Insert pill securely into pouch
• For best results, offer your horse one pouch without pill, followed immediately by the pouch with pill inside.

What About BEET-E-BITES?
BEET-E-BITES are the best, go to, low sugar, low starch treat available today! You horse will love them and you will love giving them a healthy alternative to molasses "cookies" that can spike your horse's insulin! BEET-E-BITES are all natural horse treats and are developed from a base of lab tested ingredients. We use only soaked and rinsed non-GMO beet pulp, stabilized flax seed, soybean hulls, alfalfa meal, cold-pressed soybean oil and all natural flavors. They do not contain any herbs that would produce a positive drug test! All testing of products was done at Equi-Analytical laboratories.

Is It True That BEET-E-BITES Bakes Batches Fresh Per Order?
YES! We bake batches to order so they are fresh every time. They are baked very low and slow so the nutrients are preserved. Because of this, it takes several days to bake, dry and ship your order. We have welcomed to our bakery several bakers who are also "horsey"and share our beliefs, that all horses deserve to have a safe and delicious treat.

What Ingredients Make Up BEET-E-BITES and Equipockets?
Our high fiber ingredients are:

Beet Pulp– referred to as a "super fiber" due to it's high digestibility and ease of fermentation. Average protein content is 10%. We use non-GMO beet pulp.

Stabilized Flax Seed-rich in Omega 3 fatty acids, beneficial for a variety of inflammatory conditions, skin problems and allergies. We use only stabilized flax seed so the Omega 3 fatty acids are not damaged in processing. Omega-3 fatty acids are essential fatty acids, meaning they are not produced by the body.Therefore they must be consumed in the diet.

Soybean Hulls– Average protein 13.9% sugar 2.9% and starch 1.4% High in fiber, we use the hull only and not the soybean or meal.

Alfalfa Meal– highly digestible source of protein, naturally low in sugar. Our alfalfa meal is from certified pesticide free, tested alfalfa pellets that we grind. No fillers or molasses in the pellets.

Cold-Pressed Soybean Oil-contains natural anti-oxidants including vitamin E.
Human Grade Flavoring Oils.

Carrot Flavor contains small bits of organic carrots.

Apple Flavor contains trace amounts of organic cinnamon.

Licorice Flavor contains anise seed oil, safe for Cushing's horses.

Peppermint Flavor contains all natural pure Peppermint Oil.

Important Note: These treats are made from the finest ingredients and contain NO added sugar, molasses, oats, corn, or artificial colors! They are tested (by Equi-Analytical Labs) and are 3.3% ESC (Simple sugars) and 4.9% Starch for a total value @ 8.2%. Recommendations for carbohydrate sensitive horses are 10% and under. All products are packaged in human food grade packaging.

How Are BEET-E-BITES and Equipockets Different From Other Horse Treats?
BEET-E-BITES and Equipockets treats are fresh baked to order, and contain no added sugars, grains, or artificial colors. We are, and always have been low sugar, low starch, and we guarantee that your horse will love these delicious heart shaped goodies. From "our heart" to your horse, we promise to help you "treat them right" with BEET-E-BITES!

Is It True That BEET-E-BITES and Equipockets Were Developed With Veterinarians?
Yes! BEET-E-BITES treats were developed with veterinarians, and are recommended by veterinarians! Our commitment to you and your horse are the reason for our "heart" shapes!Starting at only $14.50 a bag, giving delicious, healthy treats, was never so easy— or delicious!

What Do Horse Owners Say About BEET-E-BITES?
Hello from Ephesian Farms! Our Beetebite story is probably a familiar one. One of our older mares developed EMS and then founder. We provided the best vet and farrier care to speed her healing, but frankly we noticed that everybody was just a little too fat. So we started making changes. The best change we made was switching from the sugar laden, preservative laced horse cookies to Beetebites. We hated denying the horses treats because we were implementing a diet regimen. They were unhappy, which made us unhappy. And we all like happy horses! And the good news is, they like the Beetebites better!!!!!

We can feel good about giving treats again! Our mare recovered and is doing great. I truly hope that we can educate the horse world that beautiful green pastures are not always the best thing for horses (though they would disagree I'm sure!) With the uptick in EMS, Pasture Related Laminitis, and Insulin Resistance, sometimes those green pastures are akin to coconut cream pie! A review of your horses diet, forages and exercise is most important to head off these illnesses. But for us the happiest change we made was to Beetebites. So from Stormy, Bud, and Oatmeal (yes that's really her name), we thank Cherie for making the best darn horse treats in the world. We've even caught Stormy dreaming about them!
Cheers from the Corbetts and the horses at Ephesian Farms!

Hi Cherie,
Oh my gosh, her cookies came. They were beautifully packed, perfect. I love what you are doing and listing all the ingredients and the percentages, etc. It's absolutely wonderful. I am so happy that I found you. Plus some little candies for me and my husband, very nice:) The big test was does she like them? Well, I could hardly get out of the stall with out giving her handfuls of the carrot cookies. yikes, she adores them. I love the shape and knowing that they are handmade.
You are awesome and thank you for doing this wonderful business creating treats for our horses. Giving them treats that are safe for them to eat, yeah. Thanks so very much!
Linda & Pearl

My father gave my horse some beet-e-bites for Christmas. Peppermint is her favorite flavor. She loves these treats including the crumbles! My horse was recently diagnosed with equine polysaccharide storage myopathy and it has been challenging to find low carb treats that she will eat. She is finicky about her treats so you can be sure I will be ordering more of these in the near future. It will make her rehab time more tolerable especially with her new diet restrictions.
Thank you!
Jennifer

My horse is 22 and has Cushing's and EPSM. Finding a low starch treat that he would eat took a few tries, but he loves Beetebites. He will do all of his stretches, no matter how difficult for him, for an apple-flavored Beetebite–he loves them that much! I like the fact that I can easily break them into smaller pieces and keep them in my pocket without making a mess. The customer service is wonderful!
Diane

Order Equipockets or BEET-E-BITES Today!
Made with love by horse people who love horses and know the joy it brings you to give something special to your beloved equine friend. BEET-E-BITES and Equipockets are just what the veterinarian ordered (to borrow a popular phrase). Delicious, low sugar, low starch, healthy and top quality ingredients— your horse will request you are never without your BEET-E-BITES or Equipockets for medications again. Check our our dealers and visit us today!


---
Contact: Cherie Pritchard
2771 Cherry Way
Parker, Colorado 80138
Phone: 1-800-200-9859
Email:
Website: Click Here To Connect

---