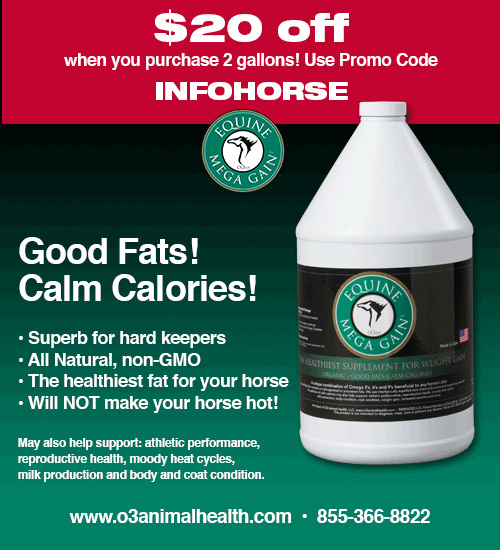 Equine Mega Gain by o3 Animal Health
Equine Mega Gain is superb for adding additional healthy weight with good fats and calm calories that will not make your horse hot!



Who Is O3 Animal Health?
o3 Animal Health are horse people who are passionate about the health and well being of horses. We seek life-long relationships with our customers. We understand how important your horse is to you. We truly believe our products are the finest on the market today.

We ride. We show. We care. We are pleased to introduce you to our Equine Omega Product line of 3 all natural, non-GMO supplements used by many top horse trainers, competitors, horse owners and Veterinarians to provide the perfect fat for proper cell function- and much more!



Why Doesn't My Horse Look Good, Despite Great Hay, Feed and Regular Worming?
Horses were not meant to live in stalls and consume feeds high in saturated chemically extracted fat, they were meant to graze on fresh green grass. There are trillions of cells in a horse's body and the majority of that cell wall is made up of fat, if it is good fat like Equine Mega Gain (or Equine Omega Complete), nutrients get in and waste gets out and the cells function properly. However if the fat in your horse feed is hydrogenated, like those which are chemically extracted using hexane and the fat contains animal fat, it is bad for your horse. This would be like you eating fast food every meal of your life.

So, Why Is Healthy FAT Important To My Horse?
Not all fat is created equal. Equine Mega Gain supplies HEALTHY fat, which is essential for normal cell function. Cells that function properly help promote a healthy horse from the inside out. Therefore, for the best results, we suggest you pair our product with a low-fat, complete grain.

FACT: If Your Horses Don't Get Fresh, Green Grass Every Day- They NEED Equine Omega Complete.
Equine Omega Complete is specifically formulated blend of mechanically expeller pressed non-GMO soybean, human grade, wild caught fish oil and all-natural vitamin E. Used by some of the leading breeders, trainers, owners and veterinarians, Equine Omega Complete supplies a complete balance of beneficial fatty acids to provide the perfect fat for proper cell function. Equine Mega Gain is a special formulation designed to help hard keepers catch up to a healthy weight. Once they are at an optimal weight, it is important to transfer them onto to Equine Omega Complete for all the additional benefits.

So How Can This Good Fat Help My Horse?
Bad fat builds sometimes like a plastic wall around cells and eventually the cells began to function poorly. With Equine Omega Complete, cells are provided a properly balanced omega 3 rich polyunsaturated fat that contains the proper antioxidants that cleanses the cell wall. The horse's own anti-inflammatory system is stimulated, the immune system is improved, strong hoof quality is dramatically increased, hair coat is improved and anxiety is relieved. Natural calming effects occur, bone density is increased; there is a significant reduction in joint and tissue inflammation and more. Cleanse the cell wall and watch the magic happen for your horse.

How Does Equine Mega Gain Help My Horse That Is A Hard Keeper?
Equine Mega Gain is a specifically formulated version of Equine Omega Complete. We understand that some horses are energy burners, and we know how to help!
First, you need to understand that:

Good fats and calm calories that will not make your horse hot! Every horse needs them and Equine Mega Gain's combination of omega-3's, 6's and 9's are beneficial to any horse's diet.
Equine Mega Gain contains no processed fats. We use mechanically expelled, non-GMO soybean oil.
The addition of calm calories may also help support: athletic performance, reproductive health, moody heat cycles, milk production and body and coat condition.
How Much Do I Feed and How Long Do I Stay On Equine Mega Gain?
We suggest you feed one gallon of Equine Mega Gain over a period of one month (4 ounces daily), or until your horse reaches the desired condition. Then transfer your horse onto Equine Omega Complete, also fed at 4 ounces daily, for additional benefits such as joint and tissue support!

How Much Do I Feed, and How Much Does Equine Mega Gain Cost?
The real question is how much can it save me in the long run, on feed, and health concerns for my underweight horse! Horse owners who have tried it, LOVE it! One gallon is a one month supply for one horse. $49.99 plus tax and shipping. If you order 4 Gallons, shipping is FREE.

What Do Horse Owners Say About Equine Mega Gain?

Better Focus, Great Health, Weight and Perfect Coats!
Canterbury Farm absolutely loves the results we have seen in our show horses on the Equine Omega Complete and Equine Mega Gain. The product has improved their coats, ability to concentrate, weight gain and overall health noticeably in a short period of time. We recommend this product to everyone involved in our sport.
Caitlyn Shiels – Canterbury Farms

Finally At The Right Weight
I just wanted to brag on your products a little bit! I am beyond impressed with what the Mega Gain has done to help my recently imported German horse (been here since Dec) bulk up. He's only been on it about 2 weeks and I already see a massive difference. Jacob Fletcher recommended I give it a try and I am so happy with the results this far. I can't wait to see what results are to come and for sure plan on switching him to the Complete!
Victoria Garland

Calmer and Better Weight
I've been using both the Omega Complete and Equine Mega Gain in my barn for a few months. I used the Mega Gain on a on an underweight Thoroughbred gelding with a rough dry coat. He had marked improvement in both his coat and weight with the bonus of no added energy. I used the Equine Omega Complete with my Thoroughbred jumper mare that has always needed a substantial amount of hay and grain in order to keep weight on. She is also very sensitive to high-energy feeds like alfalfa and is easily hyped up. After going through both gallons of the complete her coat has never looked more amazing and I am now able to back off on some of her expensive high-energy grain! She is feeling fantastic, looking amazing and I couldn't be happier! Hard keepers are fat and shinny, anxious horses are more relaxed and happy, and my picky eaters are licking their buckets clean! What it comes down to is this is simply the best multi purpose supplement out there! My horses and I couldn't be happier!
Audrie Kerr

Hard Keeper Looking Beautiful and Cutting Back To 1/2 The Regular Grain!
I used the Equine Mega Gain on my Thoroughbred who is very very hard keeper. Before starting it he was on 18lbs of grain a day, plus hay, and grass pasture. He was still ribby and we were heading into the show season. I hated horse shows because he would drop weight every time. He was on high quality grain, but nothing helped. I tried all the weight additives they either made him hot or didn't work. I reached out to O3 Animal Health and asked about Equine Mega Gain. I decided to go ahead and try it, and it changed my TB. He now looks AMAZING, the best he ever has. He is filled out and I am back to riding 5 days week. When we go to shows he does not drop weight like he used to. I have even been able to back off the grain to 9lbs a day!! This really really changed our lives, I am now an advocate and recommend this to EVERYONE!!!
Shelby Bluthardt

No More Skin Ailments!
For 2015 I put all of my horses that were competing at HITS Thermal on Equine Mega Gain. Despite the hardship of 9 straight weeks of competition, none of my horses showed any signs of the complications that typically arise from such arduous competition. They all returned home with a beautiful bloom and normal weight. This was the first year that I did not have to treat for scratches, hives or other skin conditions that typically crop up when in the desert. One example was "Le Co Q As" week 8 after showing the full circuit. His coat looked amazing and he was at perfect weight. He drank your product daily and I fully accredit his turn out to Equine Mega Gain!! Upon return I put every horse in my care on this supplement.
Meredith Herman | Burgundy Farms, Inc.

Your Horse Deserves To Look and Feel Their Best!
Equine Mega Gain is a real solution for hard keepers. It works, it will not make your horse hot and it is amazing for their overall health. We invite you to try it and see the results for yourself. Call or email us if you'd like a first time order discount!

---
Contact: Our Friendly Staff
2552 Hwy 61 South
Boyle, Mississippi 38730
Phone: 855-366-8822 ext.2
Email:
Website: Click Here To Connect

---