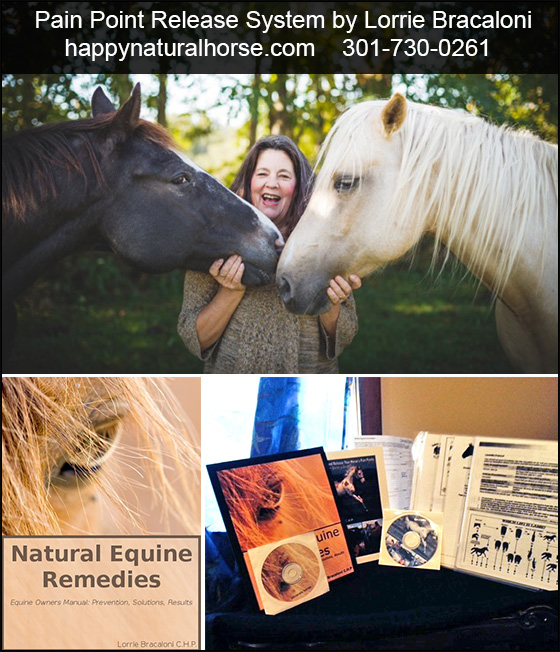 PAIN POINT RELEASE SYSTEM by Lorrie Bracaloni
Would you like to help horses overcome their pain and discomfort- naturally? Are you looking for a career with horses that only takes a few weeks and less than $400 for all the materials necessary to learn? Pain Point Release System is the answer!



About Lorrie Bracaloni and How The Pain Point Relief System Came To Be….
Says Lorrie, Before we begin, I want to thank you for learning how to help your horse be pain free.
I became an equine naturopath health practitioner ten years ago. I was fortunate enough to study under some of the best holistic equine teachers in the United States. I love to educate horse owners on health and nutrition and have been for over ten years on the importance of natural, unprocessed, chemical-free nutrition for horses. My unique Equine Nutrition protocols and Herbal Remedies have helped hundreds of horses start down the road to excellent health and soundness.

I became very interested in natural care for my horses after my beloved horse, Romeo, died using conventional treatment. I have great respect for veterinarians. However my previous experiences with traditional veterinarians gave me very little information on the much-needed preventative care that I was looking for.

As a horse owner, I knew I was lacking crucial preventative care know-how, and caring for them in the conventional way just seemed to continually cost me money and time. My horses didn't seem to be as healthy as I thought they could be. After Romeo died of severe colic at the age of three, I swore I would learn all there was about natural horse care.

I attended a natural health seminar given by my horse trainer Brenda Flispe. Both my horse's and my life changed for the better. In that seminar, I discovered ways of helping my horses be more healthy and fit, and to prevent illness and injuries. It was at that seminar that I made it a point to learn and do all I could to reach out to the horse world, and pass on the knowledge I learned that day. My mentor, Dr. Regan Golob, showed me a whole new world of keeping my horse healthy and sound using natural feed and minerals.

He also showed me the pain points on my horse and how to release them if they were out of balance. I continued attending many more seminars that Dr. Golob gave, and then went to school at the Holistic Therapies Center in Florida. There I received my Acupressure Certification from the Tallgrass Institute.



Is Lorrie Also a Reiki Master, Nutritionist, and Body Balancing Instructor?
Yes! Says Lorrie I became certified in Animal B.E.S.T., Essential oils/Raindrop therapy, Reiki Master level 3, herbal remedies, homeopathics, Equine Body Balancing Instruction, nutrition consulting, and Equine Chiropractic Application from Dr. Karmen.

I became amazed at the healing process once the body had been given the right nutrients and minerals coupled with applying the basic pain point balancing application on the horse when he is out of balance. My own horses have rarely seen a veterinarian in the last eight years. They are healthy and sound, much happier and calmer, and that has saved me money- and stress!

Anyone Who Loves Their Horse Can Learn!
If you're a Horse Owner who wants to know the best method of learning where your horse is in pain & how to release that pain using acupressure application, plus find lameness issues with acupressure release discover how you get to save time & money on massage, chiropractor ,vet bills,etc right now! Just by using your hands!

So This Method Really Works?
Oh yes… it really REALLY works! I have helped hundreds of horses over the past ten years. I rarely have to see the majority of my equine clients again because they resolve their health issues and stay healthy! Most of the clients I do see for yearly rechecks I find in good health and body balance. I have felt so blessed to be able to help so many horse owners find effective and natural health solutions for the horses they love, while saving them money.



How Do I Know If My Horse Has Pain Issues?
Usually it is pretty clear- but sometimes horses can be more subtle because of their desire to perform well and please us.

Is It Easy For Me To Learn From Lorrie's Books?
Lorrie Bracaloni's book How to Identify & Release Your Horses Pain Points is a step by step method with pictures and a DVD to show you how simple exercises with just your hands can find the pain points and release them. Lorrie's second book Natural Equine Remedies can help change both your life and your horses and save thousands of dollars on vet bills! Please take a look at a few of my MANY testimonials from ordinary horse owners, who have never done this before, who are helping their horses! You can buy BOTH books for only $50 + S&H!


But What If I Want To Supplement My Income and Make A Career With Pain Point Release?
Absolutely! You will get to benefit from Lorrie's many years of schooling and practice. Lorrie has been able take this vast wealth of knowledge and simplify it to a level that anyone can understand! For only $350 you can take Lorrie's Complete Certification Course! This includes detailed, easy to understand, work book, DVD, Natural Equine Remedies Book, Advanced Pain Point Release Chart and Information Charts.

What Is The Average Cost I Can Charge Per Horse Once I Am Certified?
You may charge what you like as it only takes less than 20 minutes to rebalance the horse some charge $40 to $75 per horse with discount for barns , plus you can charge a TRAVEL FEE so that your costs are covered!

Are there Any Pre-Requisits to This Course? Is It Easy To Understand?
You must have some kind of equine experience , not be new to horses, and you must be over 16 years of age.

What Is Required At The End To Pass?
You must turn in 10 case studies and 2 videos preferably as you are working on the horses, So I can see your progress. We can do Facetime also so I can guide you while you are working on the horse. You have 6 months to complete the course which is plenty of time to learn these easy methods and I am available to help you! Anyone with simple dedication can learn these easy, simplified methods that I spent over $20,000 to learn— you have it all for only $350!



What Do Horse Owners Say About The Pain Point Relief System or Her Certification Program?
Lorrie Bracaloni is an excellent teacher! I really enjoyed taking her Pain Point Release Certification course. She helped me at every step of the way and made sure I left her course with the tools and confidence to start working on horses myself.

Lorrie has a wealth of knowledge for anyone looking for a holistic approach to caring for their horse from releasing pain points, to diet, to medical/wound care. She is a blessing to the horse community andI am so thankful for the wisdom and information she has given me!
Ali Shepard.

A month ago, we had two horses that had been on antibiotics for 2 months fighting cellulitis. They were not every getting over it! We started looking for natural solutions and came across your you tube video on treating cellulitis. I talked with you on the phone briefly and so appreciated the information you shared. We ordered all we needed and started.

We have just completed 3 weeks on your recommendations for treating cellulitis in our two horses. They are doing so good. Their skin has cleared up, swelling is gone, they are drinking more, their coats are looking better each week. We are so thankful for what we have learned from your book and you tube video. Thank you. They will stay on this program. No more commercial feed.

One thing always lead to another. We also just received your book on identifying and releasing the pain points on horses. Today we practiced on our two horses. Wow, we have seen major improvements and have a call for their teeth to be done. Thank you. You have saved our horses from pain and with your shared knowledge AND have helped their bodies heal themselves. Thank you!
Carol & Kayla Schmidt
Rockford, IA

My horse was high strung, didn't want to be touched on his back too much. I'd get on him and he would buck a bit right away and his gait was off. In the pasture, I would watch him lift his back leg up all the time like he was in pain.

I have spent thousands of dollars on trying to get my horse "fixed" between vets, chiropractors, energy healers, anything I could find to figure out his pain and nothing worked. He even had the shots put in his stifles.

I happened to stumble across Lorrie's website and watched the videos and ordered her book that same night. Once I got it and read it right away, my husband and I went out to use her pain point checks and releases. He was out in every pain point, but his neck.

It was AMAZING!!! She said that anybody can do this and she was right. My horse changed overnight. He was not flinching in his withers anymore and I could touch his back without him moving away from me. He was the calmest he has ever been.

I will be forever grateful that I found Lorrie's site. It's so easy that it makes me want to work on him everyday. If you have ANY horse issues, I would recommend this type of modality.

I was really impressed with the pain point that shows you if it's the teeth that need to be worked on. Needless to say, he is scheduled to see the dentist. Thank you again Lorrie for sharing your knowledge!!

Order Lorrie's Books Or Decide To Take Her Course To Make Money With Horses Today!
Whether you only want to help your own horses or are looking for an easy to learn, affordable, rewarding career that can change both your life and the life of the horses you work with, Lorrie is worth your time, your attention and your small investment. The knowledge you will glean from her information will save you thousands of dollars and make the future bright for both your horse— and you! Visit HappyNaturalHorse.com and change your future and the future of the horses you help, today.

---
Contact: Lorrie Bracaloni
20834 Boonsboro
Boonsboro, Maryland 21713
Phone: 301-730-0261
Email:
Website: Click Here To Connect

---