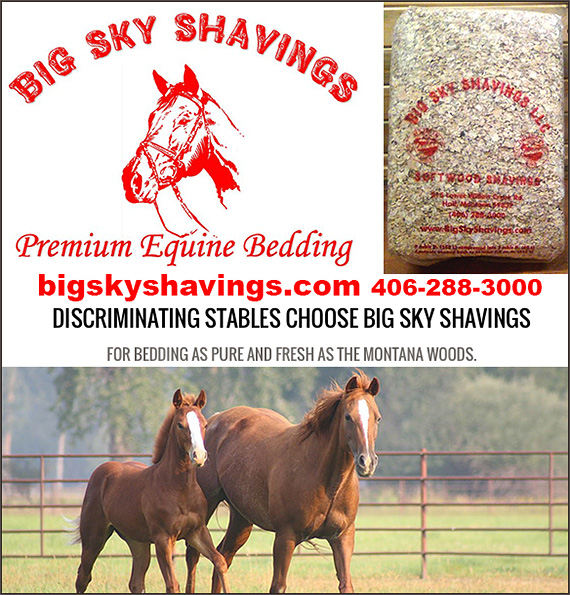 Big Sky Shavings- Highest Quality Softwood Shavings--
Exclusively Made in the USA
When only the BEST shavings will do for the horses you love, Big Sky Shavings offers the Highest Quality Shavings in the entire horse industry. Our 5 Step process ensures every bag of Big Sky Shavings is the highest possible quality!



The Big Sky Story...
Ron and Judy Paige are dedicated horse people from Flint Creek Valley in beautiful Southwest Montana. Ron and Judy enjoy their horses and understand what it takes to keep horses happy, sound and in good condition. In 2005, Ron and Judy saw a need for a consistent, affordable, high quality shavings that went "beyond" what the competition was offering. They determined to make the finest bedding product in the Northwest… and beyond! After careful planning, research, and testing, the result was an amazing, beautiful, absorbent, super clean bag of shavings that is now the heart of there "Big Sky Shavings" operation.

Are Shavings Really Important? I Mean, Won't Just ANY Shavings Do For My Horse?
That is what a lot of people think. I mean, after all, aren't shavings just supposed to absorb the urine and coat the manure for easy pick up? What happens is that over time, as the vet bills for allergies and skin irritations begin to accumulate, people start to realize that shavings plan an important role in your horse's health! Having clean, bacteria free, dust free, shavings that are sifted, and then sifted again, carefully dried and made with the highest quality wood fiber, soon translate into SAVINGS on vet bills— and helping the performance and well being of your horse!

Isn't Your Horse Worth Big Sky Shavings?
Quality horses aren't just expensive. They're loved. At Big Sky Shavings, we know that owners demand the very best care for their horses. That includes what they're fed, how they're exercised and where they sleep. After all, many horses spend a third of their days or more in and around bedding. Our bedding products live up to those high standards, protecting the health of the horse and the reputation of the stable. That's why leading equestrian facilities and event centers around the West choose Big Sky Shavings.

But Aren't Shavings Just The "Scraps" From Wood?
For most of our competition, scraps are exactly what they are. Not at Big Sky Shavings! Yes our competition is a little cheaper— and a lot more expensive in the long run as the vet bills, allergies and skin problems start to take hold. At Big Sky Shavings, our exquisite shavings products are specially made just for our clients. Each bag is carefully made from small-diameter pine on site, with a careful step by step process to make them clean and allergen free— our shavings are NEVER made from sawmill waste!

Is It True That Big Sky Has a "5 Step" Process For Each and Every Bag?
YES! That is what sets our shavings apart from any other! Not only are our shavings especially, made from the best pine wood 'Our five-step process of shaving, sifting, drying, resifting and bagging ensures clean, absorbent, contaminent-free bedding for your horses.

So What Exactly Goes Into The Creation Of Every Bag?
OUR MANUFACTURING PROCESS -From tree to truck in one day!
At Big Sky Shavings we believe in absolute quality control. We break down and shave each log on site at our Hall, Montana, facility using the latest equipment. We regulate our moisture with our biomass furnace. Then, batch by batch we deploy a five-stage process that screens the shavings of impurities and splinters, dries and sterilizes them thoroughly in a 500-degree kiln, and shakes them to sift out dust. Once clean and dry, shavings are compressed into manageable-size bales weighing about 30 pounds.

So There Is Never Any Sawmill Waste Or Dust In The Shavings From Big Sky??
That's right! Our products never include sawmill waste or dust. Every bag is turned out by our high-capacity multiblade shaver. Our process always ensures that clean, fresh, dry bedding is delivered to your facility. Moreover, our products are good for our local forests. Much of the material we use for bedding is salvaged "waste wood" from timber thinning operations. Useless as lumber stock, it would likely have been burned as slash or simply left to rot in piles. We even deploy a biomass furnace to fuel our entire operation, eliminating waste and the need for fossil fuels.

So Big Sky Shavings Are HEALTHIER For My Horse?
Unlike mill byproducts or straw, our shavings protect horse health by preventing respiratory issues and the spread of disease. They are ideal for periods, such as foaling, when animals may be more susceptible to illness. They protect your facility's reputation for quality boarding and events. And they bring the fresh scent of the Montana woods into your stable with every bag you open.

So Big Sky Shavings Cost a Little More Because They Are WORTH More?
That is 100% RIGHT! We have a high expenditure in the best pine word, and wood shavers that would slice custom made local pine trees into cushiony and spotlessly clean bedding. This has added a small amount to our cost but assures the horse owner that our product is the eco pure choice. We do not just bag up waste from the lumber mills-- we carve it ourselves using the best of wood and carving equipment to ensure consistency in our quality. Our horse owner endorsements show the popular acceptance of our production. We invite you to our facility to observe our special treatment.

What Do Big Sky Shavings Clients Say?
Big Sky Shavings has a superior product, in my opinion! Their bedding is cleaner and more absorbent than other products, due to the fact it is sanitized in a biomass furnace. Ron and Judy's shavings are good for the environment, too!
Carolynn Vietor President, Women's Professional Rodeo Association

Your service is amazing. We go through so many shavings and you have always fulfilled our orders.
- COPPER

I wanted to take a minute to thank you for your many years of service. Your shavings have always been consistent with both quality and quantity. They remain dust-free and yet very absorbent. Orders placed and deliveries are always on time. Once again thank you and I look forward to many more years as a customer.
Bill Henry-Winsome Farms LLC

We have used Big Sky Shavings for several years. We and our horses love them. They are dust free, absorbent and smell wonderful. Without doubt the best shavings on the market.
Richard & Liz Willett

Your service is amazing. We go through so many shavings and you have always fulfilled our orders. The shavings are always clean and the horses love them.
Lisa Anderson

Through the years we've used shavings from several different suppliers and I think Big Sky Shavings has the best horse bedding on the market. Thank you for making a superior product that is virtually dust free, clean, easy to handle, highly absorbent and absolutely perfect for our mares and foals. The stalls are easier to clean, the barn smells fresh and the fast delivery and professional service can't be beat. I highly recommend Big Sky Shavings to anyone wanting top quality bedding for their horses.
Melissa Malek

Call Big Sky Shavings Today!
We are happy to ship these incredible shavings to your barn, farm or horse facility. If you would like your tack stores to start carrying Big Sky Shavings, have them give us a call. We welcome your calls today and are excited for you to experience the Big Sky Shavings Difference for YOUR horses! Call and talk to Ron TODAY!

---
Contact: Ron Paige
215 Lower Willow Creek Road
Hall, Montana 59837
Phone:
Email:
Website: Click Here To Connect

---