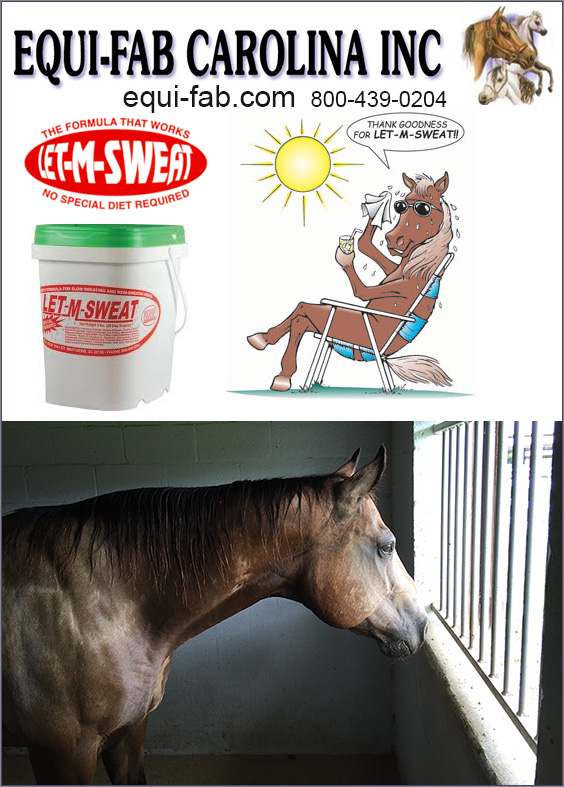 Let-M-Sweat by Equi-Fab Carolina, Inc
Let-M-Sweat helps most non-sweaters in even the most severe heat stressed conditions. In many cases it will even help those horses that are sub-clinical or borderline non-sweaters from becoming the real thing, a non-sweater!



About Equi-Fab Carolina, Inc.
Equi-Fab Carolina, Inc., located in St. Matthews, SC, is an independently owned company specializing in equine nutritional supplements. Equi-Fab Carolina, Inc. offers a complete line of products for all horse owners. Whether you need a product to boost growth, enhance your horse's performance, or help your herd through the heat of summer, Equi-Fab Carolina, Inc. has a product for you. With a practicing equine veterinarian on staff, we can offer the most usable products on the market today.

So What IS Anhidrosis?
Anhidrosis is defined as a decreased ability to sweat in response to increased body temperature.
Failure to sweat has been described in both horses and man, and it occurs primarily in hot, humid
climates. In the working horse, thermoregulation is mainly accomplished by sweating. Between 15-25% of heat is dissipated by the respiratory tract, while 65-70% of heat is lost via the evaporation of sweat. Humid environments, like those found in southern states or even norther states during the summer, also result in less efficient evaporation of sweat from the skin surface, magnifying any pre-existing sweating abnormalities.

How Do I Know If My Horse Has Anhidrosis? What Are The Symptoms?
* Panting without sweating (increase respiration as horse tries to cool through breathing faster)
* Lack of Sweat or very little sweat after rigorous exercise
* Poor appetite- or high fever.
* Failure to cool down after exercise
* Dry Flaky skin on forehead, hairless, fatigue

Note: These are serious signs and all can lead to serious conditions- even death. Always check with your veterinarian and get help by cooling horse down as quickly as possible with cool water, gentle hosing, cool packs etc.

Let-M-Sweat Is A Safe, Effective Solution To The "No Sweat" Dilemma!
Let-M-Sweat offers a unique blend of nutrients that help overcome the heat stress effects of the condition commonly known as "non-sweating" or "anhidrosis". Originally developed in Florida in the mid 80's by J.D. Carpenter, Let-M-Sweat helps most non-sweaters "break a sweat" in even the most severe environmentally heat stressed conditions. In many cases it will even help those horses that are sub-clinical or borderline non-sweaters from becoming the real thing, a non-sweater! Use 1 oz morning and evening for 7 days and then just one ounce per day. Our 40 oz tub is a 29 day supply for the first month and then a 40 day supply there after. You and your horse love Let -M-Sweat because— it works!

How Do I Feed Let-M-Sweat?
Use one (1) ounce AM and PM for the first 7-10 days, then decrease to one (1) ounce daily until cooler weather. It is recommended to discontinue use in the winter. Restart administering the product 30 days before the warmer weather hits again.

How Fast Can I Expect Results?
Every horse is a little different. Results usually occur in 4-6 weeks— so make sure to help your horse keep cool until results are showing.

So What Are The Ingredients?
Ascorbic Acid (Vit C), Biotin, Calcium Chloride, Choline Bitartrate, Cobalt Glucoheptonate, Cobalt Sulfate, Copper Lysine Complex, Copper Sulfate, Cyanocobalamin (B12), Ethylenediamine Dihyriodide, Folic Acid, Iron Sulfate, MagnesiumSulfate, Manganese Chloride, Manganese Methionine Complex, Menadione Sodium Bisulfite Complex (Vit K), Niacinamide, Pantothenic Acid, Potassium Chloride, Pyridoxine Hydrochloride, Riboflavin, Sodium Chloride, Sodium Saccharin, Thiamine Hydrochloride, Tyrosine, Vitamin E Supplement, Zinc Methionine Complex, Zinc Sulfate .

Note: Remember to even use Let-M-Sweat during cooler months so that you will get full benefits of the product when you really need it.

Don't Let Your Horse Suffer With The Inability to Sweat, Let -M-Sweat Is The Answer!
At only $70 for a 5 pound pail of Let-M-Sweat, you can have your horse, looking, feeling, sweating and performing his or her best. Make sure that your non-sweater has Let -M-Sweat as a part of their warm weather feeding program and call to order today!

---
Contact: Our Friendly Staff
P.O. Box 164
St. Matthews, South Carolina 29135
Phone: 1-800-439-0204
Email:
Website: Click Here To Connect

---