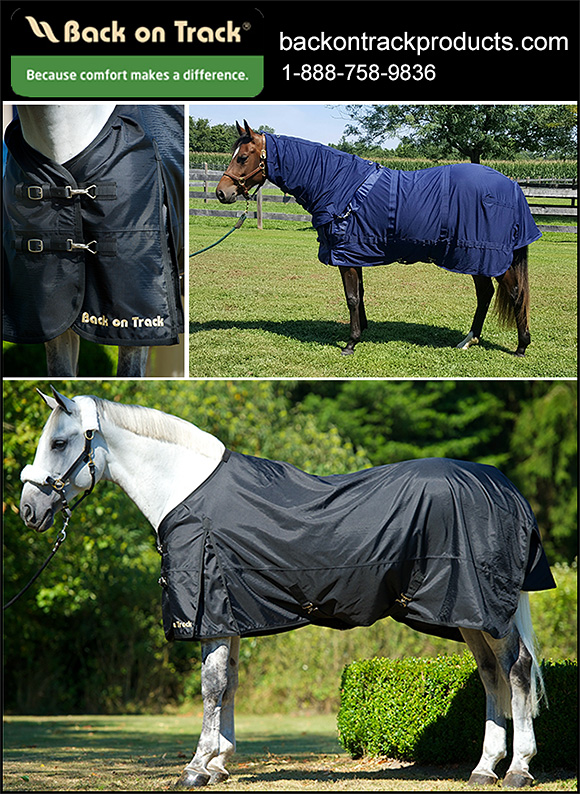 Therapeutic Blankets by Back on Track
Back on Track is endorsed by many of the top riders and trainers in many disciplines because the products are highly effective and work consistently. Our goal is to help keep horse's in top health and performance!



About Our Company
Back on Track products gets dogs, horses, and people feeling healthier, and emanates from Sweden. Already popular in Europe, they are now getting rave reviews in the USA. Back on Track is endorsed by many of the top riders and trainers in many disciplines because the products are highly effective and work consistently. Our goal is to help horse owners, trainers and professionals keep themselves and their horse's as healthy as possible. Horses at all levels of performance/activity and at all stages of life can benefit from using the products.



How Do I Know If My Horse Can Benefit From Back On Track Products?
Back on Track products can be used on horses all ages whether are working hard every day or senior horses. Our products keep their muscles loose, supply, and comfortable. Back on Track Welltex material creates a gentle warmth which helps reduce inflammation, eliminating many of your horses aches and pains. You'll be amazed at how much your horse's performance improves after using Back on Track products!

Therapeutic Back Pad
The Therapeutic Back Pad (size - 3' x 3' and now a 3' x 4' is available) uses our state-of-the-art Welltex fabric, which contains polyester thread embedded with a fine ceramic powder. Designed to reflect the horse's own body-warmth, it creates a soothing far infrared thermal heat, which can help alleviate pain associated with inflamed muscles, ligaments, tendons and joints. Used for both injury prevention as well as injury recovery. The Back Pad helps to warm up your horse's back before exercise, loosening up the muscles. Material is 100% polypropylene infused with Back on Track's revolutionary new ceramic infused fiber. Only $69- $79
Note: A Velcro strip detaches and may be sewn into an existing blanket for the means of securing it to the horse or may be used with a surcingle.

Therapeutic Fleece Horse Blanket
Horses with tired or sore back and shoulder muscles experience relief from this soft heat therapy as well as horses with cold backs. The lush fleece material keeps out chills and dries your horse quickly after a ride. This eye-catching fleece horse blanket can be worn alone in the stall or used as a liner in colder temperatures. Ideal for injury recovery or prevention. Our Therapeutic Fleece Horse Blanket does double duty. Made of plush fleece and infused with our state-of-the-art Welltex fabric, which contains ceramic powder, this horse blanket reflects your horse's natural body warmth and creates a soothing far infrared thermal warmth.Blanket includes two chest buckles, crossing belly surcingles, and a tail flap. Only $169-$199
Sizes: 60" (85 cm), 63" (95 cm), 66" (105cm), 69" (115cm), 72" (125 cm), 75" (135 cm), 78" (145 cm), 81" (155 cm), 84" (165 cm), 87" (175 cm) and 90" (185 cm)

Therapeutic Mesh Sheet
Back on Track Therapeutic Mesh Sheets and blankets all work the same and can benefit all horses - from pleasure, to race horses to Olympic horses in every discipline. These products are made with our state-of-the-art Welltex fabric which reflects your horse's own natural body warmth creating a soothing far infrared thermal warmth (the horse will not get over heated, but it can result in sweating to loosen and relieve sore or inflamed muscles). The thermal warmth helps increase the blood circulation and helps your horse's muscles recover, stay looser and become less inflamed. The sheets/blankets can be used like a liner under your own blanket when it is cold out, in the stall or during transport. Back on Track's Welltex material will never lose its effectiveness even if the products end up in the dryer. We recommend that you hang dry them as they can become stiff and less comfortable if the dryer is too hot. $199- $249

Therapeutic Exercise Sheet
Our Therapeutic Exercise Sheet is the perfect way to exercise your horse and keep discomfort at bay! Perfect for use during warm-up sessions, riding tours as well as following exercise/competition sessions. The Exercise Sheet is breathable and tolerates a degree of water or dampness. Only $139

Therapeutic Equine Shoulder Guard
Shoulder Guard has removable pads across the chest, and on both side of the withers. It slips overhead and has a Velcro belly strap. The Shoulder Guard, is designed to optimise freedom of movement, as well as minimising the rubbing/chafing effect of Blankets. Made with the revolutionary Welltex™ ceramic infused fabric to provide soothing, pain relieving far infrared therapy to help alleviate problems with stiffness and injuries to muscles & soft tissues. The Shoulder Guard is easy to apply, comfortable and has three dimension, removable padding to assist in reducing pressure around the withers/shoulder area. Introduce this product gradually— by seeing our instructions for use. Only $109

Therapeutic Equine Head Cap
The Equine Head Cap covers both the atlas and the axis. It has closures around the ears for optimal adjustability. Laces on each side to fasten under the throat, with re-enforcement made on the exterior where the halter rests. Only $39 SML sizes.

What Make Back On Track Products Different From The Competition?
What sets Back on Track apart in the equine industry, is our unique, state-of-the-art Welltex fabric that is used in all our products. This revolutionary fabric is interwoven with a polyester thread infused with a fine ceramic powder. By reflecting warmth, in the form of FAR infrared rays, back into the body, they create a soothing thermal warmth that can help alleviate pain associated with inflamed muscles, ligaments, tendons and joints. It effectively warms up a horse prior to performing and can accelerate its recovery rate after strenuous exercise. Because the products can be used for prevention and treatment of stress related injuries, they are an important part of your horse's regular care regiment. Back on Track is extremely easy to use because there is no need to monitor your horse while using it. Your horse can safely wear Back on Track gear all the time.

Order Your Back On Track Products Today!
Do you want to help your horse not only feel better, but compete better? Then you need to order our products today! From our Blankets, Loin Blankets, Back Warmers and more, your horse can receive the soothing reflective warmth that both prevents injury and helps to heal existing problems. You can also find many Back On Track products at SmartPak, Big Dee's, State Line Tack, Dover Saddlery, and other fine catalogs and retailers. Call us to help you with any questions and order today!

---
Contact: BackOnTrack
350 Circle of Progress
Pottstown, Pennslyvania 19464
Phone: 888-758-9836 or 954-647-4003
Email:
Website: Click Here To Connect

---