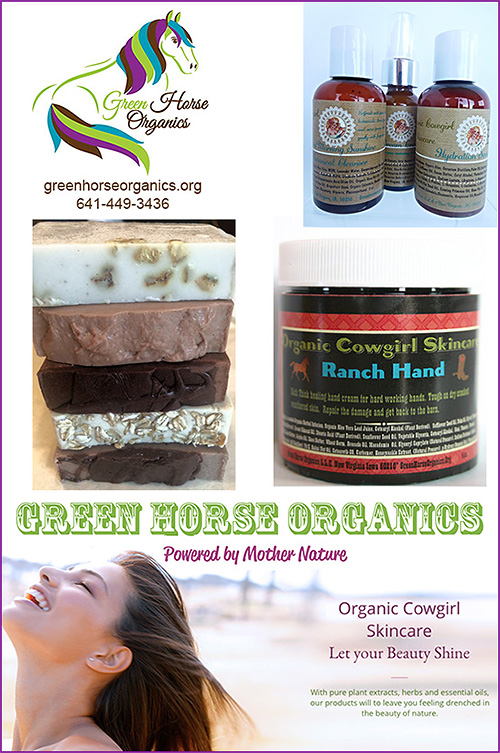 Cowgirl Legend Apothecary Skin Care by Green Horse Organics
Cowgirl Legend Apothecary by Green Horse Organics was designed by cancer survivor and active horse woman Nancy Lamb. These luxurious, all natural products will both protect and heal your skin- naturally.



About Green Horse Organics Makers of Cowgirl Legend Apothecary
Green Horse Organics is the result of over 25 years of labor, love and dedication to horses by a horsewoman called Nancy Lamb. Green Horse Organics is based on the belief that Natural is BEST of our equine companions, as well as our own health. Nancy is committed to meeting and exceeding your expectations and Equine needs. She uses only the highest quality, Natural, Wild-Crafted, Fair Trade and Organic Ingredients, so you can rest assured you are getting the BEST that nature has to offer you and your horses. Green Horse Organics offers true EQUINE BLISS— just try us once and you'll be convinced.

Does Natural Really Make a Difference When It Comes To Skin Care?
We've all been to the tack store and seen shelves lined with popular brands of skin care and makeup only to see the ingredients look like science experiment gone wrong. How can putting these chemicals onto your skin, only to have them absorb into your blood be good? As a 2 time cancer survivor, Nancy Lamb, creator, understands the vital need to use natural, healthy ingredients that are not only safe and natural, but actually healthy for your skin and body.

But Is There Really A Natural Skin Care Choice?
The Cowgirl Legend Apothecary skin care products were actually created to give horse owners, or any one with a passion for health and good skin, and option for a truly outstanding experience in skincare. We provide a better choice… one you can trust and feel good about using. Once you try our products, you won't want to go back. Our ingredients are rich, healthy, natural and your skin will immediately and gratefully drink them in.

Eye Dream Cream: Organic Eye Dream Cream is the ultimate in organic ingredients to rejuvenate your eyes to their youthful splendor! Protect your delicate eye care with this daytime treatment loaded with antioxidants, humectants, peptides, fruit acids, and rare botanical actives. Restores skin to it's unlined, plump, and firm glory. Yes, it's everything your eyes have dreamed of, longed for— and more! Only $15.26

Age Erase Syrum: Erase lines and wrinkles, plump skin and speed cellular turnover. Total Do-Over for face and neck-Be Amazed! Fights all signs of time with Retinol 2.5%, Wrinkle filling/firming/smoothing peptides-Hyaluronic acid, Matrixyl 3000, Argireline. Aqua, Botanical Hyaluronic Acid, witch hazel, aloe leaf extract, Retinol 2.5%, Matrixyl 3000, Argireline peptide, wheat germ ,organic jojoba oil, Vit E, cellulose, caragenan gum, potassium sorbate, Green Tea.
Only $19.76

Starlight Skin Bright Cream: Skin brightening cream puts the spotlight on your Starstruck skin. Clear spots and skin discolorations, Zap Mottled Skin, sun damage and Restore even Tone and Radiance. Use twice daily for a renewed complexion and etheral Glow. Shine Bright! 2 oz. Organic Aloe, Sunflower, Vitamin E, botanical hyaluronic acid, stearic acid, Bear Berry Extract, glycerine, organic shea, Organic jojoba oil, Vit B5, Bergamot essential oil, Melissa essential oil and more… Only 14.36

Ocean Mineral Syrum: Organic Ocean Mineral serum-A symphony of healing herbs, restorative plant and flower compounds, and our proprietary Ocean Mineral Complex in a super concentrated, bio-available delivery system. Firm, hydrate and plump skin for a more youthful look and feel. Fresh ocean feel, easily absorbed, your skin will drink it up. Wear under your makeup to rejuvenate your skin all day long. 1 oz… Only 13.46

Radiant Glow Facial Oil: Organic cowgirl Skin care- Radiant Glow oil- Organic cowgirl skincare- This is truly how a Cowgirl gets her Glow back. Nourishing oils boost skins radiance and health. Organic Oils: Argan oil, Marula oil, Acai Berry Oil, Seabuck berry fruit oil,Carrot Oil, Jojoba oil, Meadow foam seed, Rosehip, Avocado ,Red Raspberry and Ricebran Oils and more! Your skin will drink it up. Why choose just one exotic oil when you can have the benefits of all. This gets rave reviews and is for all skin types.

Good Morning Sunshine Botanical Skin Cleanser: A sulfate free, aloe based wash for combination to oily skin types. A ten percent load of MSM regenerates skin tissue at the cellular level, while bio-available extracts synergistically balance skin tone, texture, elasticity, and oil production. Gentle, effective without harsh soaps that strip skin of natural oils. Your skin will say Good Morning when you start the day with this fresh natural cleanser. 2 oz. only $8.06

What Does InfoHorse Say About Cowgirl Organic Skincare Line?
Honestly, I had no idea that anyone could put together a line up of products, this amazing and not have an entire team of people working on it. I was truly AMAZED. My skin literally drank in every ingredient and my husband said "Are you wearing new makeup? Your skin looks amazing!" That made my day. Please… do yourself a favor and try each and everyone. They are soothing, and the affect on your skin will make you a believer!
Ann Pruitt— Director— InfoHorse

Call and Order Today!
Life takes a toll on us all, but it sure doesn't have to show. Enjoy those hours in the saddle without worry about what products to use on your skin. Cowgirl Legend Apothecary skin care line is soothing, healing, restoring and uplifting. You will want to look in the mirror over and over as you see — and FEEL— the years and damage melting away. Call today— talk to Nancy and order for you— and everyone you know who wants the best in skin care. We look forward to your call today!

---
Contact: Nancy Lamb
19522 70th Ave
New Virginia, Iowa 50210
Phone: 641-449-3436
Email:
Website: Click Here To Connect

---