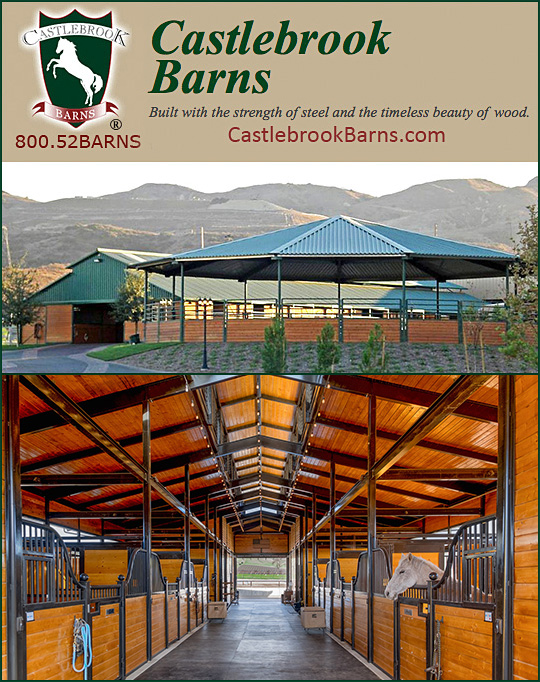 Castlebrook Barns
Built with the Strength of Steel and the Timeless Beauty of Wood.Certified Fabricator's Lic. # 1780 ~ Gen. Contractor's Lic. # 770295 ~ C51 Structural Steel Licensed
About Castlebrook Barns
From its inception, Castlebrook Barns has been a symbol of excellence in the horse barn industry. At Castlebrook we understand that the safety and comfort of your horses is of the utmost importance. As leaders in the horse barn manufacturing industry, we utilize the highest quality material and the latest technology to create the best barn available. For those looking for a barn that is both exceptional and stylish a horse barn from CastleBrook Barns is exactly what you have been looking for. Our sturdy steel frame construction combined with the beauty of wood a horse barn from Castlebrook Barns will be admired for many years to come. We proudly offer a lifetime structural guarantee on all our barns. We look forward to building the barn of your dreams and having you join an elite group of satisfied customers who proudly house their horses in a Castlebrook Barn

Raised Center Aisle Barn
The Raised Center Aisle Barn , one of our most popular designs, offers several advantages for your horses. The protective breezeway configuration provides excellent ventilation as well as optimal lighting. Both our classic 3:12 roof pitch and 12' aisleway can be modified to fit your architectural specifications.

Shedrow
Our Shedrow Barn is an excellent choice for warm weather climates and where space may be limited. The 8', 10' or 12' overhang offers a protective space from sun or rain as well as a multi-purpose area perfect for tacking up, cleaning equipment, or storing hay. The Shedrow may also be constructed in-line, eliminating the overhang entirely, or back-to-back utilizing a common rear wall.
Gable/Gambrel
The classic Gable or Gambrel design offers a conventional roofline with an option of various roof pitches. When the weather is unpredictable, you can feel assured your horses are resting comfortably in a secure environment. In comfortable weather, the aisle way doors may be opened for additional ventilation. Perfect for warm or cold weather climates, the Gable design is functional as well as aesthetically pleasing.
Custom Made
Castlebrook Barns offers a variety of Custom Barn options to personalize your barn. Our barns are created using a modular system, allowing countless configurations, including L-shaped and U-shaped barns, covered arenas, clear span breeding rooms, and barn extensions. Whether you need an oversized stall or an entire equestrian facility, the team at Castlebrook Barns will work closely with you to make sure all your specific needs are met.
Product Specifications
All Castlebrook Barns are built using structural steel that meets ASTM Specifications. We use select kiln-dried tongue and groove 2x6 lumber and 26-guage high tensile Zincalume coated steel roofing. The baked on paint coating are engineered for years of non-fading, low maintenance beauty. This process offers twice the life of standard galvanized coatings. The hardware used in your barn includes heavy-duty nuts and bolts, premium quality easy glide door trolleys and heavy-duty self-tapping tek screws. You can expect to receive only the best, longest lasting materials in your new Castlebrook barn. This is why we can offer a limited lifetime guarantee on all of our structures.
Accessories
Castlebrook Barn's long list of Accessories offers you many options for function, comfort and style. Feel free to accessorize your new barn using Castlebrook's long list of options and accessories…
* Automatic heated and non-heated waterers
* Saddle and bridle racks
* Corner feed mangers
* Hitching posts
* Cross tie rings
*Wash racks
*Skylights
*Stall mats
*Pipe corrals
And the list goes on and on.
Call Castlebrook Barns Today!
Whatever your needs Castlebrook Barns will build you the finest barn in the industry. We look forward to serving you and welcome your calls.
---
Contact: Our Friendly Staff
14600 Whittram Avenue
Fontana, California 92335
Phone: 888-52BARNS (522.2767)
Email:
Website: Click Here To Connect

---