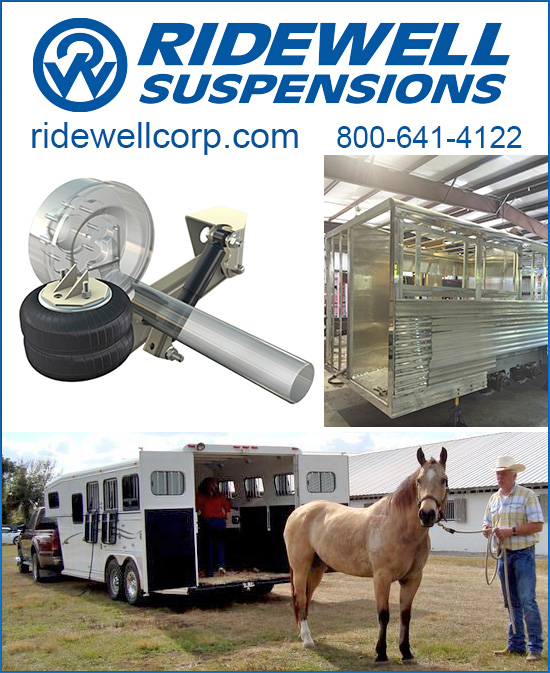 Air-Ride Suspension System by Ridewell Suspensions
Air-Ride Suspension system by Ridewell Suspensions offers your horse a smooth relaxed ride, everytime!

About Ridewell Suspensions​
Ridewell
Suspensions​
is a 50 year old company specializing in the design and manufacture of suspensions for the truck and trailer industry. We work closely with both manufacturers and clients to help ensure that every installed system offers the best in Air Ride technology and comfort to our clients. We know that hauling can be stressful and we work hard to ensure that our systems can take away as must stress as possible for our clients, their trucks and trailers and the horses they are hauling. Our goal and mission is to ensure that everyone has the opportunity to RIDEWELL while they are traveling… and we work to ensure your satisfaction- every step of the way.
Doesn't Your Horse Deserve To Ridewell?
Your truck has air conditioning and a smooth suspension system to help you haul hay, trailers and ride comfortably in the cab. But what about your trailer? Sure, many are beautiful on the outside, but riding within them can become a struggle for your horse who has to endure every bump, and brace against the sway of every turn. At the end of your travels, you get out of your truck ready to go— and your horse may feel exhausted and upset— with anything on his or her mind except performance!
What Sets Ridewell Apart From Other Air Ride Systems?
Our specialties are engineering development and customer service, and we work hard to keep those departments accessible to our customers. This is part of what sets us apart in the industry, and we are committed to keeping it that way. We encourage dialogue between engineers and customers, and work hard to meet customer's needs with the best solution possible. We hope you will find our open communication style refreshing in today's fast-paced world of automation. Give us a call today and see for yourself!
What Benefits Can I Expect From A Ridew​ell System?
Air ride provides several benefits over traditional mechanical suspensions. First and foremost is the "RIDE". Air ride offers a much smoother ride, not only helping to greatly increase the comfort and safety of your horses, but increasing the life of the trailer. It also plays a role in keeping the driver much more refreshed at the end of the day. Other features include the ability to exhaust the system in order to lower the trailer for ease of loading and unloading.

How Do I Get It Installed?

Air ride suspensions are typically factory installed on new equipment, but can also be retrofitted in the field. Retrofits should be done by a qualified installer and we can help you find one as close to your location as possible!
What Choices Do I Have?
First of all, we are happy to help you every step of the way. You don't have to guess which system is right because we will help you!
What Is The Most Popular Choice For Horse Trailers?
We certainly have more heavy duty capacities available for LivingQuarters or larger horse hauling trailers… just ask!
RAR 244 Featheride:
Light Duty Trailer Air Ride Suspension
"Designed for horse trailers, race car trailers, and other specialized light duty applications."
Capacity: 8,000 lbs.
Features:
Compact design, for use with 4" drop axle or straight axle

Protects the value of your load by softly cushioning the trailer ride

Simple, slotted alignment feature

Integrated shock absorber mounting

Huckbolt at pivot eliminates re-torquing

Compact design: .31" axle spacing & 3.5" diameter axle with 4" drop for low ride height

Contoured axle seat; no U-bolts required

Utilizes standard air springs & shock absorbers

Integrated leveling valve mounting

Optional dump valve exhausts air springs & lowers floor height for loading & unloading
Is The Ridewell Air Ride Suspension System Built To Last?
You bet! We understand the needs of horse owners and have a
5 YEAR WARRANTY!
Ridewell will provide quality products that meet or exceed our customer's requirements and expectations, and we will work towards achieving a high level of customer satisfaction by providing exceptional service and support. We are committed to continuous improvement and establish goals and objectives which drive our continued success.
Doesn't Your Horse Deserve To Ridewell? Call Us Today!
We know your horses mean everything to you. The best hay, feed, stall bedding, veterinary services, care, exercise etc etc. Don't sell your horse short on traveling. Make sure that your horses Ridewell every time they travel and call us today. We'll help you select the right system for your trailer and help your horses to a brighter, safer, more comfortable way to travel— so that you can both ride well— and perform well— on the road! Call us today!
---
Contact: Our Friendly Staff
P. O. Box 4586
Springfield, MO 65808
Phone: 800.641.4122
Email:
Website: Click Here To Connect

---