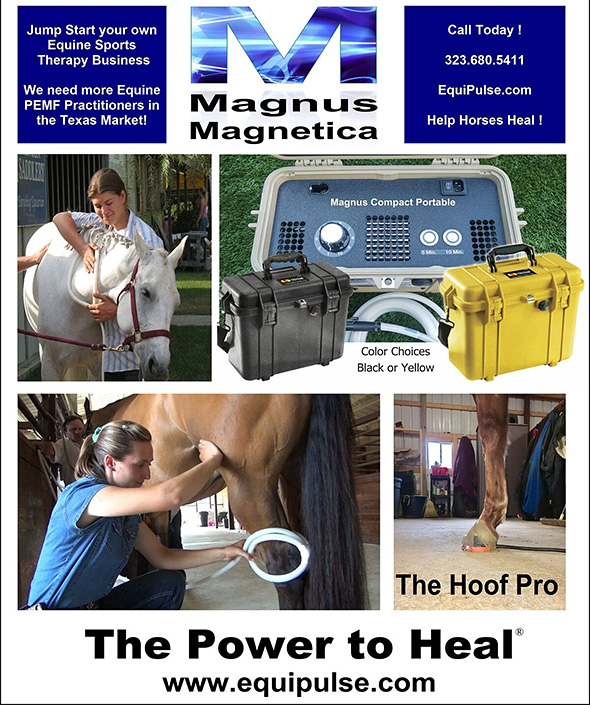 The Power To Heal® by Magnus Magnetica, LLC




What Is PEMF?
Did you know that PEMF [Pulsed Electro-Magnetic Field] Therapy is already registered by the FDA to promote the healing of bone fractures and treat migraines to depression? PEMF is now in the process of being approved for many other uses, including cancer, depression skin wound healing and sports injuries for both humans and equines.

Why is PEMF So Effective Over Other Treatments?
University level Studies and Research clearly evidence that use of PEMF is beneficial for the treatment of a myriad of medical indications. In the arena of Equine eventing, performance is absolutely crucial. Musculo-skeletal injuries, soreness, debilitating hoof conditions pose a significant challenge to all Equine stakeholders. The EquiPulse is used for rehabilitation and preventative care and can be found at international race tracks, in stables and used by Veterinarians, therapists, trainers and owners and is widely used to condition race horses around the world.




What Equine Conditions Can Benefit From Magnus Magnetica PEMF Technologies?

Laminitis/Founder
Navicular Syndrome
Abscesses
Arthritic Conditions
Lower Back Pain/ SI issues
Hock and Stifle issues
Tendon and Ligament injuries
Pre-Performance Warm ups for Improved Endurance/Performance and Injury Prevention
AND MUCH MORE...
Based upon Verifiable Studies, What Human Medical Conditions Benefit From PEMF?
Nocturnal Enuresis (Bedwetting)
Multiple Sclerosis (MS)
Urinary Incontinence and OAB
Sleep Disorders
Glaucoma
Cataracts
Diabetes
Depression and Anxiety
Breast Cancer
Prostate Hyperplasia
Osteoarthritis (OA)
Pain Management
Smoking Cessation
Blood Viscosity
Cancer
Seizures and Epilepsy
Atrial Fibrillation (A-Fib)
Alzheimer Disease
Restoring Alkaline Balance
Back Pain and Lumbar Disc Disease
BioRegulation Therapy (BRT)
Acupuncture
Shingles
Vocal Cords
Lyme Disease
Dental Issues
Avoiding Steroid Injections
Heart Conditions
Psychiatric and Neurological Conditions
Stroke Rehabilitation
Inflammation
Degenerative Disc Problems
Cell Injury and Anti-Aging
Sports Injury Recovery
Paraplegia and spinal cord injury
Neuromyelitis Optica (NMO)
Scleroderma
See our HUMAN VIDEO
What If I Want A Career Helping Horses and Dogs Using Magnus Magnetica PEMF Technologies?
You can't imagine what rewarding career awaits you and the joy you will feel as you see horses and dogs (humans too) benefit and respond to the PEMF therapy! There are now hundreds of PEMF Practitioners across the USA along with emerging markets in Canada and Australia offering treatments to both horses and small animals. Coupled with some of the most highly regarded Equine Sports Therapists in the USA.Magnus Magnetica has a decade worth of implementing its family of PEMF technologies in our country's top Equine Therapeutic Centers Veterinary Clinics/Hospitals, This provides the new Practitioners with all the necessary resources required to develop a clear understanding of best practices and effective treatment protocols, based upon their individual training needs.

NOTE: Magnus Magnetica has a professional staff that is extremely knowledgable and will assist you in acquiring the right device, training, marketing and business support. (Check the following page for the latest schedule of Training and Educational Conferences

How Many PEMF Treatment Sessions Does A Horse Usually Require?
In chronic cases treatments can be administered two or three times daily, with 4-5 hour breaks between treatments.
People Ask: How about treating a targeted area of the horse body too much? There no specific evidence that an animal can be over-treated. However, if there is recent, extensive damage to tissues then it is possible that the highly aggressive contraction from use of the PEMF, at a high intensity setting, could cause further trauma and hemorrhage. For instance, for a human with a sprained ankle, the technology is applied at a low-medium intensity setting for 10 minutes. The objective is to keep the lymphatic system open, blood flowing and to mitigate excessive swelling.

How Do I Know How Long My Horse Will Need PEMF Therapy?
Since there is no evidence of negative side effects for extended use of PEMF, the treatment limits would be based upon results. A human will tell you that they feel better and that a problem area feels good and no further treatment is required. Obviously, a horse cannot communicate this. Therefore, stakeholders must look to see signs that the horse is doing better in their behavior, eating and performance. Thus, it a decision needs to be made by the owner, vet or trainer.� Many people and horses continue treatment after an injury has been resolved, as a matter of maintenance. This is more so with all athletes, whether they are a human or horse.

How Is a High-Powered PEMF Treatment Superior To Other Treatments for Hoof or Founder Conditions?
When a Hoof Pro System is utilized, the majority of PEMF Energy is delivered from the center of the Mag Disc directly into the Frog. No other PEMF system is capable of the safe and solid anchoring of a PEMF hoof care system from under the hoof. There is solid evidence of significant increases in the thermal temperature throughout the sole of the hoof and the frog, resulting from tremendous increases in blood flow within the entire hoof cavity. When employing the Hoof Pro System, the treatment cycle, per hoof is approximately 15-20 minutes. When used with one our higher powered PEMF devices, treatment duration per hoof is reduced to a maximum of 10 minutes.



What Do Equine Sports Therapists Say Who Have Integrated Magnus Magnetica PEMF Technologies, Marketing and Business Standards as a New Start UP Business or into an Existing Business?

Purchasing an EquiPulse device has been a dream come true. Not only am I achieving my life-long goal of running my own successful business, but I'm doing something I love! I personally show quarter horses. By treating horses with the EquiPulse, I receive around $75 or more per horse, which not only funds my hobby of showing, but it allows me to take my work with me! The support and marketing from Magnus Magnetica is truly remarkable. Any question or need that you have is answered or taken care of promptly. I've even had questions answered in a matter of five minutes!
I've owned this machine for only a year and a half now and have never had an issue with it with proper care and maintenance. My machine has over 600+ hours and still going strong! Magnus Magnetica and the EquiPulse have been an answer to my prayers! I'm honored and blessed to be apart of such a great company! - Julia Roberts Winders

Being a source of life changing healing and pain relief for horses and people is the best part of owning an EquiPulse.
The support and marketing from Magnus Magnetically has been spot on. Whether it's a need, question or repair they never leave you waiting.
Crystal and Marcus Ryan

At equine events I often treat 10-12 horses per day at $75 or more per horse. It's wonderful to see how the horses respond to the therapy. My customers say it enhances their horses performance and they recover better after performance. The dressage, hunter jumper and performance horses move freer; the barrel and race horses run faster, older horses continue to perform later into their senior years. Magnus Magnetica support and marketing has always been very prompt and solution oriented. The initial and ongoing training and assistance has been invaluable. I have had my EquiPulse for almost 5 years and it always operates flawlessly with proper care. - Sue Swan

I've been offering PEMF services with my EquiPulse for just over a year now, and I'm lucky to have the support and backing from such a great parent company; Magnus Magnetica. Being the first EquiPulse practitioner in Canada was quite daunting... Until I had treated my first horse. Henry provided me with all the necessary tools and communication I needed to be successful, and this past year has been just that. The widespread community of Equine PEMF Practitioners is something I'm very proud to be a part of, and everyday I know there is someone I can trust to refer a client to while traveling. Technological advancements and new models are constantly added under Magnus Magnetica, reassuring us, as Practitioners and independent sale agents, that we distribute, endorse, and use only the best - Hannah Taylor

I was introduced to Henry, the owner of the EquiPulse PEMF brand in February 2016 at the International Hoof Care Summit in Cincinnati, Ohio. He was offering a free demo for pain and inflammation. I had been suffering from extreme low back pain for years due to bulging discs and degenerative disc disease. As a farrier I was questioning my longevity in the industry.I was on OTC pain meds daily and many times in between appts. After a 10 min session I was pain free for over a week. Having tried many other modalities with little success I was blown away by the results. Since the initial session and multiple personal sessions I have not needed to take any OTC's for pain in the past year. Due to these results I knew I had to implement this therapy into my Holistic Equine Farrier practice. This service has opened up a whole new income stream for me. As a farrier this service sets me apart in the industry. Not only for farrier/hoof related applications but also for upper body applications. The first year I increased my income a minimum of 30%. I can't recommend this company more. Henry is extremely hands on and truly cares about his practitioners success.
- Richard Armentrout, CJ1, APF, holisticequineservices.com

Will I Receive Help , Training And On-going Support With My New PEMF Practitioner Business?
Yes! Magnus Magnetica has been marketing and distributing PEMF in the Equine marketplace since 2007, offering our prospective Equine PEMF Practitioners the benefit of a decade's worth of experience and relationships through our extensive national network of both Licensed Vets and Non-Licensed Practitioners. We have a decade worth of implementing our family of PEMF technologies in our country's top Equine Therapeutic Centers, Veterinary Clinics/Hospitals, coupled with some of the most highly regarded Equine Sports Therapists in the USA. This provides the new Practitioners with all the necessary resources required to develop an effective understanding of best practices and effective treatment protocols, which are based upon their own individual training needs.� Most importantly, we have a sincere desire for our Practitioner's success.

What If I Don't Have Previous Experience?
When potential Practitioners inquire about our Equine PEMF Training Program their backgrounds can include a wide variety of experience(s) within their respective disciplines and personal or professional experience. Rather than require a standard certification or training template for Equine PEMF training, Magnus Magnetica formats and provides training based upon the actual needs of the Practitioner.

Those candidates who have little or no medical background (whether human or animal) will require far more support, education and hands on training than an experienced and licensed Equine Vet, Registered Vet Technician, Trainer or individual who has been working with horses for years and is familiar with a variety of therapeutic modalities.

Can I Get Financing For My New Equine PEMF System?
If prospective buyers are in need of financing, there are several financing options for those with great credit to no credit. Our finance partners offer competitive monthly payments as low as 495.00 and can accommodate a wide variety of applicant's credit score. That payment can be covered in just 5 or 6 treatments!

What kind of Marketing Support Will A New Equine PEMF Practitioner Receive?
Included in a purchase, or Lease to Own, is our Training Program and a comprehensive Business and Marketing package and support.

The following are included free of charge with our new practitioners:
We may include various Practitioners in regional print publications where we co-opt advertisements to promote the Practitioner's services. Practitioners provide selection of photos and written testimonials so we can include them in a campaign.

As long as Practitioner holds Title to their device we will provide on-going Business and PEMF treatment consultations and all customized marketing materials which include Practitioner's own logo and enterprise branding.

We will include Practitioner's listing on the Find a Practitioner page on our website and provide a password protected account to edit the listing information, include hours of operations and monitor actual traffic generated when someone clicks on a listing ICON. When possible, we promote our Practitioner's business on our social media platforms PLUS other forms of localized joint-advertising.

Does an Equine PEMF Practitioner Need a Certification?
No. As Equine PEMF Practitioners have proliferated during the past 10 years issues and considerations around State Regulation of non-licensed Equine Therapists have garnered significant attention. Until the Equine industry steps up and addresses this issue head on, Magnus Magnetica recommends that Practitioners , who are not medically licensed in the animal world carefully consider any "Certification Program" for a number of crucial reasons:


Every State is regulated by their own Veterinarian Boards and all treatments of animals are administered by a State Board Licensed Practitioner (in respective State), and Monitoring, compliance, enforcement and re-licensing of State Licensed Practitioners will also vary on a state by state basis.
If a PEMF Equine Practitioner is not licensed by the State they operate their PEMF device in, yet market themselves as Certified, such Certifications and the various claims made by the Practitioner may mislead the public by projecting the appearance that their treatment activities are sanctioned by that specific State Regulatory Agency they are not! A number of State Regulatory Agencies currently penalize "Certified" Practitioners, because the "Certification" clearly infers a claim that they operate under an umbrella of State Regulatory control when, in fact, they do not.
Currently, no State Vet Board will sanction, monitor nor regulate non-medically licensed PEMF Equine Practitioners, nor any non-licensed Equine Therapist.
For all the above reasons, Magnus Magnetica has made a conscious, well informed and deliberate decision to NOT Certify its Practitioners, at this point in time. Rather, we have chosen a path to provide the most up to date information, research and proven protocols to our constituent Practitioners through our educational channels, conferences, network of Licensed Vets and personalized training.

So Are You Ready To Enjoy The Benefits, Even a NEW Rewarding Career as a Equine PEMF Practitioner?
You should be! Magnus Magnetica PEMF Technologies will make a world of difference to horses, humans, dogs, cats and just about every animal. Utilization of PEMF Technologies are endless and the results are amazing. You'll love seeing those you care for relax and enjoy the healing that is taking place. You'll make new friends everywhere you go and the financial rewards can really make a difference in your lifestyle. Call us today and let us help you on your way to a new life with Magnus Magnetica

---
Contact: Henry Siegel

USA, USA
Phone: 323-680-5411
Email:
Website: Click Here To Connect

---