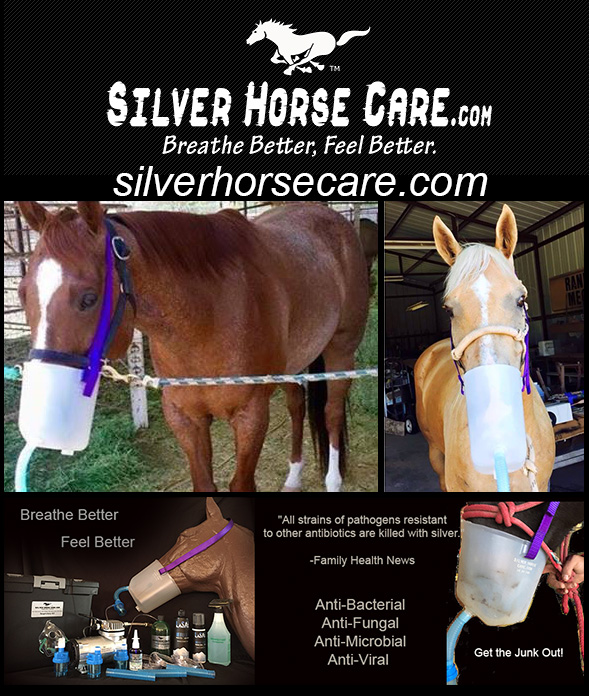 Silver Horse Care Respiratory Kit by Silverhorsecare.com
Silver Horse Care Equine Respiratory Kit is the most effective way to help your horse back to respiratory health safely and effectively.



About Our Founder
Becky, the founder of SilverHorseCare has combined her experience with Barrel Horses with her interest in the science of improving their performance. Having bred, trained and competed at the Top of the Barrel Racing Industry, Becky knows the importance of maintaining a horse at Peak Performance. Her pursuit of Professionals outside of the Horse Industry has enabled her to combine the best of both worlds to produce a product that is effective, affordable and beneficial. The Experience of winning the AQHA World Championship on a horse she trained herself, gives Becky a perspective that benefits every competitor at every level of competition.



How Do I Know If My Horse Needs a Nebulizer?
Many performance horses need a nebulizer as a way to maintain their respiratory health. Dust, Dirt and foreign pathogens are just part of the barn. Keep their sinuses and respiratory tract clean with a 15 minute treatment. At the 2016 AAEP in Florida last year, when asked what percent of horses bleed during competition, Dr Frank J Milne replied that although the degrees vary, 100 percent of horses will experience at least some bleeding. With that staggering statistic in mind it is so important to begin a healing maintenance program for lung health to benefit your horse and his performance. It is so much easier to prevent the bleeding, then to treat it after the fact. Horse's delicate respiratory system also must contend with allergies, dust, contact with other horses, ammonia in stalls and any other airborne pathogens they may encounter. By using a quality nebulizer, you are giving your horse an edge that is both beneficial for his health, while being easy on your pocket book. With all the drug restrictions in competitions, Nebulizing with Silver provides the most effective, safe and acceptable alternative.

Note: If you suspect your horse may already have a breathing issue look for these symptoms including: cough, wheezing, blowing its nose, rattling noise, and mucus in the nostrils. If your horse has a few or all of those symptoms, promptly see your veterinarian for diagnosis and treatment.

What Silver Nebulizing Solution Does Silver Horse Care Recommend for Their Respiratory Kit?
Silver Horse Care Kit includes a bottle of PH Balanced Colloidal Silver and "NEBULIZE" BY LaSal Animal Health. LaSal offers the most effective Clinically proven Chelated Silver on the market.

Note: This Chelation Process is protected by U.S. and International Patents [U.S. 7,311,927 B2; Canada 2,500,461; China ZL 03824562.0].

Is It True That the Silver Horse Care Nebulizer Kit Offers The ONLY Nebulizer with a 99.99 Effectiveness Rate?
Absolutely, in fact, laboratory testing has documented an extraordinary kill rate of 99.999986% in only 60 seconds!

How Is Chelated Silver Different From The Colloidal Silver Competitors Use?
Colloidal silver, is particles of elemental silver suspended in a Deionized water. The Silver Horse Care Respiratory kit is the only nebulizing system that offers both Chelated Silver - LaSal Animal Health Nebulize formula and Colloidal Silver. Chelated Silver has a kill time of 60 seconds while our Colloidal Silver killed 96% in 3 minutes and a full kill in less than 5 minutes. Chelated Silver must be used by itself, as you cannot mix anything with chelated silver. SHC Colloidal silver can be nebulized with essential oils, acetylcysteine (mucolytic), gentamyacine, ventapulmin or other prescription medications from your veterinarian.

What Respiratory Kits Are Available At Silver Horse Care?
We have 3 great kits to choose from and are happy to help you every step of the way so that you get the best Nebulizer Kit For your horse!


Blue Barn Kit: Designed for multiple horses and has a full 1 year compressor Warranty. Recommended Nebulizing time of 15 minutes per treatment. Do not exceed this time. It is not necessory to nebulize longer as the kill time of the silver is 5 minutes or less. Using the compressor for periods longer than 15 minutes will void your warranty. Only $495
Silver Horse Care Nebulizer Respiratory Kit (most popular!) Our Respiratory Kit includes: Silver Air compressor, 4 medicine cups, 4 oxygen tubings, 3 corrugated tubings with adapters, 1 16oz bottle of Nebulize Patented Chelated Silver, 1 23oz bottle of Colloidal Silver, Wound & Skin foam Topical, adult sized horse mask, a human mask, and a disenfectant spray. As a thank you for your purchase we include a nasal spray bottle to carry our silver with you.
Low Maintenance Equine Respiratory Kit with PH Blananced Colloidal Silver. Included in the kit is a compressor, one 23 ounce bottle of Colloidal Silver, two medicine cups, 2 oxygen tubes, one ring adapter, one blue corrugate tube, adult horse mask and carrying case. This system is designed to nebulize one horse 2-3 times per week for maintenance. 15-20 minute treatments Each treatment uses approximately 3 cc of colloidal silver… only $225.

What Do Customers Say About the Silver Horse Care Nebulizing Kit?
I wanted to reach out to you and tell you how much we value your products and how well our chronic bleeder is doing with the nebulizer as well as the Silver. We have a 16 year old gelding that has been a chronic bleeder the entire 5 years that we have owned him. He runs on 6cc of Lasix and a Flair strip. He started not being able to make back-to-back runs without bleeding. He was diagnosed with Chronic Inflammatory Airway Disease this spring. A friend lent us her Silver Horse System to help administer his medications during treatment. I was concerned that he would have to be retired with the severity of his disease. Not only did he return to competition but has running in the Open 1D each run post treatment. My daughter was able to run him this weekend at the BBR Finals to be 3rd in the Youth 1D. We continue to use the Silver as well as the mask for his albuteral treatments. He will have to remain on Lasix, Flair and make limited runs a month but I firmly believe that your system helped him return to the top of his game. If you ever have room on your sponsored rider team for an 11 year old kid and a big red racehorse, she would love to represent your brand! We are believers.
Best Regards,
Katie

I have seen a improvement in the my thoroughbred's performance. especially the bleeders and controlling mucus. Silver Horse Care is an essential part of my race training program.
Angela Aquino
Leading Thoroughbred Trainer, Los Alamitos CA

Nebulizing Silver Horse Care has made a noticeable difference. SHC took Rare Ed from being a claimer to a grade 1 stakes winner.
Rare Ed
Trained By Jim Crotts
Owned by Martin Marin and Suzan Crotts

Where Can I Purchase a Silver Care Respiratory Kit and Learn More?
At Silver Horse Care we offer three different respiratory kits including: The Silver Care Respiratory kit, the Low Maintenance Respiratory kit and our Compression Respiratory kit. To see which kit best fits your horse's needs and to view our entire line of products, just email or call us today. We have the experience and the desire to make sure that you get exactly the right system to help your horse on the path to success- every BREATH of the way!

---
Contact: Our Friendly Staff
1263 205th St
Fort Scott, Kansas 66701
Phone: 316-204-5360
Email:
Website: Click Here To Connect

---