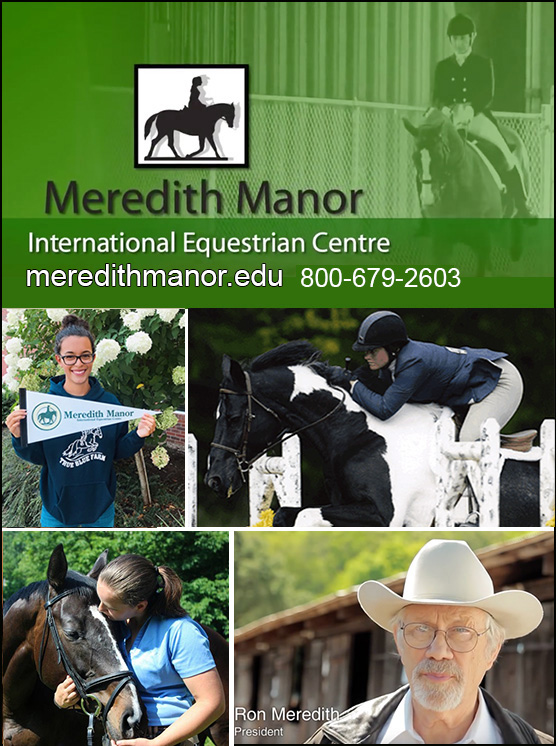 Meredith Manor International Equestrian Centre
Do you dream of having a career as a Professional Rider, Trainer, or Instructor? Then Meredith Manor International Equestrian Centre, may be the place for you.


About Meredith Manor
Meredith Manor's name and reputation are known by serious horse people throughout the world. Students from the ages of seventeen to sixty-three have attended the School from every state and many foreign countries. Meredith Manor strives to provide a climate of learning in which each student may identify and accomplish his or her goals. We have continuously researched the horse industry, designed the facilities, and developed the educational programs that will give our students the training, experience, and confidence needed for their future careers. We are old enough to have developed workable teaching systems, big enough to have excellent facilities, and progressive enough to be the most copied institution in the horse industry. Practical, progressive, professional programs are why Meredith Manor means more Saleable Skills.
All Horses All the Time
Meredith Manor is dedicated entirely to producing professional riders, trainers, and instructors for the international horse industry. All programs and courses are designed specifically to prepare you for a successful equine career. Our students spend 6 hours a day in primarily hands-on, skill based classes with additional time spent in the barns and with the horses. Students don't have to excel in academic, classroom based classes to be successful in our programs, but they must have a passion for horses and a dedication to having a successful equestrian career.
Because we are such a specialized school, Meredith Manor has a very small yet diverse student population. We generally have sixty to eighty students of various ages from all over the globe. Because our enrollment is so small, students are able to receive the individualized attention necessary for a skill based education.
Staff
The key ingredient to producing horse professionals is the instructor and Meredith Manor maintains a staff of ten exceptionally dedicated, experienced, and trained instructors. Ron Meredith has over forty years' experience as president of the school and has developed it from its humble beginnings of six students in 1963 to its current world class level. He has received numerous distinctive recognitions including an Honorary Doctorate of Equestrian Studies Degree, the only degree of this kind in the world. Dr. Meredith has held seven AHSA judges' cards and has trained top level horses and riders in the cutting and reining world. Faith Meredith has over thirty years' experience as a professional in the horse industry. She has successfully competed and trained horses and riders through FEI levels of Dressage, and holds a BS Degree in education. For detailed information about all of our instructors, visit our Staff page.
Time in the Saddle
At Meredith Manor we understand that developing a professional rider and trainer takes more than a few hours of instruction per week. Our students have 8 hours of instructed riding classes per week, and those electing to take our training courses have an additional 8 hours per week of instructed time on the horse. Over the course of our full program this adds up to over 1150 hours in the saddle under world class instructors, and, more importantly, the time and experience necessary to develop the skills required to become a professional rider and trainer.
Quality, Quantity, and Accessibility of Horses
A horse professional needs experience with a wide variety of horses. Meredith Manor has approximately 145 horses for use in their programs including many different breeds trained in several different disciplines. Access to our school horses offers our students many advantages including:
Experience riding and working with horses of various training levels and personalities from training colts all the way up to top level show horses.
Experience riding and working with horses in different disciplines including Dressage, Jumping, Eventing, and Reining.
Experience riding and working with many different breeds of horses including Quarter Horses, Paints, Warmbloods, Thoroughbreds, Arabians, Morgans, Drafts, Fresians, Halflingers, various pony breeds, and many more.
Riding horses best suited to aid in the student's learning process. Our instructors do horse assignments every week. Because of our variety of horses, each student can be assigned to the horses that are best suited to their needs at every point in their development as a rider. Students will ride two different horses each day and will often ride 10-12 different horses each quarter.
Training a wide variety of horses. Students taking our full training track will have the opportunity to train up to 12 different training colts over the course of their education.
Well Rounded Programs
Having a successful career in the horse industry requires much more than the ability to ride a horse. In addition to riding classes, our students will participate in the following classes: programs range in length from 3 to 18 months.
Theory
Showing
Horse and Barn Care
Career Area Electives including Teaching, Training, Horse Health, Equine Massage Therapy, Farrier Craftsmanship, Equine Business Management, and Equine Breeding
Meredith Manor offers six Riding Master programs, an Equine Science Master program, and a Shoeing Short Course program. The program the student chooses will be determined by individual preferences, individual talents, the degree of proficiency desired, and professional goals. Our
Accreditations catalog or call 800.679.2603 and ask to speak with our Financial Aid Director.
Accredited by the Accrediting Council for Continuing Education and Training (ACCET)
Licensed by the State College System of West Virginia
Approved for Veterans Benefits
Approved by the US dept of Immigration to enroll nonimmigrant alien students
Students enrolled in 36-week programs may be eligible for federal financial aid including: Pell Grants, Direct Subsidized and Unsubsidized Loans, Stafford Loans, and Plus Loans.
For more details on Financial Aid, see the Fees and Payments section of our
Job Placement
Meredith Manor provides a lifetime job placement service to our graduates. We receive requests for employment from a variety of businesses searching for qualified applicants – our graduates! In their final quarter, our graduating students may begin contacting prospective employers through our Job Book listings. We assist in preparing resumes, giving references, and with the initial call or letter. Although Meredith Manor cannot guarantee employment, our most recent statistics show that over 90% of our graduates gain employment within ninety days of graduation.

How Do I View Tuition Costs or Apply for Enrollment?
Our catalog includes program and course descriptions as well as costs, financial aid information, policies, enrollment forms, etc. To view our catalog online or to request a free copy in the mail, fill out our catalog request form. To apply online, fill out the catalog request form and go to the Online Enrollment section of the Online Catalog. To talk with an admissions representative or to schedule a tour, call 800.679.2603.
Apply Today!
We realize there are many colleges with equine studies programs and it can be difficult to determine which school is best for you. Meredith Manor is designed for students who are serious about becoming horse professionals. If you want horses as a hobby, a 4-year college with a show team or an equine studies department may be appropriate for you. If you are serious about having a career with horses, apply to Meredith Manor today!
---
Contact: Meredith Manor International Equestrian Centre
147 Saddle Lane
Waverly, West Virginia 26184
Phone: 800-679-2603
Email:
Website: Click Here To Connect

---