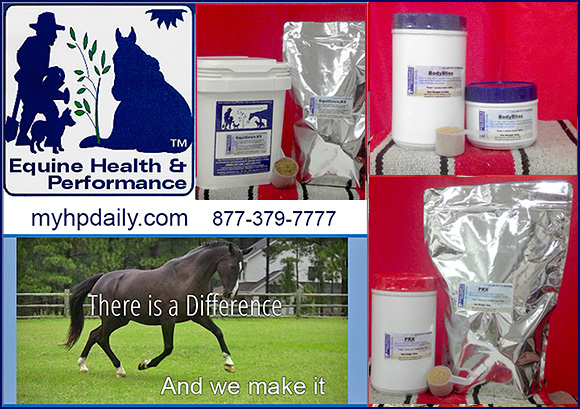 EquiGesic XS™, PRX™ and Equine Body Bliss™ by Equine Health and Performance
Finally an EFFECTIVE, Healthy, Alternative to Bute: EquiGesic XS™, PRX™ and Equine Body Bliss™ by Equine Health and Performance



Is There Really a Need for Superior, Natural Formulas That Can Save Both Your Horse & Pocketbook?
There absolutely is! For over 2 decades, we have been talking to literally THOUSANDS of horse owners at horse shows, expos and private consultations regarding feeding and supplementing their horse. Most consumers we talked to actually don't think there is much difference between one brand and another— and in many cases they are right. So many important choices are made merely on "convenience" or the brand that has the most advertising at the time… in the end, the horse doesn't get what they need, results are poor (if at all) and clients start to feel that there is "nothing they can do" and there are no other options.

Then there is the "packaging" popularity of SmartPak—convenient yes, but convenience always costs a premium, and you are still left with product choices that may only have minor benefits or no real benefit at all. Product quality is also an issue of concern when convenience takes precedence over nutritional purity and efficacy.

Equine Health and Performance Has the Most Powerful Formulas To Affect Horse Nutrition and Health in Decades!
Caron Haggerty CNC , noted Equine Nutritionist, well known speaker and formulator of all the products and feed programs at Equine Health and Performance, LLC, is taking nutrition to it's highest level with amazing, result-producing formulas that are all natural, and work WITH the body to create meaningful health from the inside out. These specially formulated supplement programs can and have eliminated thousands of dollars in expenses very year caused by the most common mistakes horse owners make, such as over feeding, feeding fragmented and inappropriate supplements, using poor quality hay and conventional feed products. Prevention is the only practice that can truly help you avoid expensive "treatments" that only address superficial symptoms, and do not define, address, or eliminate inherent fundamental nutritional weaknesses and core health problems! At Equine Health and Performance, there is a difference and we make it!

So...How Do I Know If My Horse Really Needs Supplements?
Every working horse today with less than 30 acres of diverse organic forage to graze on daily needs quality bio-available food based supplementation every day for at least 3 critical reasons to prevent health and performance problems from Functional Malnutrition©

1. Conventional hay and hay products do not have the diversity or density of nutrition today's horse needs to stay healthy or to perform consistently. Pastures are seeded with limited "cattle" grazing grasses, which are dangerous and not conducive to the diverse and balanced nutrition a working horse needs. Low protein and lack of major minerals lead to nutritional imbalances and ultimately Functional Malnutrition© that show up as chronic health issues.

2. Supplementing with commercially produced concentrated "feeds" adds too much bulk and not enough nutrition with inferior ingredients like processed bi-products, GMO and soy products known to be damaging to animals health.

3. Virtually all commercially produced feeds and supplements rely on a limited number of manufactured or correctly called "Synthetic Isolates". Science has consistently shown the functional limitations of this approach. Serious digestion and absorption issues as well as an abysmal lack of density and diversity are just some of the common issues. This lack of density and diversity over time will cause Functional Malnutrition©. Functional Malnutrition© will begin to erode health and performance over time and contribute to serious health problems like allergies, hoof issues, colic, founder, ulcers, and metabolic disorders just to name a few.

Looking For A Safe, Effective Alternative To Bute? EquiGesic XS™ Is Your Answer!
EquiGesic XS™ is an anti-inflammatory, analgesic, blood purifier, antiseptic, antipyretic & astringent, all-in-one. It is a safe & effective alternative to Phenylbutazone & aspirin. Because EquiGesic XS™ is organic, it doesn't have the harmful side effects. EquiGesic XS™ provides potent relief from pain & swelling due to arthritic conditions, ringbone, Navicular, laminitis, ligament & tendon injury, as well as pain & inflammation associated with injury, illness & surgery.

What About Chronic Pain Or Inflammation? PRX™ Can Make A World of Difference!
Horse owners today have had few options when it comes to managing or preventing chronic pain and damaging inflammation. Frequently the first response has been pharmaceutical drug intervention. These drugs may reduce symptoms but at what cost? It is well known that these drugs can have serious side effects and costly health consequences. Now there is a truly safe and effective alternative with immediate and long-term benefit.

The ingredients in PRX™ are powerful botanicals and phyto-chemicals that work synergistically to promote a normal and healthy pain and inflammatory response in your horse.
Working through metabolic, cellular and enzymatic pathways, PRX™ provides raw materials that your horse can use to down regulate inflammatory and pain responses, increase circulation for healthy removal of toxins and damaging free radicals, while providing life giving nutrients to repair and restore normal cells, nerve tissues and pathway function.

PRX™ Provides:

Safe Natural Pain relief
Powerful Anti-inflammatory
Natural Cox2 Inhibitor's
Essential Fatty Acids (ETA)
Chondroprotective Agents
Glucosaminoglycans
Free Radical Scavengers
Anti-oxidants
If Your Horse Suffers With Stiffness, Azoturia, or Sore Muscles, BodyBliss™ Is What You Need!
A powerful bio-nutritional in the tradition of ancient eastern herbals, and a cutting-edge nutraceutical combined to help relax muscles, ease body soreness, relieve pain, reduce inflammation, expel systemic dampness and blood flow stagnation while supporting positive Chi. BodyBliss™ is a powerful organic bio-nutritional containing:

Corydalis Extract an ancient traditional Chinese herb that is known to reduce pain in the body and release stagnation of blood flow. We use a potent extract to increase the beneficial phyto-chemical dose.

White Peony Root contains natural phyto-chemical compounds that help the body to relax. It is popular in Traditional Chinese formulas because of its ability to relieve body pain, and reduce tension.

Lovage helps remove dampness and stagnation. It relieves arthritic and rheumatic pain, fights against bacterial stress from damaging e coli, salmonella and h. pylori that can have a negative impact on digestive, absorption and utilization of nutrients. Lovage promotes healthy urination without loss of important minerals, and tones kidney function reducing toxins in the body.

Boswellia Serrata decreases the body's production of pro-inflammatory and pain mediators. Natural chemicals in Boswellia fill pain receptor sites reducing pain. Long term; Boswellia is a powerful Cox 2 enzyme inhibitor that reduces the inflammatory response and improves blood flow.

Magnesium Bi-glycinate is an important mineral to all body functions and helps the muscles to release tension and relax. Highly bio-available, Magnesium Bi-glycinate is one of the few forms of magnesium that can effectively cross over into the brain to support neurological and synaptic function, help to improve healthy serotonin and gaba levels, promoting a sense of wellbeing and calmness. Calcium utilization depends upon bio-available magnesium and is critical to thousands of cellular body functions every day.

DL Phenylalanine helps the body deal with stress more effectively while promoting relaxation and calmness throughout the body mind.

L-Threonine is essential to the body to create other amino acids that are required for the production of collagen, elastin and muscle tissue. It helps keep connective tissue and muscles strong and supple. L-Theanine an amino acid derived from tea leaves, promotes relaxation, and reduces anxiety and stress levels

High B Vitamin Nutritional Yeast feeds gut bacteria improving immune function and digestion. Vitamin B complex nutrients support healthy metabolic and endocrine system function, and are necessary for mental focus, relaxation and healthy management of stress.

Carrot Powder helps support healthy gut bacteria to aide in nutrient utilization, and provides vitamins, minerals, proteins, enzymes and anti-oxidants for use throughout the body.

What If My Horse Has Special Health Needs, Can I Get A CUSTOM BLEND?
You bet. Our expertise allows us to put together a formula that will be specifically designed for the particular needs of your horse if you have special circumstances or requirements. Just call 877-379-7777 the call is free, and we are happy to assist you!

Call Equine Health and Performance to Help You Decide Which Formula is Right for Your Horse!
Equine Health and Performance has decades of success, helping horse owners find real solutions to their horse's core nutritional health issues, saving owners thousands of dollars in the process, but most important, thousands of healthy, happy and productive horses are now thriving and their owners are enjoying the benefits of healthy horse ownership using our quality nutritional formulas. Call us today and we'll make sure you get the right formulas for your horses particular needs!

---
Contact: Our Friendly Staff
P.O. Box 1905
Spring Hill, Tennessee 37174
Phone: 877-379-7777
Email:
Website: Click Here To Connect

---