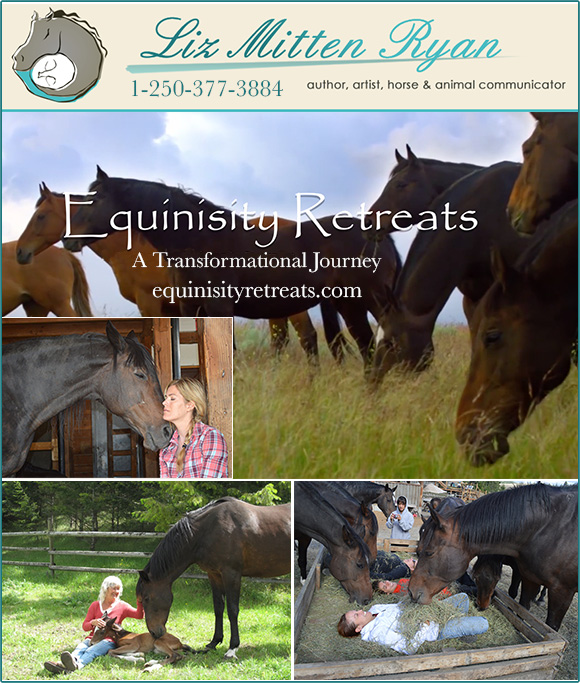 Equinisity Equine Retreats
Equinistic Healing Certification is unique in the world of horse therapy in that it is horse inspired and the horses heal without human intervention or interpretation. Learn to connect to horses in a way never possible before.



About Liz Mitten Ryan
Artist, writer, animal communicator, horse breeder and trainer, Liz moved with her one family herd of warmblood horses to Gateway 2 Ranch a secluded 320 acre land in the heart of the Nicola Valley B.C. Canada. She and her architect husband Kevin, over 18 years have built a rustic Guest Ranch with a 4 bedroom Guest House, a tent cabin area nestled in the woods with a Native American Spirit Lodge, showers, toilets and fire circle. The Barn/house, a half mile across the property is a connected space where the horses and Liz and Kevin live side by side. It has a large open sawdust filled area with central seating for humans and horses to gather and interact at liberty.



What Can I Expect By Attending This Retreat:
Since the horses are part of the family and share in an open line of communication, they have made a few amendments to horse keeping on the ranch:

Bare feet, No whips, No bits, No instruments of torture, Treeless saddles or Bareback pads, No force, No restraint…
Invitation and Reward…(rather than pressure and punishment.) They call this 'Natural Horsefriendship'
The Horses Roam Free On The 320 Acres And Return Each Morning To Work With People:
The horses believe they should train people rather than people training them. Visitors come from all over the world for 'Equinisity' retreats and during May to November the herd, though free to roam in the meadows, forests, hills and lakes of the property, return each morning to teach and heal humans.

What Can I Expect To Learn During My Equinisity Experience?
Subjects include liberty play and herd language, fine-tuning focus, intent and feel. Trust and love, along with praise and treats, are shared during activities in the playground where horses leap up on tires, walk over 'bridges' and teeter-totters or through swim noodles, happily following like dogs, or quietly cuddling with visitors, their heads on laps. The entire herd will drop to the ground, inviting people to share their rest time or morning meditation, snoring comfortably amongst a crowd of onlookers.

Will I Get To Experience Energy Healing With The Horses?
Yes...The horses and other animals also help on healing tables or in the open barn, raising and clearing energy like reiki masters. At Gateway the horses are not haltered and led to work healing humans. They volunteer each morning returning from their walk about. They invented their own method, which is orchestrated by the horses and completely different from other 'horse therapy' in that the entire herd at liberty, chooses when, and how the healing will take place, working individually and together, using pattern and rhythm, while sensing and seeing the truth of each person.



Will I Learn To Communicate With Horses?
What the horses teach humans is to be in their heart space rather than their busy minds. At the retreats we practice excercises to help us discover and stay in that heart space. That is the place from which connection and communication, not only to animals, but to all life and higher consciousness happens. When people access that place horses and all the animals sense the connection and open to communication.

How The Horses Heal - Message From The Horses:
"Do you realize humans that at this time in our evolution your vibration is elevating to a place where you are beginning to tune into our channel. You are beginning to notice us for the first time as spiritual equals, higher consciousness in a different shape from yours. We, and the rest of the natural world share a direct connection with the ALL and are able to see the invisible world of spirit. When we see you, we see all that is around you. That includes your concept of past present and future as in our world all is visible all-ways. It also includes your spiritual perfection as a higher immortal soul and any distortions to your divine plan. You see humans are playing a game of human mass mind belief here on the physical plane but just like the story of the Emperor's New Clothes, we are not playing the same game and we see only the truth of you.

In this way we can make adjustments to put things back to the pattern and vibration that is your etheric blueprint, your pattern of perfection. That is how we heal you. If you observe us you will see how we work together with the energy, changing, removing, releasing, and bringing into being the perfect pattern. We all have our unique ways of transmuting energy. Some of us do it by meditation, connecting to source and downloading the information, then implanting it in the person. Others simply vibrate at the perfect frequency and tune the person. We send it all to spirit to be corrected along with the energy for the whole herd. Accessing universal truth, we sweep the energy fields, sometimes challenging mis-belief and when necessary physically breaking it up and allowing release, then holding the harmonic note to fix it in the body.

Some of the herd leaders are the wise ones and you will often see them holding a healing circle or coming in to fine tune an adjustment. Tesoro and Adoro (the steers) take the notes higher and higher, elevating and refining them…they are mostly in higher states of meditation. Hyperion, the youngest and most recently from spirit, clearly interfaces with the invisible and with innocence and bravery he manifests perfection. It is our calling to help and heal humans, bringing them collective unity with all of creation. Here we are free to act accordingly."

Will I Be Riding Horses At This Retreat?
Many people come to just experience the energy of the land and the horses and to learn through that interface and the excercises in the Equinisity guidebook. We also offer ground play and lessons in focus and intent, essentially learning to be the Lead Mare. The Lead Mare is the benevolent grandmother of the herd who is the wisest and most respected. She never has to use force but operates from a place of clear focus and intent; the herd parts out of respect. We don't teach beginning riding as the horses are not schoolmasters but sensitive finely tuned beings.
Note: Good riders can experience riding bitless with rope halters on treeless saddles or bareback pads and learning to ride with energy, focus and intent rather than pressure and release.

How Can The Certification Help Me With My Personal Relationship With Horses?
Certification is offered at all the retreats. There is a box to tick on the registration page and a detailed description on site. It is easily acquired with a basic understanding of energy healing, 2 visits and 20 case studies, so is much more affordable than other teachings.

How Is An Equinistic Healing Certification Different From Other Certifications?
Equinistic Healing Certification is unique in the world of horse therapy in that it is horse inspired and the horses heal without human intervention or interpretation. The herd is at liberty in the big open barn/paddock space and uses sacred geometry (holding patterns as a group) to re-configure the energy of individuals and the group. They also use breathwork and entrainment to open and tune the heart and raise energy to the highest levels of connection and consciousness. Another difference from other horse therapies is that the participant is encouraged to journal and interpret what they are experiencing, with the facilitator as horse collaborator and guide rather than psycologist. At Equinisity Retreats the horses and nature are the ultimate teachers and healers and offer a unique understanding and language to help us connect at the highest levels not just to animals and the natural world but to the One Consciousness of all creation.

Can The Certification Course Help Me In My Horse Business? How?
Whatever your interaction with horses involves, whether business or pleasure, an understanding from the horses' perspective of their language, customs, wisdom and innate abilities from a higher being perspective, as well as their physical horse being will open your heart and allow the highest levels of understanding and connection. This connection and communication will translate to an expert relationship in all horse practices. Equinistic Healing Certification will expand your vision and connection allowing an interface which will change your horses response and willingness to show their true selves to you and directly enhance your relationship and horse business.



What About The Retreat Accommodation? Will Meals Be Included?
Yes! The retreat is all-inclusive of accommodation, meals, (including special diets) beverages (wine, beer, cider or juices) and teaching. Through the past decade, our structure has evolved to encompass larger groups of visitors. The journey has continued to grow through our guidebook of philosophy and exercises to expand the adventure and encourage a new level of self-awareness. We now have a comfortable Guest House that sleeps 8 along with the tent cabin village with its' Spirit Lodge, showers and toilets. The barn has been opened and expanded and all the walls removed to provide a natural gathering space where the Herd can work as a group, re-configuring energy using sacred geometry.

What About The Location?
We are located near beautiful Kamloops British Columbia. Canada. The beauty will add to your incredible experience. Flights are via Vancouver or Calgary Canada and a 1 hour flight from either city to Kamloops airport. We will arrange Kami cabs to pick up and deliver from the airport to the ranch (a 1 hour drive from there.)

How Much Are The Costs For This Program?
Retreat costs are 2800. Can or approx.. 2200. US all inclusive for 8 days for singles or 2400 -Canadian or approx..1900. U.S. for doubles (friends couples etc.) or -- you can call us for special offers or groups.

A Retreat Like Equinisity Is Truly A "Once In A Lifetime" Experience, Why Not Call Today!
Once you experience the depth of connection and understanding of the gifts, and knowledge that our horses and retreat can offer, you'll want to come back again and again. Call today-- we're excited to meet you and get you started on a new exciting path in your life.


---
Contact: Liz Mitten
# 2 436 Lorne Street
Kamloops, British Columbia, Canada V2C 1W3
Phone: 1250-377-3884
Email:
Website: Click Here To Connect

---