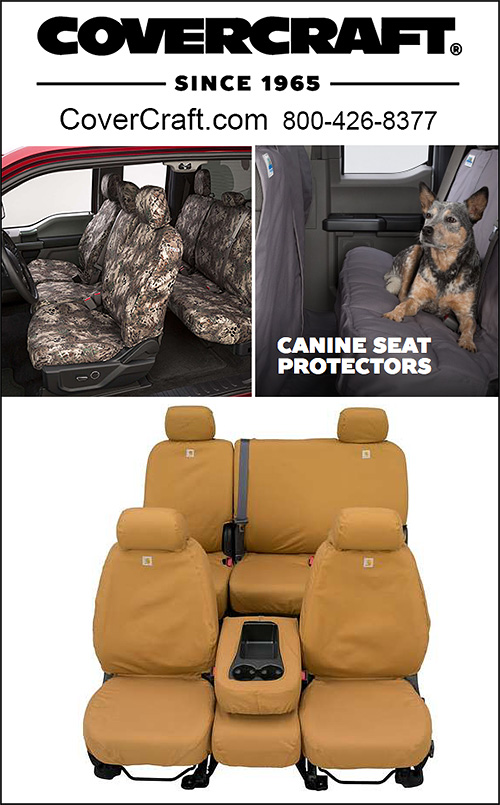 Amazing Seat Covers by CoverCraft™ Industries
Your seats cam become soiled, damaged or stained and if they are leather, the heat, or extreme cold can crack or fade your expensive leather. Protect them with Seats by CoverCraft™!





About CoverCraft™
In 1965, Bob Lichtmann opened Covercraft™ for business in Southern California's San Fernando Valley. At that time, it was just a two-man operation, manufacturing custom-patterned car covers for street rods, the import sports car market and aftermarket automotive parts suppliers. During their first 40 years, Covercraft grew to a team of over 400 employees and expanded into three manufacturing locations, with headquarters in historic Paul's Valley, 60 miles south of Oklahoma City.

Our Custom Fit Vehicle covers and - seat protectors, front-end masks, tonneau covers, window heat shields, pet travel items, RV and trailer covers are truly second to none! "Cover Craftsmanship" has resulted in the company being certified to both TS16949: 2002, a worldwide quality system standard, and ISO 14001, an environmental quality program.

In four decades, the company has amassed a library of over 67,000 cover patterns and continues to add new applications daily. Still family-owned, Covercraft™ has always maintained the highest standards, utilized the finest materials and remained on the cutting edge of manufacturing technology...but it's our people who assure we put "Cover craftsmanship" into everything we build!



Do You Have a Seat Worth Saving?
Whether it is expensive leather that can crack or split, or beautiful material that can stain or fade, your seats represent a big investment and are the first thing that your family or clients notice when you open up those truck or vehicle doors. If you have ever had to replace leather or fabric seats, you'll know how expensive it can be.... why not protect them and help them stay beautiful, clean and soft for years to come?




Seat Savers™
SeatSavers™ are custom tailored for a perfect fit and include headrest and armrest covers where applicable. Work Truck seat covers help reduce fleet maintenance cost; the durable denim weight fabric is like "jeans for your seats". And for hardworking line crews and oil field work we even offer a water-proof fabric! Lots of colors and options to choose from. You'll love the way Seat Savers™ work for your trucks and vehicles!


Seat Gloves™
Seat Gloves™ come in amazing, eye catching colors and are the seat cover designed for driving comfort, with spacer fabric in the seating area... For bucket seats in Cars, Trucks and SUVs./ You'll love the comfort, protection and style of our Seat Gloves™!


Are They Easy To Install?
You bet and once they are installed you can enjoy years of comfort and protection. Just see our easy "Installation Video" below.


Let CoverCraft™ Save YOUR Seat Today!
If you have a seat worth saving then CoverCraft™ is the only place you need to go. Let our experience, dedication to absolute quality, comfort, protection, durability and ease of use, work for you. Call us today and let us put you back in the driver's seat-- with protection and style!


---
Contact: Covercraft Industries, Inc.
100 Enterprise Blvd.
Pauls Valley, Oklahoma 73075
Phone: 800-4-COVERS (426-8377)
Email:
Website: Click Here To Connect

---