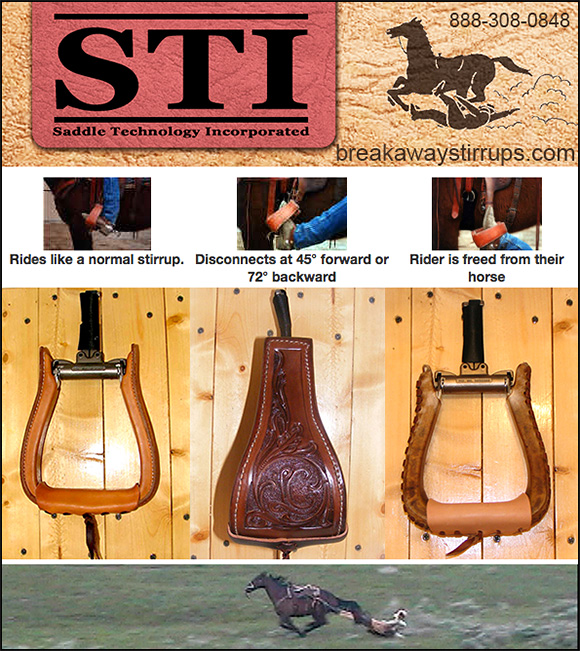 "Breakaway Stirrups" by STI Corporation

The Breakaway Stirrup is designed to "breakaway" from the saddle when the rider is in danger of getting "hung up" in their stirrup- to prevent dragging!

How Did Breakaway Stirrups Come To Be?
Says creator of Breakaway Stirrups Michael J. McCoy, After being in the cattle business all of my life and rodeoing professionally for sixteen years, I've experienced and witnessed a few horse wrecks. I only got dragged once, but I saw a man get drug to death. But it didn't really sink in until my kids started riding. My oldest boy, Willy, had size 11 shoes when he was about 10. So I made all of our kids split their boots down the back like a bronc rider. But that still wasn't enough, I figured more had to be done. The idea of a breakaway stirrup finally did come to me, and I know it was a blessing from above. Our number one goal at S.T.I. is to prevent draggings, whether we sell stirrups or not. In my opinion, most of the modern riding community has forgotten about the dangers of getting dragged, or just aren't aware of the risks.



Is It True That Draggings Have Always Been A Potential Problem?
Yes. Draggings have plagued horseback riders since the invention of the stirrup. Dragging prevention began with the use of riding boots. These boots had a defined heel to prevent a rider's foot from slipping through the stirrup. They also had an open top so if a rider got hung up, their boot might slip off before they got drug too long. This boot became known as the cowboy boot, and today it's become a popular icon in our society of the American west, however, we've forgotten the purpose for which they were created. Many modern versions of the cowboy boot have a less defined heel, and some have laces, making it impossible for that boot to slip off in a dragging situation. Speaking of the American west, who can forget the gun toting cowboys etched in time by greats like Charlie Russell. It's a common misconception that these working cowboys wore six guns because they were all gunslingers. The six gun emerged in the west as a tool of the working cowboys, so that in the event of a dragging, they could shoot their horse before they got drug to death.

Is It True That Breakaway Stirrups Can Actually Help Prevent Non-Dragging Head Injuries?
Yes! Many of the really bad buck offs that result in head injuries come from temporary stirrup hang ups. The person didn't necessarily get dragged, but got hung up long enough to get spun around and have their bodies swung under the horse, exposing the body to the horse's hind legs. When a person gets bucked off hard, but gets out of the stirrups clean, they will generally land hard but probably not on their head., and most likely be able to walk away. If they do get spun around in the stirrup, that's generally where riders land on their head, or get exposed to the hind legs, and get hurt the worst. Breakaway Stirrups can help prevent a head injury due to a temporary 'hang up' in the stirrups.

So How To The Breakaway Stirrups Actually Work When I Am Riding?
S.T.I.'s safety breakaway stirrup is designed to "breakaway" from the saddle when the rider is in danger of getting "hung up" n their stirrup, and being dragged by their horse. As a rider falls to the ground, their bottom drops below their heel and their toe will come up, this will rotate the stirrup around the stirrup leather, releasing the mechanism.

1) The release mechanism is a precision-engineered safety device, designed to release itself from the stirrup leather when it reaches a 72° backward angle, or a 45° forward angle. The forward angle can be activated if a rider falls off the horse or gets thrown and hangs their foot up in the stirrup. The backward angle is generally activated when a horse falls and a rider's foot goes through the stirrup. Whether your foot is all the way through or if your toe is wedged in the stirrup, the stirrup will break away.

2) These angles of release were scientifically predetermined to be reached only in a dragging situation. In a normal riding situation, a rider's stirrup won't generally rotate more than 5°. But even if you're spurring a horse from their shoulder to their hip, with your toes out and down, your stirrups won't rotate much more than 35°. For the mechanism to release, the rider has to be in a dragging position, or in the process of falling off.

But What If I Am Thrown Over My Horses Head?
You can get thrown over the horses head, straight in the air, off the back or out to the side; whether it's the near side stirrup or the far side stirrup, the stirrup will always rotate before you hit the end of your stirrup leather.

Do Breakaway Stirrups Work For Lighter Adults or Teenagers?
Yes! The Breakaway Stirrups functions the same for an 80 lb. child, as it does for a 300 lb. adult. The release mechanism can be most closely related to that of the ski binding. In field tests it took about 5,000 lbs. of downward force to break out the stainless steel stirrup clip, to release the mechanism. The steel parts used in the mechanism are investment cast stainless steel parts, that have to maintain .01" tolerances. The precision of this mechanism gives it the surefire abilities common to a pistol, and the strength to withstand the harshest riding conditions.

Can I Choose My Styles?
You bet! We have many styles to choose from— you will love our large selection!

Why Are Breakaways Stirrups A Little Expensive?
They are expensive to make and to create! But the truth is, Breakaway Stirrups don't cost you money— they SAVE you money! One trip to the hospital… will cost you so much more, not to mention if you lost your life. These are a high quality, high functioning, beautiful to look at, SAFETY insurance (tax deductible to horse businesses!) that can save you from terrible injury or death.

What Do People Say About Their Breakaway Stirrups?
"Daughter came off safely, got the horse up without it actually rolling over onto the saddle, and we thought nothing more of the incident until she started to get back on and the stirrup was missing on the side she came off of. It gives me chills to think that her foot was in a position to be dragged or else the stirrup would not have released. Thank you. A million times... thank you."
-Lana Bain
Puyallup, WA

"I was chasing a steer down hill, standing in the stirrups, swinging my rope, trying to get close enough for a shot, when the horse dropped his head and went to bucking. I couldn't get his head up and got pitched off the far side. My right foot got hung up in the stirrup, but about the time I hit the ground the stirrup released and kept me from being drug.
-Phil Mueller

"As soon as I hit the ground, I knew that my right leg was injured. The horse jumped to his feet and started running off with my foot still in the stirrup. As soon as the horse made his first step to run, the stirrup blew off. That is when I realized that the miracle had happened, the stirrup came off."
-Gary Skluzacek
Lonsdale, MN

"...Last fall we had our first mishap when one of our horses, spooked by wildlife, parted company with his rider. I was directly behind this horse and witnessed your stirrup breaking away even before the rider hit the ground. Other than being a little shaken, the rider was fine. The paint gelding involved is gentle, well mannered and well acclimated to his environment, again proving that any horse can spook at any given time. Bottom line, your stirrups, when put to the test, worked as advertised. An occurrence that could have been very serious turned out to be rather uneventful, thanks in part to your stirrups."
-Tom Heenan
Tidioute, PA

Isn't YOUR Life Worth Protecting? Order Breakaway Stirrups Today!
Life doesn't give you notice of an impending danger. Horse riding is one of the most joyful, and dangerous, activities. But you can save yourself a lot of worry and potential injury, with your one time investment with Breakaway Stirrups. We're happy to answer your questions and to help you with your order today.
---
Contact: Our Friendly Staff
2629 Red Bridge Road
Laurel, Montana 59044
Phone: 888-308-0848
Email:
Website: Click Here To Connect

---