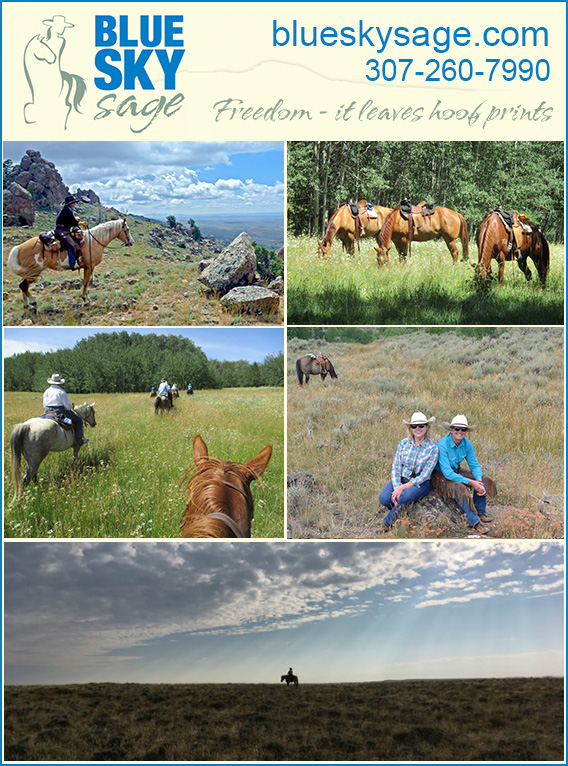 Blue Sky Sage -- Horseback Riding Retreats
At Blue Sky Sage, it's all about quality horses to ride, a small group of only SIX RIDERS PER WEEK, and the personal attention you receive from owners Bobbi and Mike Wade!



About Blue Sky Sage Horseback Riding Vacation
When you choose a Blue Sky Sage Horseback Adventure, you have chosen a horseback riding vacation that is an intimate, exclusive experience for SMALL groups, personally escorted every day by one or both owners of Blue Sky Sage. A smaller group means more personal attention, more privacy and more individual space. You won't get lost in a crowd at Blue Sky Sage; group size is limited to SIX RIDERS PER WEEK.




About The Owners Of Blue Sky Sage, Mike and Bobbi Wade
Bobbi and Mike were each born and raised on small family ranches, 3rd generation natives, just a few miles from the Texas Trail and the Pony Express Trail in eastern Wyoming. The ranches were family operations, with no hired men to do the work. Their dads had worked for many years on different old-time ranches north of Lingle, Wyoming as cowboys. They later both became ranchers on their own places, but they were still cowboys more than anything else. So, they were raised in the true "Cowboy tradition" of the region. Mike has a lifelong career as an outdoor "outfitter" and trail guide.

Bobbi has worked as camp cook, and guided hunting expeditions. Each of them have evolved into horsemanship instructors as well, working with guests to gain confidence, learn how to be safe in all aspects of horsemanship, and to find the "joy of the ride"! Both of them have made it their career to build Blue Sky Sage into a memorable horse back riding vacation that will leave you planning your next trip back!

So, Is It True That The Riding Will Be Guided By Owners Mike and Bobbi Wade?
Yes and their personal attention and lifetime horse experience makes all the difference! They will NOT hand you off to a 'wrangler'! One or both of them guide every ride, every day, so you are assured the experience and expertise of their 40+ years as professional guides and horsemen are shared throughout your riding week.

Do They Have Horses To Ride That Can Meet My Level Of Experience?
The horses are well-trained, respectful, and forgiving when they offer themselves to you to learn and enjoy a good days' ride. Blue Sky Sage conducts ride weeks for the strong novice (basic riding skills and relative confidence with a horse) to the more intermediate and advanced levels for qualified riders. They try to put people of similar skill levels into the same ride week, so no one is overexposed, or held back in the group. It is important to be physically fit— at least within reason, and your ability to "post the trot" correctly is imperative if you want to have the opportunity to pick up the pace. The intensity level and pace will be adjusted to accommodate your skill and fitness, remembering that the number one priority is SAFETY, for both rider and horse.

Will I Really Be Able To "Ride" … Or Is This A "Nose to Tail" Adventure?
One thing about Blue Sky Sage, these are not dull "nose to tail" trail rides! Every ride day is conducted to be safe and controlled, yet physically active, and where practical, you ride off-trail and abreast of your fellow riders. Natural horsemanship philosophies practiced and shared all week, so you can become a much more confident and knowledgeable horsewoman. Featured rides include: The Girls Ride Out! All Women Weeks, the "Horsewomen of a Certain Age" Horsemanship Retreats, and the exciting Mustang Horse Adventure where advanced skill level riders can see and experience free-roaming wild horses in their natural habitat in Wyoming.

Where Can I Expect To Be Riding?
When you are riding with the Blue Sky Sage you will be horseback in the midst of the wide-open spaces of Wyoming, with 100-mile vistas stretching between the horizons. Ride along the Continental Divide as it crosses the Red Desert or into the Honeycombs Badlands wilderness of the Great Divide Basin. Find yourself along the banks of the Little Sandy River as it winds its way like a ribbon of refreshment through the high, cool desert. This tall and uncut Country is the home of the true western perspective. Cowboys, wild horses, historic trails, and ancient Native American campsites are still a part of this landscape. The fences are few and far between, "civilization" is a long way off and the freedom to ride is limited only by your desire.

What Are The Accommodations Like?
"Simple luxury" is how we accommodate your needs during the ride week. The premise is to have everything required for people to be safe, comfortable, well-fed and well-equipped, without all the "noise" that buildings, electricity, and all the accoutrements they support to interfere with the simplicity of an off-the-grid "home on the range" in nature. "Less is more" when you settle in to the idea of a true wilderness adventure, and it can be a powerful, rejuvenating time.

Think of the soothing melody of running water over smooth stones, with the harmony of a summer breeze through tall lodgepole pines to lull you off to sleep. The quiet of your own canvas tipi tent, with a warm sleeping bag on a cot and a comfy mattress are better than the best king sized bed in a luxury resort for restful sleep. The privacy and peace of the location enhances the accommodations of the Blue Sky Sage camp setting.

Will I Have My Own Private Tent?
Every individual guest is set up in their own tent, with larger tents available for couples or those who want to share. In addition, there is a private shower tent with solar-heated showers ready to use after we get in from the days' ride or the river right beside your tent may beckon you to take a dip in the crystal clear water for a cool soak, and to wash off the dust of the trail. The waters' edge is also a fabulous place to socialize and relax with your fellow horsewomen. There is no "single supplement" fee added on either.

How About The Food?
The menu features grass-fed buffalo raised on the high plains of Wyoming. Other fine entrees include wild Alaska salmon, grilled chicken, crisp salads, fresh fruits, natural cereals and yogurt, fresh vegetables prepared in a variety of mouth-watering ways, homemade breads, and if you have room, desserts that are sure to entice you into a second helping. Our camp chef is talented in preparing and serving a variety of wonderful meals, and specialty hors d'oeuvres for the BYOB cocktail hour after the horses are put up from a good days' ride. You will dine under the outdoor awning, or around the campfire, where an occasional Dutch oven surprise awaits!

Is It True That I Can Even Order A Customized Wade Saddle From Bobbi and Mike?
Yes— you will love the Blue Sky Sage "Double Wade" Saddle, and you may like it so much you will want to order one for you and your horses! These amazing saddles have been developed by Bobbi and Mike, and their saddle maker with the knowledge and experience of well over 40 years of professional riding and guiding. The "Double Wade" is built on a genuine Wade tree, and designed especially for women; it is lighter weight, narrower across the seat with a deep pocket for a more secure seat, and is incredibly comfortable for both rider and horse.

What Do Guests Say About Blue Sky Sage?
You have created an experience that truly has the power to change lives. The "freedom" in your tagline is real and it's far more than a physical sense. When I came to camp last year, I knew I wanted to ride horses in a wild, natural setting -- but I longed for something more, something far deeper. I couldn't name it, I wasn't even sure what I was after. I just knew I wanted to be far away from my daily routine, family, job, everything. I wanted to know myself in a different life altogether -- and see who I was. I remember reading your entire website in one sitting and knowing this was it. And after two camps, I can tell you -- the experience has changed and helped me deeply.
-Mary H., CA

I have been home for two days now and cannot stop thinking/talking about last week! I had the time of my life and I want to thank you ( Mike, Clara and Laetitia) for making it all happen. Nice to see photo of you out on Ginger (wish I was still there with you. My daughter Rebecca has just uploaded my photos from the holiday into the Dropbox you set up. Even though I say it myself I think that some of them are pretty good. I particularly like the ones of Hidalgo meditating!
- Hazel, UK

Dear Bobbi and Mike, I wanted to thank you for a great week. I really enjoyed the riding, learned a lot from you guys and our conversations. I wanted to tell you that I took Mike's advise and started the "hugging at the mounting block" twice a day [with my mare] and yesterday I could get on with a saddle in minutes with minimal fuss. She still seems worried and anxious but its already so much better. I rode her with a rope halter and lead rope using the move hands up first to get her attention, long reins and so on and it really works. She seems much calmer and less anxious and walks slower and more relaxed. So THANKS !!!!
- Christian L., NY

Can't thank you enough for such an incredible vacation. It exceed all expectations in every way. Visually . . . flowers, scenery, "Elfin Forests", wind blowing over the long grasses, and who knew you could have flowers at your feet in the "head". The sounds of the wind and the creek along with the wakeup chirps from the birds and the marmot souds. Great food, lovely folks and fine horses and saddles that were as comfortable as possible even for someone who had not been spending time in the saddle for the past 2 years.

Mornings waking up to another wonderful day waiting for the grasses around my tent to be silhouetted against the tent knowing Clara would be getting coffee and a fire ready. Best alarm clock ever! Wonderful rides, followed by a needed soak in the icy creek, dinner and stories around the campfire. Hope you can view the videos on this drive, wish I had done more of them as watching them sure is fun. Thanks again, I hope to be one of your repeat customers!
- Fran, FL

Horace Greeley had it right when he said go west. Pictures and words do not capture the beauty of the desert and mountains or even come close to seeing the herds of wild horses running freely. The week was filled with new experiences each day - all of them grand. Our trusty steeds took us over part of the Oregon Trail, up mountains and down them. The end of the day was shared with good food, stories, music and new friends. Thank you Bobbi and Mike.
- Betty R., MA

I can say "best trip to date 62 yrs"!! Obviously I have seen the world and met amazingly wonderful, creative, bright, educated, interesting people. I definitely include you and Mike among the most special people I've ever had the privilege to know. Thank you for sharing your love .....of land and horses with me.
Lisa K., NY

Don't You Deserve The Riding Vacation Of A Lifetime? Call Us Today!
Enjoy the freedom to enjoy nature and a true partnership with a really good horse, and simplicity and a return to a straightforward way of doing things. Blue Sky Sage promises you will get all these things and more, set in the middle of expansive western Country, with a willing Horse as your partner. You can create memories of a lifetime, as the testaments above prove. Freedom - It Leaves Hoof Prints. Blue Sky Sage Horseback Adventures Call us today!

---
Contact: Bobbi Wade
P.O Box 116
Big Piney, Wyoming 83113
Phone: 307-260-7990
Email:
Website: Click Here To Connect

---