How Aromatherapy Can Help Your Dog


By Vicki Rae Thorne, Earth Heart Aromatherapy

Many dog lovers have concerns about the increasing use of prescription medications for their pets. While both effective and necessary in certain situations, these medications carry the same potential problems and contraindications as medications for humans. Many canine professionals and owners have discovered alternatives to using some medications. These include a change in diet, proper canine communication, and natural remedies such as herbs and aromatherapy.

Aromatherapy can be a safe and effective natural healing tool for your dog. It can be used alone or in combination with other therapies. Essential oils can be used singly or in formulations for specific purposes such as restlessness, upset tummies, skin irritation or respiratory support. As with any home remedy, it is important to know the use and safety guidelines, and to recognize when it is time for professional help from your veterinarian.



Scientific studies using aromatic plant substances were originally conducted and published in France and Germany. In the early 1900s, tests were performed on dogs and horses to determine how humans might respond to essential oils. These clinical studies used dogs and horses because of a physiological similarity to humans. The positive results collected from these studies led to the use of essential oils on humans, and by the mid-1900s, the practice of aromatherapy was not uncommon with French veterinarians. Because dogs love to smell things, aromatherapy is ideal for use with them.

The word "aromatherapy" was coined by a French chemist named Rene-Maurice Gattefosse. In July 1910, Gattefosse was involved in a laboratory explosion. Both hands were covered with gaseous gangrenous sores. He plunged his hand into a nearby container of clear liquid, which immediately stopped the gasification of tissue. The very next day, Gattefosse saw that the damaged tissue was already beginning to heal. The mystery liquid was lavender essential oil. This profound experience led Gattefosse to document remarkable results in healing all kinds of wounds and sores with lavender essential oil.

The simplest definition of aromatherapy is "healing with scent." Specifically, aromatherapy is the therapeutic inhalation and topical application of pure essential oils to restore or enhance health, beauty and well-being. When inhaled, scent molecules trigger an emotional or behavioral response in the limbic brain. When inhaled or topically applied, they are absorbed into the bloodstream, promoting a physiological response.

Therapeutic use in aromatherapy indicates the use of a substance for a specific healing purpose. Clinical studies over many decades have shown essential oils to have a variety of medicinal properties. These include analgesic, antibacterial, antiviral, antifungal, antispasmodic, antiinflammatory, antiseptic, detoxifying, expectorant, regenerative, sedative and immunostimulant actions.

Essential oils are the volatile oils produced within the seed, flower, leaf, bark, root or resin of aromatic plants. Plants produce essential oils for purposes of self-preservation. This includes attracting insects for pollination, repelling pests and resisting microorganisms that can destroy the plant. Essential oils are complex chemical components within the plant that can be extracted by steam distillation, cold-pressing, and carbon dioxide or solvent extraction.

Not all plants produce essential oils, and so not all aromas are included in the practice of aromatherapy. Many products on the market use synthetic fragrances such as peach, apple or strawberry. Synthetic fragrances are not therapeutic, and in fact can cause problems, including headaches, agitation or allergic reactions. It is therefore important to use high quality pure essential oils from reputable companies.

Essential oils are highly concentrated. For example, 200 pounds of lavender tops are distilled to make one pound of lavender essential oil. Because of this concentration, it is accepted practice to dilute essential oils before use to avoid problems such as skin irritation or overwhelming the sense of smell. This is especially important with remedies for dogs, because they have a much stronger sense of smell than humans.

Scent has been used to heal since ancient times. The Egyptians are renowned for their use of scented oils in ritual, adornment and embalming practices. Roman baths were infused with lavender for its calming and disinfecting properties. In fact lavender is named for the Roman word lavar which means "to wash."

Scent is powerful. It has the ability to conjure detailed images, to transport us to a different time and place, to lift our spirits and calm our minds. Scent can attract or repel. It helps us taste our food and keeps us from danger. It reinforces pleasure and influences our ability to produce hormones. Consider the emotional effect of smelling a roasting turkey or fresh-baked cinnamon rolls, the ocean air or a pasture filled with sweet clover.

Nature put the nose in the middle of the face,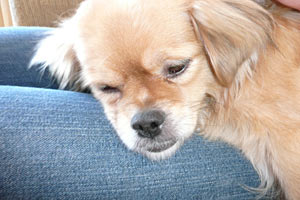 and the olfactory bulb is the first receptor in the brain. This gives scent a significant role in the limbic system, which is the seat of emotion, memory and learning. The sense of smell has been called "memoristic," triggering an emotional response before a cognitive one.

This memoristic response is powerful – you don't necessarily have to see a skunk to know it's there. And although lavender essential oil is chemically sedating, a negative memory of the scent of lavender can cause a neutral or negative response, because memory overrides chemistry.

Because dogs respond so well to both scent and touch, topical applications of essential oil remedies such as massage formulations, calming sprays or grooming products are quite effective. Physical applications – combining aromatherapy with touch – can lead to an emotional response, coupled with a bonding experience and potential behavior modification, and the scent can anchor the experience of loving touch from a trusted caregiver. This experience provides comfort for dogs that are anxious or fearful during unsettling times such as storms, fireworks, travel, competition, adoptions, veterinary or kennel visits, bath time and holidays. Aromatherapy can be a powerful bonding tool for rescue animals and their families. Trainers use aromatherapy to help calm and focus dogs quickly, making other training tools more effective. Kennels, clinics and groomers have found aromatherapy can help the dogs stay calmer and quieter during visits, and because clients are picking up calmer dogs, it can mean less stress for the next visit.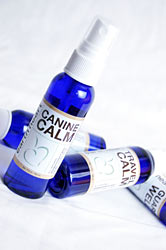 Because of the memoristic nature of scent, and the potential conditioning response, it is important for the first application to take place at a non-stressful time. For example, when introducing an aromatherapy mist, lightly mist yourself and hold or pet your dog to help the dog associate the scent with you as a person of comfort and a relaxed moment. This also allows you to see how much of the remedy is needed and how quickly the dog responds to it.

Aromatherapy mists are an affordable and simple application to use. You can mist your hands and massage the dog's abdomen or outer ears. Lightly mist behind your dog's head, or mist a favorite bandana to tie around the dog's neck. You can also mist around a room, inside the travel crate or car, or directly onto bedding. Be creative, but don't spray the product into the dog's face, mouth, eyes or ears.

For small, young or elderly dogs, one or two mists may be appropriate, and for medium to large dogs it may be necessary to use four to six mists. As stated earlier, with aromatherapy, and especially with a dog's acute sense of smell, less is more.

It is with this attention to customer need, high quality ingredients, safety, effectiveness and simplicity that Vicki Rae Thorne, master herbalist and certified aromatherapist, founded Earth Heart Aromatherapy in 1996, to promote the use of herbs and aromatherapy as an integral part of everyday health.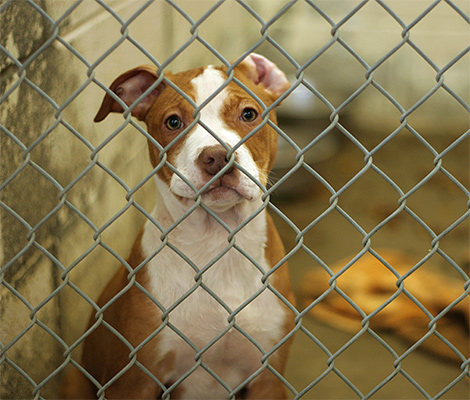 Over 10 years ago, Vicki was approached by a kennel owner who wanted help with calming dogs during new arrivals and feeding times. The dogs experienced a wide range of emotions from being anxious or angry, agitated or depressed, and they all missed their families. The formulation now known as Canine Calm™ was developed to diffuse in the kennel, and it worked from day one. Customers noticed that their dogs were calmer when they left the kennel, and didn't fret so much when it was time to go back.

This same kennel has been successfully using Canine Calm since the spring of 2000. When kennel customers wanted to take the product home, aromatherapy mists were developed as an affordable ready-to-use remedy. The formulation combines essential oils of bergamot, tangerine, lavender, marjoram, geranium and ylang ylang, which have all been historically used for relaxation.

Travel Calm was developed to help families traveling with pets that experience restlessness, nausea or vomiting. Because the Canine Calm formulation had worked so well to calm dogs, it was blended with ginger essential oil, which is traditionally used in remedies for stomach upset and gives the remedy an earthier scent.

Guard Well was developed to help dogs that have been exposed to lawn or pool chemicals, or have experienced recurring health problems. Earth Heart developed the formulation using essential oils of niaouli, ravensara and frankincense, which have historically been used for lung, liver and immune support.

Earth Heart Aromatherapy continues to develop remedies that are simple, safe, effective and smell good. Visit www .earthheartinc.com for more information on products and to order aromatherapy remedies designed with the same loving care you give your dog.


What Satisfied Customers Are Saying:
"Abby [a nine-year-old pit bull] was so upset she wouldn't eat her food. She was panting so I knew a storm was approaching. I misted her with Canine Calm and within seconds she stopped panting, walked over to her bowl, and ate her food. I've never seen anything like it." – Chris Beebe, IL

"I have had a lot of success using Canine Calm as a training tool. I used it in class with an anxious and distracted German shepherd. The client was amazed at how quickly the dog became calm and focused. It made for a much better training session. The whole class could see the difference." – Cindy Skarda, trainer and founder, The Canine Coach, Delavan, WI

"I sprayed Canine Calm on a couch pillow before going out. When I came home, I thought I'd left the dog outside by mistake, because he didn't greet me at the door as usual. I discovered him sound asleep on the couch with his head on that pillow! He's an 83-pound Golden." – Denise Rutter, IL

"I adopted two greyhounds. I spray their bedding with Canine Calm and they sleep more restfully each night. It takes only a few minutes after two sprays from the bottle and they are asleep. One night I heard snoring coming from their beds." – Darlene Lawrence, FL

"I sprayed a little Canine Calm on myself before I gave my dog Herschel a bath. This is usually a huge, traumatic ordeal. I put him right in the tub, and he didn't shake or growl or try to get away. I really am so happy that there is something natural to spray on him without having to drug him." – Sandra Wilson, Crown Point, IN

"I tried Canine Calm with my 6-month-old Airedale, Sonja, because she vomited every time she rode in the car, and I had tried most of the usual fixes, to no avail. I did not want to drug her since we were going to dog training class. To my delight, Sonja rode to and from class last week without vomiting, and she was so focused during class that the instructor commented on her performance." – Dorah Richardson & Sonja, WI

"I used the Travel Calm on a 4-hour car ride. Sinjun didn't stand up in the car for the whole trip so I was able to use my rear view mirror…and he no longer drools and vomits in the car. Love this stuff!" – Heather, Toronto

"The dog is doing great. The owner gives all the credit to two things: the switch to a raw and natural diet and the Guard Well spray." – Nina Pregont, Dundee, IL

Contact: Earth Heart
P.O. Box 427, Dundee, IL 60118
PH: 847-551-1806
FAX: 847-637-0460
vicki@earthheartinc.com
earthheartinc.com


To advertise your horse product or service, Contact Ann

InfoHorse.com, Horse Information Lives Here ® 1/21/2019
Contact Us to Advertise to over a million Horse Owners.
All images and content Copyright© 2015 by InfoHorse.com, Equusite.com.
Horse Owners are Dog Owners; Dog Product Information dognowner.com

Articles, Academic Schools, Arena Maintenance, Animal Communicators, Barns, Barn and Accessories, Barn Equipment and Tractors, Breast Collars, Grooming Products for Horses, Hay Feeders, Horse Blankets, Horse Books, Horse Videos, Horse Breeders, Horse Camping Gear, Career Schools, Carts and Buggies, Horse Training Clinicians, Equestrian Clothing, Dogs and Puppies, Horse Fencing, Western Art & Furniture, Horse Property for Sale, Horse Products For Sale, Fly Control, Foal Care, Horse Footings, Horse Gifts, Horse Health and Nutrition, Hoof and Leg, Horse Insurance, John Lyons Certified Trainers, Equine Lawyers, Leather Care, Links, Horse Property, Horse Photography, Portable Horse Stalls, Arenas and Roundpens, Horse Riding Schools, Horse Schools, Safety Products, Services for Horses, Horse Trailers, Horse Shipping, Horse Skin Coat Care, Horse Software, Specialty Trainers, Horse Summer Camps, Tack, Horse Trainers, Treats and Snacks, Truck Accessories, Trucks, Horse Vacations, Western Lifestyle, jewelry Equestrian-International.com G+