Home Away From Home. Horse Containment in Camp.


No matter what containment option you choose, it's best to prepare your horse for camping at home. Veteran campers recommend setting up a practice camp on your horse's home turf.
Article for Ramm Horse Fencing and Stalls by Karen Elizabeth Baril

So far you've limited your trail riding to local trailheads. Your horse trailers well and you've enjoyed these mini adventures that you can start and finish in a day. But, if you're like most avid trail riders, you dream of visiting places that are even farther afield. To do it, you'll have to stay overnight and that leads us to horse-camping.

There's nothing like the sound of your horse quietly munching on his hay ration while you sit around a crackling fire with your fellow campers. But, horse camping can be intimidating to a novice. There's a lot to know; what to pack, handling water and hydration challenges, and perhaps the biggest question of all—how to keep your horse safely contained in camp. In the following article, we share information on the most popular horse containment options:

Hobbles, picketing, ground-staking. Hobbling, or the practice of tying your horse's front legs together to limit the distance he can cover, sounds a little barbaric, but the practice has been around for ages. Veteran campers, particularly wilderness campers, use this method successfully. Hobbling, though, is like saddle-breaking; it is a skill to be honed long before you hit the trail. The best advice is to find someone who Is experienced at using this method and ask them to teach you. Keep in mind that even hobbled horses can still wander great distances.

Picketing or using a high-tie is a common and effective method of keeping a horse in camp. You'll need two sturdy trees, ½" diameter picket rope (15 feet long for two horses, another 5 feet for every additional horse), secure halters, and some sort of tree-protector to protect the bark. Some campers use strips of burlap. You'll tie the line ideally at a height of around 5 -feet to avoid your horse stepping over the line. Tie your horse's lead rope long enough to allow him to touch his nose to the ground when he's standing directly under the knot. Any shorter and he won't be able to graze, any longer and you run the risk of him getting tangled in the rope. Always tie your horse at least 5-feet from his neighbor, add more distance if the two horses don't get along.

Ground staking involves tying your horse to a stake that is attached to a swivel-head O ring. The 15-foot attached lead should be constructed of nylon enclosed in soft PVC or rubber to prevent your horse from getting a leg entangled in the rope. Keep in mind the terrain you'll be camping in—stakes are impossible to secure in sandy areas tough to drive into rocky soil. If the stake is driven correctly, it won't release unless pulled straight up. If you do have a horse that is likely to pull straight up and back when startled, the stake might not be your best choice.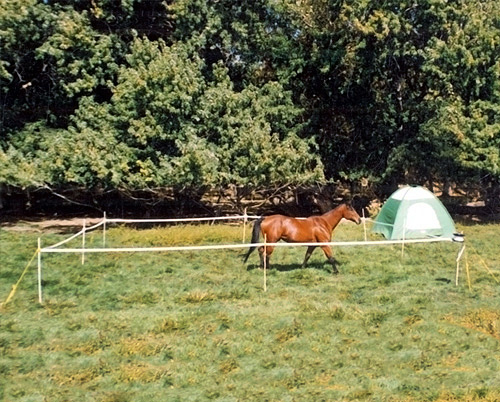 Portable Electric Fence Kit. Portable electric camping corral kits are an affordable and safe solution for most horses. Kits are sold complete with fence chargers, temporary step-in fence posts, insulators, and lightweight, yet highly visible tape or rope.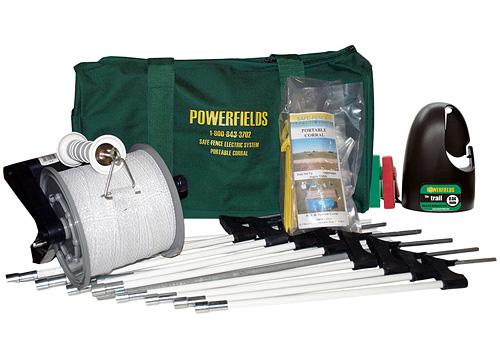 Portable electric camping corrals offer the advantage of high visibility and ease of use. The corral is lightweight, easy to set up and take down, and the highly visible electric tape creates a visual barrier that horses respect. Most temporary corrals offer substantial room for one or two horses; around 50 square feet. Be sure to familiarize your horse with electric fencing before using it in camp. Once again, step-in posts might not be suited for very soft ground like sand.

Portable pipe or PVC corrals. Portable pipe corrals offer a strong visual barrier to most horses. They're usually constructed of PVC or lightweight metal and are stored on the outside of the trailer (usually over the wheel well) when not in use. They're much heavier and far more cumbersome than portable electric corrals and they don' t offer an electric back-up. Set-up is limited to within a few feet of the trailer due to their weight.

Tie-arms. Flexible tie arms attach to the trailer at or near ceiling height. They work quite well for many people, allowing the horse mobility and the chance to graze. Keep in mind that horses that are easily spooked or panicked should never be tied to the trailer. All tie lines should have a little give in them so that if your horse does spook, the release will save them from injuring themselves or damaging the trailer. If you plan on sleeping inside the trailer, the noise from the tie-arm shifting can get in the way of a good night's sleep!

Prepare your horse.
No matter what containment option you choose, it's best to prepare your horse for camping at home. Veteran campers recommend setting up a practice 'camp' on your horse's home turf. Test your horse's tolerance of his corral or high-line. One of the most important skills your horse needs to make both a great trail horse and a great camper is patience. Help him become comfortable with tying for long periods of time. The more patient and comfortable he is with tying, the better he'll do everything else.

Talk to seasoned campers in your area for recommendations on places that are fairly safe for novices. Good choices are campgrounds where there's plenty of help should you need it and trail terrain that your horse feels confident in. As you and your horse's skill and confidence grow, you can adventure to more challenging trails.
RAMM Horse Fencing & Stalls can help you get started on all your camping adventures. Visit them at rammfence.com, on Facebook at facebook.com/rammfence, or call at 1-800-434-8456. While on their page be sure to check out RAMM's Portable Electric Camping Corral. This kit has everything you need to get started.



To advertise your horse product or service, Contact Ann

InfoHorse.com, Horse Information Lives Here ® 1/15/2019
Contact Us to Advertise to over a million Horse Owners.
All images and content Copyright© 2017 by InfoHorse.com, Equusite.com.
Horse Owners are Dog Owners; Dog Product Information dognowner.com

Articles, Academic Schools, Arena Maintenance, Animal Communicators, Barns, Barn and Accessories, Barn Equipment and Tractors, Breast Collars, Grooming Products for Horses, Hay Feeders, Horse Blankets, Horse Books, Horse Videos, Horse Breeders, Horse Camping Gear, Career Schools, Carts and Buggies, Horse Training Clinicians, Equestrian Clothing, Dogs and Puppies, Horse Fencing, Western Art & Furniture, Horse Property for Sale, Horse Products For Sale, Fly Control, Foal Care, Horse Footings, Horse Gifts, Horse Health and Nutrition, Hoof and Leg, Horse Insurance, John Lyons Certified Trainers, Equine Lawyers, Leather Care, Links, Horse Property, Horse Photography, Portable Horse Stalls, Arenas and Roundpens, Horse Riding Schools, Horse Schools, Safety Products, Services for Horses, Horse Trailers, Horse Shipping, Horse Skin Coat Care, Horse Software, Specialty Trainers, Horse Summer Camps, Tack, Horse Trainers, Treats and Snacks, Truck Accessories, Trucks, Horse Vacations, Western Lifestyle, jewelry PCC G+