Joint Supplements Dr. Honor Ame Walesby, DVM, MS, DACVS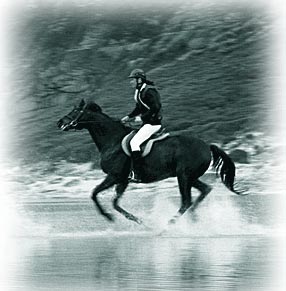 Louisiana State University School of Veterinary Medicine Baton Rouge, LA
The reality of pharmacology is that there are no silver bullets or magical cures. No one drug or therapeutic substance can be placed into a syringe, administered as a powder, or given as a pill that will cure all of the musculoskeletal conditions affecting the equine athlete. The common denominator in all equine athletic injuries is inflammation. The cellular mediators and biochemical processes associated with inflammation are responsible for the clinical signs of heat, pain, and swelling, as well as ongoing tissue destruction. The goal of therapeutic intervention should be to assist the body in controlling inflammation, prevent ongoing tissue destruction, relieve pain, restore function, and return the horse to normal work conditions with minimal loss of fitness. Oral supplements agents are designed to assist the body in the healing and maintenance processes. Effective use and administration is based on a sound understanding of the mechanism of action, indications for use, effective dosages, drug interactions, toxicity, and expected results for each supplement. The goal of this abstract is to provide information pertaining to chondroitin sulfate and glucosamine used to treat degenerative joint disease in the equine athlete. The knowledge gained from this abstract should help facilitate the optimum selection and application of oral supplements in the treatment and maintenance of the athletic horse.

Chondroitin Sulfate
Mechanism of Action: Chondroitin sulfate (CS) is the predominant glycosaminoglycan found in adult articular cartilage. CS has been classified as a slow-acting, disease-modifying agent that has been shown to inhibit the enzymes associated with inflammation and tissue destruction. However, it must be noted that these inhibitory activities refer to intact CS molecules, and the effect of smaller CS molecules and other degradation products associated with digestion and absorption remains unknown and untested.
The CS marketed for use as a dietary supplement in horses is usually in combination with glucosamine with or without added vitamins and minerals. The availability of oral CS to the body after ingestion remains speculative and scientific literature provides conflicting results. Absorption of CS has been reported for man, dogs, and rats; however, less than 15% of the molecules were absorbed as intact CS molecules. Investigators concluded that a majority of the CS was absorbed only after degradation to a smaller CS molecule without the active sulfate group. The absence of absorption of oral CS has also been reported for several human and rabbit studies in which tests were unable to detect the presence of smaller CS molecules.
Large intestinal bacteria utilize CS directly as an energy source and remove the active sulfate group. Researchers have concluded that CS is not absorbed following oral administration, but rather a smaller inactive CS molecule is absorbed instead and that the presence of the sulfate group is necessary for the biologic activity of chondroitin sulfate, therefore any positive clinical response to oral administration of chondroitin sulfate is secondary to the biological activity of the CS degradation products or from the activity of other substances present in the supplement, such as glucosamine.

Indications for Use:
Several studies report positive responses to oral CS therapy for the management of degenerative joint disease in the human knee. One human study utilizing oral treatment with extract from sea mussels (Perna canalculus) for a period of 6 months, reported 19 of the 28 rheumatoid arthritis and 15 of the 38 degenerative joint disease patients felt that they benefited from the oral CS therapy. Positive results associated with oral CS therapy have been reported for a rabbit model of degenerative joint disease, as well as for a chemically-induced canine joint inflammation model. Dogs with chemically-induced joint inflammation pre-treated with CS combined with glucosamine had reduced inflammation and lameness scores. However, treatment after the inflammation was already established was shown to be of no benefit.

Effective Dose:
A plethora of choices exists regarding oral supplement for the treatment and prevention of joint disease in the horse. Each brand contains varying concentrations of CS with or without glucosamine as key ingredients. These ingredients are then combined with a variety of vitamins, minerals, and frequently a secret compound. The supplements are usually recommended as daily top dressing for feed, and manufacturers provide a measuring device specific to their product. Because these products are classified as dietary supplements and neutraceuticals, the effectiveness, safety, and quality assurance programs put forth by the United States Food and Drug Administration (FDA) do not apply. Recommendations regarding effective dose, long-term toxicity, drug interaction, and the ability to cause birth defects are anecdotal or based solely on manufacturer claims. One product, Cosequin®, has been clinically and scientifically evaluated. One trial consisted of 25 clinical cases of horses with joint pain treated with oral Cosequin® for a period of 6 weeks. In this study, lameness, response to flexion, and stride length improved with Cosequin® therapy, however, there were no controls. In another study of chemically-induced inflammatory joint disease, 12 horses were treated with oral Cosequin® for a total of 36 days. Therapy began 10 days prior to induction of arthritis and continued for 26 days afterward. No benefit was observed for lameness, stride length, joint circumference, or response to flexion, and synovial fluid protein concentration did not improve. Due to the widespread use and popularity of these products, controlled studies and scientific validation are needed to address the controversy regarding intestinal absorption, drug distribution within the body, toxic effects, interaction with other drugs, and clinical effectiveness.

Glucosamine
Mechanism of Action: Cartilage cells manufacture glucosamine from glucose as a precursor for the building block units found within articular cartilage. Glucosamine has been classified as a slow-acting, disease-modifying agent, a slow acting drug in degenerative joint disease (i.e. that it requires a prolonged period of administration before the positive effects are noted or detectable), and as a chondroprotective (i.e. having a protective effect upon articular cartilage). When available, glucosamine is preferred over glucose as a food source by articular cartilage cells. Glucosamine is a small, water soluble molecule that is absorbed from the small intestine and across biological barriers in the body. Glucosamine hydrochloride yields greater quantities of the active form of glucosamine, than glucosamine sulfate. It is the active form of glucosamine that directly determines the availability of the glucosamine supplement to the body. In fact, studies in rats, dogs, and humans have shown that 95% of glucosamine hydrochloride is absorbed and available to the body for use by the articular cartilage after oral administration.
Other work done with articular cartilage cell cultures has shown a dose-dependent increase in the synthesis of hyaluronic acid (joint lubricant) and articular cartilage building blocks in response to treatment with glucosamine. Treatment with glucosamine decreased free radicals, tissue break down, articular cartilage cell death, and inflammation. Studies in live animals have demonstrated uniform incorporation of glucosamine into newly synthesized building blocks of articular cartilage, which demonstrates it use and role in cartilage repair and synthesis. In rats, glucosamine blocks the damage to articular cartilage associated with the use of steroids within the joint. A study, looking at the joints of human subjects affected by degenerative joint disease looked at cartilage biopsies taken before and after 4 weeks of treatment with oral glucosamine sulfate or placebo, found evidence of articular cartilage repair and a mild decrease in inflammation; giving the affected cartilage an appearance more similar to that of healthy cartilage.

Indications for Use:
Oral supplements, such as glucosamine, were initially developed as an alternative to the practical and financial limitations associated with intra-articular and intra-muscular hyaluronic acid (e.g. Synacid® and Hylartin V®) and polysulfated glycosaminoglycans (e.g. Adequan®). Oral glucosamine administration has been associated with decreased pain and an increased range of motion when compared to a placebo in a well-controlled clinical trial in people with degenerative joint disease of the knee. Oral glucosamine has been shown to alleviate the symptoms of chronic arthritis with daily dosing over a 6 to 8 week period. The first of two studies comparing ibuprofen to oral glucosamine in humans with degenerative joint disease of the knee showed a faster reduction in pain and swelling for ibuprofen during the first 2 weeks, but the difference was found to favor glucosamine at week 8 of therapy. The second study reported a similar difference in response at 2 weeks, but from 3 weeks onwards there was no significant difference in response between ibuprofen and glucosamine, with the exception of a significantly lower incidence of adverse side-effects for glucosamine then ibuprofen. Glucosamine proved superior to phenylbutazone ("bute") in the management of human back pain, and to a placebo in the treatment of degenerative joint disease involving the human spine. Researchers investigating combination therapy in humans concluded that the use of oral glucosamine significantly decreased the effective dose of anti-inflammatory agents needed to control chronic pain.

Effective Dose:
Two forms of glucosamine are available for oral administration, glucosamine hydrochloride and glucosamine sulfate. Both disassociate within the stomach, but the hydrochloride salt yields a greater amount of the active, non-ionized glucosamine which has direct availability to the body. The oral products currently available for horses are numerous and seem to be increasing on a monthly basis. Unfortunately, there is a dearth of clinical and scientific studies in horses. Information regarding efficacy and dosage for oral glucosamine are anecdotal or based on manufacturer claim. Given the consistency demonstrated for drug absorption, distribution within the body, and elimination from the body in a series of studies in humans, rats, and dogs; the assumption is that a similar effective dose rate of at least 10 grams per day is necessary to treat a 500 kg horse.

Toxicity:
Oral glucosamine is a neutraceutical and as such is not regulated by the United States Food and Drug Administration (FDA) for purity, effectiveness, or safety. As a result, safety trials have not been performed prior to these products being released onto the market. To date, investigations into long term use and interaction with other drugs used to treat pain and inflammation associated with degenerative joint disease have failed to demonstrate toxicity or adverse effects different from placebo controls associated with the use of oral glucosamine in man.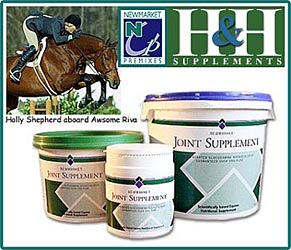 Contact: New Market Joint Supplement by H & H Supplements, LLC.
Information on InfoHorse.com

8946 Vidalia Road
Pass Christian, Mississippi 39571
Phone: 800-578-1594

Email: info@jointsupplement.com
Website:www.jointsupplement.com/