How To Be Sure Your Dream Horse Vacation Is A Dream Come True!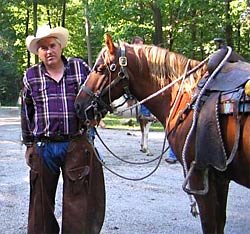 We've all had the fantasy; arriving at our dream horseback riding destination to relax and enjoy ourselves away from the hustle and bustle of work and city life.
By Ray and Terrie Smith
Reconnect with the beauty of nature while riding through nature's majestic forests, seeing its crystal streams, wildlife roaming freely, hearing the sounds varying at every turn, sometimes even silence has its own sound if you listen close enough; this is the dream we are searching and longing for. This dream satisfies the inner soul. Only the prepared trail rider will achieve this dream. Many ill prepared trail riders go off on horse vacations only to return home disappointed and unfulfilled.

Make sure before going to a trail ride you and your horse are prepared.

First, call ahead and find out all the details of where the horse campground is, the type of terrain, the difficulty of trails you will encounter, the choices of riding with a guide or riding on your own, ask if there are trail maps to follow if this is what you would prefer, ask for the costs involved so there are no surprises upon arrival, ask what is included in the package you choose (with food or not), ask what the weather is typically like, and get directions to the campground.

Secondly, never bring a horse that you just bought and are not familiar with to a new place. Make sure you know the horse and have a good relationship with the horse so that when you ride you will have an enjoyable ride and not have to be training it on the ride. Make sure you know how to tie your horse safely and properly to a picket line or have an alternative solution, such as; using a tie stall or box stall or bringing a portable stall or fencing. Be sure to clear these with the place you are going because some places have restrictions on what you can use. By having these decisions taken care of ahead of time you will have a much better time at your destination. A pleasure trail ride is just that, pleasurable; a time to relax and enjoy the scenery and tranquility, a time to avoid stress and embrace the "dream". Inhale and exhale slowly, look all around you and take in the visual display that awaits you.

Thirdly, pack all the necessary equipment and supplies you will need on your vacation.
Always pack a variety of clothing and dress in layers. Some other common items to pack are: Weather resistant jacket, hats, gloves, raincoat, extra pillows, blankets, air mattress, rubber muck boots, extra cowboy boots, flip flops for in the shower or pool area, bathing suit, sunglasses, extra towels, washcloths, toiletries, make up, hair dryer, brushes & combs, first aid kit, camera, food, snacks and drinks for horse and rider, garbage bags, flashlight, batteries, lantern, cooking pans & supplies, toilet paper, antibacterial wipes, Benedryl, aspirin, medications, matches, fly spray, cell phone, vet wrap, extra tie lines, buckets, hay bag, rakes, collapsible wheel barrel or muck bucket,
horse equipment including saddle bags, and grooming tools. Pack emergency phone numbers and health insurance information, including what your blood type is and carry with you. Bring your current horse health certificates and papers with you when crossing state lines. All states have varying requirements so it is better to be prepared than delayed.

Lastly, in the event a day of your vacation is rained out, ask your host for alternative places to go and see. Have a good attitude and make the best of your vacation. Keep smiling and look for the positive side of every situation you encounter. Many times you can visit a unique antique or craft store, a restored Victorian community, a museum, a play, a historical landmark, watch a movie, read a good book or just take a nap.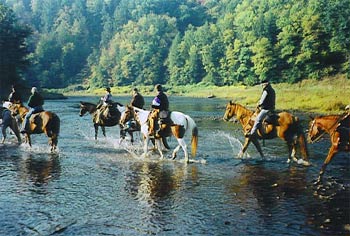 One horse lovers paradise is found in northwestern Pennsylvania. The Cook Forest Area Scenic Trail Ride & Dude Ranch allows you to enjoy a western cowboy experience without leaving the eastern United States. Come and make your dreams come true! You can bring your own horse or rent one from us. Trail riders from all over the world have attended this horse campground. They have had visitors from Brazil, England, Australia, Canada, and all of the states of the United States.

America's most trusted horseman, John Lyons, has attended with his family and recommends it to anyone wanting to have a great time. Others who have enjoyed camping there are Josh & Jana Lyons, with their 2 sons; Austin & Johnny, Tommie Turvey I and Tommie Turvey II, Kenny & Missy Harlow, Bob Jeffreys & Suzanne Sheppard, and Jan Huffman to name a few.
We have also been independently recommended by Rhonda Hart Poe in her book, Trail Riding, the complete guide for you and your horse, which we highly recommend reading. She has ranked us as one of the top outfitters and organized trail rides. Only two were recommended in the whole state of Pennsylvania and we were honored to be chosen as one of the best places to vacation with horses. (see page 310)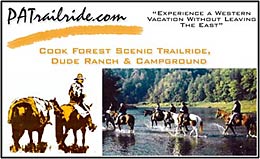 Contact: Ray or Terrie Smith
Cook Forest Area Scenic Trail Ride & Dude Ranch
12957 Harrison Street
Summerville, Pennsylvania 15864
Phone: 814-856.2081
Email: rayesmith01@alltel.net
Website: www.patrailride.com
Physical Campground Address: Scott Drive, Clarion, PA 16214