Easy Livestock Record Keeping
by Lion Edge Technologies – Ranch Manager Software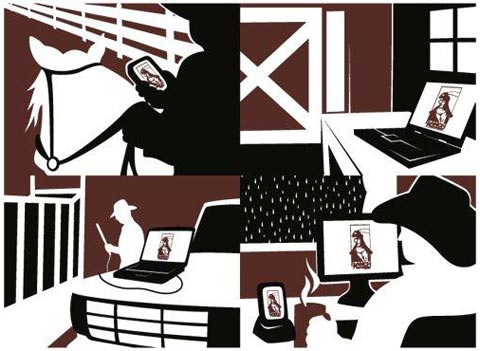 As herd sizes for the average rancher and farmer increase, livestock record keeping is even more important today than ever before.

In a lifetime of breeding and or managing horses, the number of horses bought, horses sold and horses lost could very well be a large number over time. Keeping track of all those horses, their health, breeding and pedigree, it makes sense to use a proper livestock management software program.

The latest technology has helped livestock record keeping come a long way. Most people have a smartphone, a desktop computer, and a laptop. Some even run both PC and Macintosh computers. Gone are the days when producers used the computer for just tax reporting. Tweeting, Facebook, livestock record keeping and managing their farm websites are becoming very popular in the horse industry.

So what can a ranch software program do for you? Knowledge of your operation is key to finding what you need:

· Profit and loss statements reveal profitability, what expenses have taken place

· Detect inbreeding in the lineage of an animal or animal exposure in the pasture

· A ranch calendar documents weather, vet visits and other important events

· Record weights at different intervals

· Historical data analyses shows what has happened in your farm over the years

· Animal traits and measurements show the quality of your animals

· Add extra notes on animals or breeds

· Pedigree shows lineage of the animal and can include storing pictures of animals

· Have livestock records on your phone or handheld device for instant access

Livestock producers are flexible in what they raise, what they grow and need to take stock of what works the best. Find success by having accurate livestock records. Feed plans, knowing the locations of your animals, and keep your animals' healthy gives you an overview of your operation.

Make quality count. Livestock record keeping provides historical data that is essential in showing how well animals are cared for, shows good breeding and financial health. Regardless of the record keeping system a producer chooses, accurate records for your business is the difference between success and failure.

Ranch Manager: Equine Edition Software
Use Ranch Manager: Equine software, to manage your equine records (horse/donkey) for your ranch operation. With Ranch Manager viewing your horses could never be easier. Separated into major categories such as Foal Crop, Herd Mares, Herd Stallions, Herd Geldings, Animal Sales, Animal Search, and Unmanaged Animals, each view gives the opportunity to view the animals in a list with various characteristics displayed, or use the pedigree and offspring views to discover an animal's family tree.

Ranch Manager will track the expected foaling due dates for your horses, whether you pasture breed, AI, or use Embryos. The equine program tracks estimated beginning and ending dates for each mare's foaling season based on the days the animal was exposed to one or more stallions in the same location. Estimated due dates are calculated when the breeding date is recorded (such as with AI and Embryos). When a mare births, Ranch Manager calculates the expected sire based on breeding information provided.

Lion Edge is a family-run business established in August of 1999. Lion Edge develops and produces Livestock management software. Ranch Manager Software was first created to manage the family's ranch operation. Soon after creating the Cattle software, customers requested ranch management software such as Sheep software, Goat Software, Equine Software, Deer Software and Elk Software. Lion Edge introduces new features and products based on customer needs. The products have grown to include the Canine Edition (Dog Software for purebred dogs and livestock guardian dogs) and the Camelid Edition for our Alpaca and llama producers. The Canine Edition was introduced because of the demand for software for livestock dogs and purebred dogs.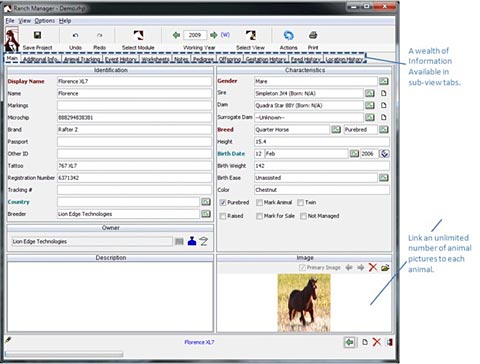 What makes Lion Edge different? Lion Edge Technologies strives to keep livestock software affordable and easy to use. With free technical support, new features are based on customer requests and staff input. In keeping with technology and industry trends, Lion Edge is a leader in innovation.

Our design philosophy is to provide innovative software solutions that mirror the way you run your business.
Lion Edge has the most innovative mobile livestock software design for PDAs (Personal Data Assistant/handheld device), the Pocket Edition.
Pocket Edition is compatible with Windows Mobile and Palm handheld devices
A "true" Macintosh OS X version of all our desktop livestock software (Pocket Edition currently does not currently run on Mac OS X)
Our user interface looks like it should in each operating system including Windows 7, Vista and Mac OS X (Apple computers)
(EID) Electronic ID interface with Allflex Wand Readers and IDology wand readers for animal identification (RFID)
CCIA age verification interface for Canadian Producers (submit birth dates to the CCIA website)
Conforms to NAIS animal identification for US operations (including farm premise ID and RFID, radio frequency identification)
All Livestock Editions work seamlessly together and can be packaged in one program
iPhone application expected in 2012

Ranch Manager ® Software was built and tested by ranchers. Ranch Manager is affordable because everything is created in-house and we pass the savings on to you. With today's costs of ranching and the necessity of having a quality affordable ranch management program, it is our goal to bring you easy to use and highly effective software that makes your life easier.

Contact: Our Friendly Staff
Lion Edge Technologies – Ranch Manager Software
7663 S. Duquesne Way
Aurora, Colorado 80016
Phone: 1-720-870-5086
Email: questions@lionedge.com
website: lionedge.com
To advertise your horse product or service, contact Ann

InfoHorse.com, Horse Information Lives Here ® 12/14/2018
Contact Us to Advertise to over a million Horse Owners.
All images and content Copyright© 2012 by InfoHorse.com, Equusite.com.
Horse Owners are Dog Owners; Dog Product Information dognowner.com
Articles, Academic Schools, Arena Maintenance, Animal Communicators, Barns, Barn and Accessories, Barn Equipment and Tractors, Breast Collars, Grooming Products for Horses, Hay Feeders, Horse Blankets, Horse Books, Horse Videos, Horse Breeders, Horse Camping Gear, Career Schools, Carts and Buggies, Horse Training Clinicians, Equestrian Clothing, Dogs and Puppies, Horse Fencing, Western Art & Furniture, Horse Property for Sale, Horse Products For Sale, Fly Control, Foal Care, Horse Footings, Horse Gifts, Horse Health and Nutrition, Hoof and Leg, Horse Insurance, John Lyons Certified Trainers, Equine Lawyers, Leather Care, Links, Horse Property, Horse Photography, Portable Horse Stalls, Arenas and Roundpens, Horse Riding Schools, Horse Schools, Safety Products, Services for Horses, Horse Trailers, Horse Shipping, Horse Skin Coat Care, Horse Software, Specialty Trainers, Horse Summer Camps, Tack, Horse Trainers, Treats and Snacks, Truck Accessories, Trucks, Horse Vacations, Western Lifestyle, jewelry

More on Ranch Manager Software-
Use Ranch Manager Equine software to improve your equine record keeping (horse/donkey) for your ranch operation.

Horse record keeping features include detailed health and maintenance records, profit and loss, picture pedigree, recording horse traits and more. Record breeding in a handy breeding chart where you have a complete year's worth of breeding data on one easy to use screen.

Track heat cycles, foaling dates, and other breeding data. Ranch Manager tracks horse identification and important events such as breeding, show and training records, veterinary care, worming, hoof trimming, dental checkups, and feedings.