Saddle Horse Versus Pack Horse with Richard Winters


Does your horse think he's a pack horse or a saddle horse?

First let's define what a pack horse is. A good pack horse is very useful in taking our gear up the mountain for a camping or hunting trip. A really good pack horse has come to the following conclusion: If the pack shifts left or right, forward or backward, just ignore it. It means absolutely nothing. Just go to the happy place and keep walking. You'll eventually get to the end of the trail and they will take this pack off you and leave you alone!

That is correct thinking for a pack horse. Unfortunately, many saddle horses have come to the same conclusion. The rider shift his weight left or right, forward and back, yet it means absolutely nothing. Thus the saddle horse concludes that the best thing to do is to go to the happy place. Eventually the rider will get off and leave me alone! I don't want my saddle horse to live with that kind of reality.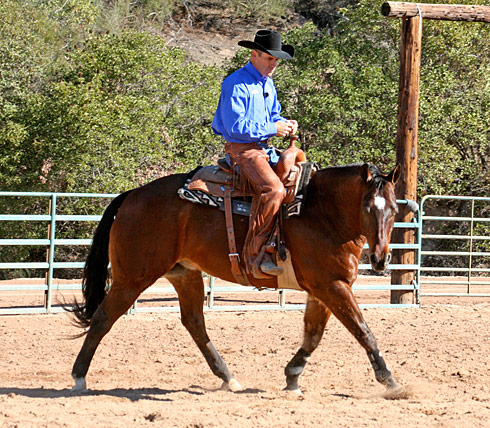 (Trotting) - My body is trotting a right hand circle and my horse is following my direction.

If I want my horse to be more than a pack horse, then I as a rider have to be more than 100 to 200 pounds of dead weight on his back. That means my body has got to have meaning to my horse. We've seen riders do bridleless riding demonstrations and wonder how they are communicating to their horse. They are communicating with their body language. They ride with feel through their body and they are consistent every time they ride, whether with the bridle or without.

If I want my horse to have a definite walk, trot, lope, stop, back-up, and turn, then my body has to have these same gears as well. This all starts on the very first ride of the colt's life and continues consistently throughout his career. Remember, if my body language doesn't have consistent meaning all the time, it's not going to have much meaning at any time.


(Spin) - My horse initiates the spin at the suggestion of my body posture.

On a practical basis, what am I talking about? When it's time to go forward, I don't just start kicking and clucking. I bring up the life in my body with energy and forward movement. This is not mental telepathy or some type of spiritual connection. Rather, it's my horse having the ability to feel my subtle changes in body posture that lets him know that it's time to move out. In essence, I begin to walk or trot (with my body) and ask my horse to come with me. Now, if there is no response, I can reinforce the suggestion with more energy from my body, legs, or even a spank or tap. Always allowing my horse the opportunity to respond to my subtle body language before firmer action is taken.

You can build consistency in your horse's gaits if your body will go with the motion. This is especially important with horses that are not very forward and tend to be on the lazy side. If my horse is cantering, then my body needs to be in time with that rhythm. If I get behind the motion and ride passively, my horse will probably break gait. Now all I can do is react after the fact. My lack of assertiveness and feel will create a horse that lacks consistency of stride and gait.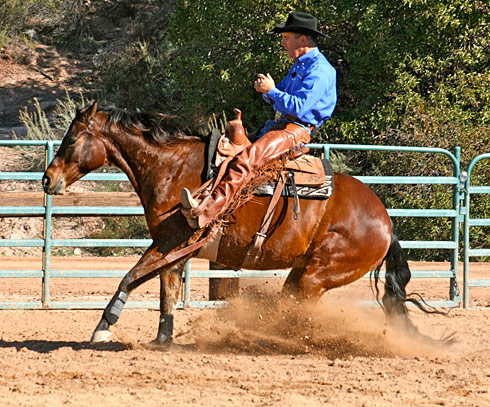 (Stop) - When I shift my weight and "quit riding" my horse stops.

Body language is important with downward transitions and stops as well. You need to be able to "quit riding." This means changing your body posture from forward energy to neutral. Exhaling, sitting down in the saddle, and relaxing your body are all good cues for your horse to know that you have changed gears and are slowing down or stopping. Certainly, if there is no response, you should pick up on your reins and reinforce the suggestion you offered with your body. I like what one horseman said: I never kick a horse to make him go, and I never pull on one to make him stop. But, I might kick him if he doesn't go, and I might pull on him if he doesn't stop. The horseman was simply referring to the idea of suggesting with body language before escalating to firmer cues.

I never want my horse to think he is only a pack horse carrying around dead, meaningless, weight. Through the consistency of my body language my horse can be proud that he is my saddle horse!

Contact: Richard or Cheryl Winters
5025 Thacher Road
Ojai, California 93023
Phone: 805 - 640-0956
Email: cwinters@thacher.org
Website: wintersranch.com

To advertise your horse product or service, Contact Ann

InfoHorse.com, Horse Information Lives Here ® 3/22/2019
Contact Us to Advertise to over a million Horse Owners.
All images and content Copyright© 2013 by InfoHorse.com, Equusite.com.
Horse Owners are Dog Owners; Dog Product Information dognowner.com
Articles, Academic Schools, Arena Maintenance, Animal Communicators, Barns, Barn and Accessories, Barn Equipment and Tractors, Breast Collars, Grooming Products for Horses, Hay Feeders, Horse Blankets, Horse Books, Horse Videos, Horse Breeders, Horse Camping Gear, Career Schools, Carts and Buggies, Horse Training Clinicians, Equestrian Clothing, Dogs and Puppies, Horse Fencing, Western Art & Furniture, Horse Property for Sale, Horse Products For Sale, Fly Control, Foal Care, Horse Footings, Horse Gifts, Horse Health and Nutrition, Hoof and Leg, Horse Insurance, John Lyons Certified Trainers, Equine Lawyers, Leather Care, Links, Horse Property, Horse Photography, Portable Horse Stalls, Arenas and Roundpens, Horse Riding Schools, Horse Schools, Safety Products, Services for Horses, Horse Trailers, Horse Shipping, Horse Skin Coat Care, Horse Software, Specialty Trainers, Horse Summer Camps, Tack, Horse Trainers, Treats and Snacks, Truck Accessories, Trucks, Horse Vacations, Western Lifestyle, jewelry

2013 Schedule



California, Kentucky, Tennessee, Iowa, Ohio, Wisconsin, Colorado, Nebraska, Mexico, and possibly Sweden!
(If the Lord will!)

February 23-24
Horsemanship Clinic - Galt, CA
Contact: Anita Dayton 916-591-2481

March 15-17
Road to the Horse - Lexington, KY
Join us for this exciting event! Sarah Winters will be a competitor - Richard Winters will be the Horseman's Host. Call us at (805) 640-0956 for information on special VIP seating in Sarah's fan section. (2 tickets left)

March 23-24
Advancing Horsemanship Clinic with Cows - Shelbyville, KY
Contact: 800-901-8498 or caras@lubrisyn.com

March 30-31
Advancing Horsemanship Clinic with Obstacles - Cleveland, TN
Contact: Kathy Caylor 423-280-3716

April 5-7
Iowa Horse Fair, Des Moines, Iowa

April 12-14
Advancing Horsemanship Clinic with Cows - New Marshfield, OH
Contact: Lora or John Lavelle 740-664-3313
lavellefarms.com

April 19, 20 & 21
Horses & Heroes Midwest Horse Fair - Columbus, WI
MidwestHorseFair.com

May 25-26
Advancing Horsemanship Clinic - Galt, CA
Contact: Anita Dayton 916-591-2481

May 30th-June 2nd
Light Hands Horsemanship - Santa Ynez, CA

Summer Events in Ojai, CA
Contact: Cheryl Winters 805-640-0956

June 21-July 20 Horseman's University

June 21-27 Ultimate Horse Course I

June 28-July 4 Ultimate Horse Course II

July 5-8 All Women's Horsemanship Retreat

August 6, 7, & 8
Advancing Clinic with Cows - Bransun, CO
Contact: Jerry 719-946-5675

August 30, 31, September 1
Advancing Horsemanship Clinic with Cows -Sturgeon Bay, WI
Contact: Brandon 920-495-2280

October 19-21
Advancing Horsemanship Clinic with Cows - Chihuahua, Mexico
cecysolis08@hotmail.com

November 15, 16 & 17
Nebraska Horse Expo - Lancaster Event Center