What Part of Whoa Don't You Understand By Bob Jeffreys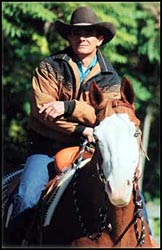 We've all seen it, a rider will haul back on the reins, say "Whoa!", and the horse just keeps going. So the rider says it again, only louder this time, and still the horse keeps going. Then the rider gets serious and screams " I said whoa!" (in case the horse is confused as to what was actually being said) but the horse continues to move. What is happening here is that we're inadvertently teaching the horse to associate the word "whoa" with moving (he may even begin to think that his name is "Whoa-darnit").

We could try a more severe bit which might work for a little while (and I mean about 10 rides or so) but the horse will eventually get used to the higher level of pain associated with the severe bit and start to again run through it. We'd subsequently need a bigger bit and then a bigger bit and then a bigger, bigger bit and so on until we're riding with a bit with 5 foot long shanks, spikes in the nose band, a hydraulic assist to add rein pressure and the horse will eventually run through this as well! The truth is we really can't make a horse stop. We need to focus on a way to communicate our request (because that's what is really is, a request) in a clear and understandable manner. We should also address this from the horse's point of view and give him some motivation or a reason to stop.

There are two old cowboy sayings that bear quoting here. The first one says, "Good horses always have wet saddle blankets!" and secondly "You can't make a horse stop, but you can sure make him wish he had!" I'll incorporate a little of each saying in describing how we proceed to teach our horse to stop, and then teach him that the word "whoa" is a cue for him to stop.

Firstly, we need to teach our horse to "give" to the bit and soften his neck and shoulders when we pick up on our reins. This is a basic pre-requisite. Why? Because we want our horse to do whatever we ask cooperatively. No one enjoys riding when the horse is pulling so hard it feels like our arms are about to fall off.

So what is "giving to the bit?" Simply this: When I take the slack out of my left rein (without pulling!), my horse will move his nose towards that side, without hesitation, every time I ask him to.

In an arena, where you can ride safely, slowly take the slack out of the left rein and turn your body to look at the horse's left hip. Add rein pressure as required until the hip moves toward the right. Because the horse's "engine" is in his hindquarters, this has the effect of taking forward motion or "impulsion" away from the horse.

We're looking for softness in this movement, not a "herky- jerky" pull. Release all rein pressure as the hip begins to move to the side. Then immediately change your focus to the horse's left shoulder point and begin to add pressure to your left rein slowly until that shoulder point stops moving forward and starts to rock backward. When this happens and your horse is stopped, release your rein pressure, say "Whoa", and praise your horse. Now he will begin to associate the "whoa" with being stopped!

You must also teach the lesson on the right side. Pretty soon we can eliminate step one, disengaging the hip. We'll just ask the left or right shoulder point to stop and rock backwards by using rein pressure and adding the "whoa" command only when the horse actually stops. Eventually, we can use both reins simultaneously to ask the shoulders to stop, rock backwards, and then add the "whoa" command.

Now that he knows how to stop we'll start doing more trotting and cantering work. As the horse gets tired (wet saddle blanket), he'll be more inclined to listen for our "whoa" cue and will be very pleased to stop for us. If for any reason he fails to stop on our request, we'll simply move him further and faster then he would like to go (make him wish he had). We won't get angry but we won't let him stop until we request it again. The more you practice with your horse, the more they'll tune in to you, and "whoa" will be fully understood and responded to willingly. Good luck & safe stopping!

©Bob Jeffreys 2004
Bob Jeffreys, clinician, expo presenter, horse trainer, teacher, a 1996 John Lyons Certified Trainer and author of It's All About Breakthroughs!"™ is the founder of the "Partnership Training for Horse & Rider" System. Visit www. bobjeffreys. com to sign up for his free monthly E -newsletter and to get more information about his nationwide clinics, Trainer Education Programs and products.
Contact: Bob Jeffreys
168 Tamms Road
Middletown, New York 10941
Phone: 845- 692-7478
Email: bob@bobjeffreys.com
Website: www.bobjeffreys.com/