Ranch Trucks, Truck Accessories for Horse Owners

Trucks, Truck Accessories
Horses and trucks just seem to go together, Our trucks are needed when we go pick up supplies at the feed store or to haul our horses in their trailers. We use the truck to haul off the manure or to haul in sand for the arena or shavings for the stalls. Horse owners either own a truck or wish they did. Trucks, dump trucks, truck accessories, truck hitches and more can be found in this area of InfoHorse.com. Horse owners need heavy duty equipment that is reliable for work with horses and that is the purpose of this area of the site.

Truck Accessories Article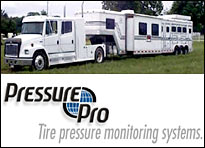 Tire Pressure Monitoring Saves Money and Lowers Environmental Impact
Safety, savings or efficiency, you need tires you can rely on.
Article by L&S Safety Solutions,
LLC. PressurePro's N. American Distributor



To advertise your horse product or service, Contact Ann

InfoHorse.com, Horse Information Lives Here ® 3/3/2015
Contact Us to Advertise to over a million Horse Owners.
All images and content Copyright© 2014 by InfoHorse.com, Equusite.com.
Horse Owners are Dog Owners; Dog Product Information dognowner.com
Articles, Academic Schools, Arena Maintenance, Animal Communicators, Barns, Barn and Accessories, Barn Equipment and Tractors, Breast Collars, Grooming Products for Horses, Hay Feeders, Horse Blankets, Horse Books, Horse Videos, Horse Breeders, Horse Camping Gear, Career Schools, Carts and Buggies, Horse Training Clinicians, Equestrian Clothing, Dogs and Puppies, Horse Fencing, Western Art & Furniture, Horse Property for Sale, Horse Products For Sale, Fly Control, Foal Care, Horse Footings, Horse Gifts, Horse Health and Nutrition, Hoof and Leg, Horse Insurance, John Lyons Certified Trainers, Equine Lawyers, Leather Care, Links, Horse Property, Horse Photography, Portable Horse Stalls, Arenas and Roundpens, Horse Riding Schools, Horse Schools, Safety Products, Services for Horses, Horse Trailers, Horse Shipping, Horse Skin Coat Care, Horse Software, Specialty Trainers, Horse Summer Camps, Tack, Horse Trainers, Treats and Snacks, Truck Accessories, Trucks, Horse Vacations, Western Lifestyle, jewelry G+

Fear ends where knowledge begins.
Horsemanship Tip

My other best friend besides my horse is my truck ;)

Your horse needs to stand still when you mount or my advice is - DON'T get on! If a horse will walk off when you mount he could also trot off or do anything because his mind isn't on you.

When we Mount or dismount, we are very vulnerable. One foot in the stirrup and not on or off the horse, could mean a fall or even dragging. We expect our horses to stand quietly until we ask them to move. #1 Rule- We don't get hurt.
Enjoy your horses!