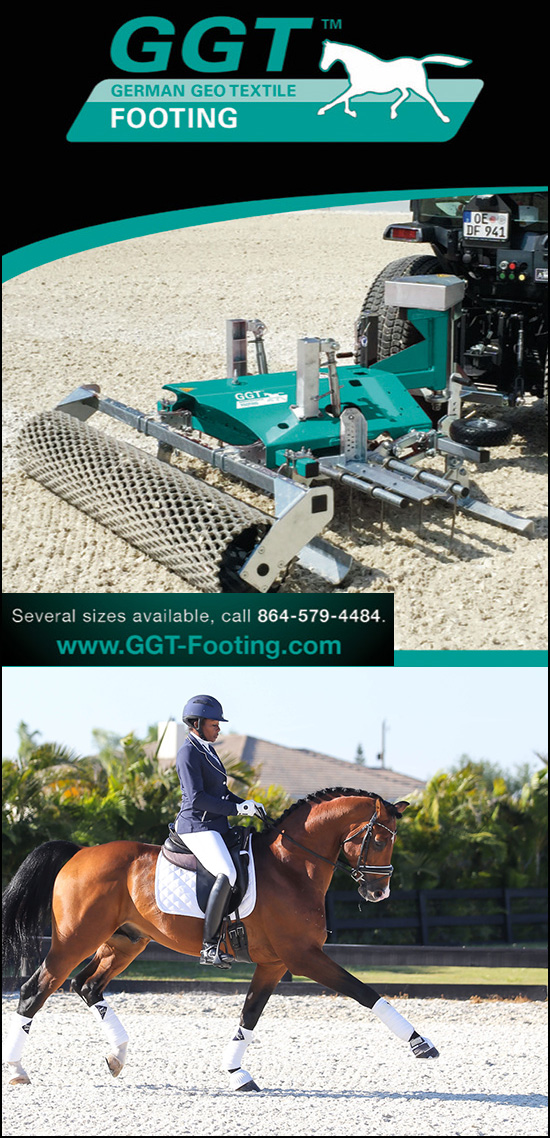 GGT- Footing™ by Polysols, Inc.
Whether you operate a top Dressage, Jumping, Reining or Western Pleasure arena GGT- Footing™ has the right footing formula for your training operation.



So, What EXACTLY Is The Big Deal About Footing?


Have you ever had all the pieces in place for a perfect ride your horse feels great, your energy is up—only to have your efforts disturbed by bad footing? Maybe it was too deep and soft, or flooded with puddles …another dangerous one is hard and concussive! You worried for your horse's soundness and wondered whether you should risk riding in that environment....You made a mental note not to return to that facility or arena, unless changes were made!


You see, Footing can make or break the success of horse shows and trainers' arenas and can actually affect the health and performance of your horse! Our high-quality textile additives and arena grooming equipment have proven successful in several shows and private farms! That is why horse show managers and farm owners looking for the best in footing often turn to GGT-Footing™, a high-quality geotextile material (either pre-blended with sand or blended on site) that provides consistent support, day after day.




About Our Company:
For over 20 years GGT-Footing™ has been supplying equestrian arenas worldwide with our arena footing additives. GGT-Footing is used at world class facilities, Olympians, and private farms all over the world. We offer dust free footing, Butterfly Matting systems for riding arena base and we offer the arena conditioners to help keep your arena in top performance shape! Our mission is to offer protection of the Equine Athletes that give so much to their riders and owners. There are Pleasure, Dressage, Jumper, and Western arena blends available.



Why Do Horse Owners Need GGT (German Geo Textile) Footing?
Ever since people started using riding arenas when working with their horses, they were experimenting with the large variety of materials for the use as footing. In former times pure grass riding places were created, but soon one noticed that by constant riding on the hoof track, the soil consolidated and with rainfalls, it turned to a mud bath. People went searching for alternatives for grass footing and discovered the sand. Over years, sand and arenas with sand – wood mixture were the standard. Some arena builders wanted to build something better and searched for new materials, which they found in plastic chaff. Since the beginning of the 90's the first, new "arena footings were created with geo textile or felt chaffs in Germany. This new footing, which was regarded very critically at first by equestrians, owners of stable and arenas, turned out to be the optimal footing for dressage and jumping in the last 10 years. Footing with felt and fibers proved to be the most successful solution in Germany and internationally.

What Riding Disciplines Benefit From GGT Footing?
Very simply-- ALL riding disciplines greatly benefit from GGT Footing! GGT Footing formulas are custom designed to be suitable for dressage and jumping as well as for therapeutic riding, round pens, lunging, Polo, horse race tracks, carriage events and in western pleasure riding and cutting. We know what each discipline needs and we have proven formulas that bring out the best in your arena - and in your horse's performance!

About The GEO Footing Products:
GGT-Footing GEO is our basic mixture for riding arenas. GGT-FOOTING GEO is our geotextile material used for a wide range of arena footing.

BENEFITS:

Reduced High water storage capability
Optimal impact resistance
Higher slide strength and additional stability
Prevents packing
Note: Extended lifetime of your arena surface-- up to 10 years!

GGT-Footing Fiber is the same fiber that is used to make the textile fabric for GGT- Footing Geo. The Fibers are 1-2 inches long and are working like a root system through the sand.

BENEFITS:

Increases impact and shear resistance
Extends lifetime of your arena surface
GGT WESTERN Footing Perfect For Reining, Cutting, Cow-Horse, Barrel Racing and More!
GGT Footing Western is the first footing in the Western sector that comes up to all Western riding disciplines, whether you practice Reining, Cutting, Pleasure, Cow-Horse, Barrel-Race, Trail. This footing has been especially developed and tested for the Western Riding Disciplines!

So far, the worldwide proved and tested footings with textile aggregates of the dressage and jumping sector have been a no-no for the Western equitation. It has been argued that the requirements for this equitation discipline vary too much. Now, GGT-Western will change this. Tested by Western Riders throughout the country, GGT Western has proven success!

Shear- resistant, compact and secure for the Cutting work with cattle as well as for the Barrel Race and Team Penning-competition.
Perfect density and elasticity for the Western-Dressage Reining (sliding at the Sliding Stop).
Low- maintenance and long-lasting.
To accommodate health of rider and horse it is completely dust-free.
It is gentle on the bare hoof (horn abrasion) and moisture controlling.
The aggregates are tested for harmful substances and highly resilient.
GGT-Footing Dressage Is Perfect for All Levels Of Dressage
GGT- Footing™ Dressage is a custom mix of GGT-footing Geo with GGT-Footing fiber.

BENEFITS:

Reduced dust
High water storage capability
Higher slide strength and additional stability
Prevents packing
Extended lifetime of your arena surface (up to 10 years)
Balances the different structure of the arena footing
Makes the surface fluffy to avoid injuries of the equine legs
GGT-Footing For Jumping
GGT- Footing™ for Jumping is a custom mix of GGT-footing Geo with GGT-Footing fiber. GGT-FOOTING Jumping is mixed especially for jumping arenas.

BENEFITS:

Reduced dust
High water storage capability
Optimal impact resistance
Higher slide strength and additional stability
Prevents packing
Extends lifetime of your arena surface (up to 10 years)
Facilitates a strong jump and a secure landing (improves the shear strength of the surface)
Offers perfectly adapted spring
Guarantees equal soil conditions for each competitor
Introducing The Butterfly Mat For Your Arena Base!
One of our newest additions to our product line is The Butterfly Mat. This is used for arena base drainage, water conservation and concussion reduction. The matting system supports the positive characteristics of a GGT-Footing ™ arena. Drainage, right moisture content, cushion etc.

This matting system is perfect for any flooring that has concrete as a base! The use of arena mats can also significantly reduce the cost of traditional layering methods with gravel, extra sand and the labor involved in the construction. Now with the GGT Butterfly Mats™ all authorized GGT-Footing ™ installers will have additional options to offer their prospective clients. A new design that will allow arena builders and farm owners a choice on how they construct their arena base.

By utilizing the GGT Butterfly Mat™ system, one can protect their horse's joints and tendons from long-term concussion and instability due to slippage from traditional footing surfaces. The typical force of a striking hoof is absorbed by the mat this plays an important role in maintaining soundness. The drainage holes in the mat allow excess water to drain quickly, thus allowing arenas to be used quicker after a rain.

The GGT BUTTERFLY ™ design also has water retention system that minimizes respiratory damage due to dusty footings by capturing small amounts of water thru a cup design .The moisture is then released into the arena sand which not only helps with dust control, but reduces the need for watering in some instances.

GGT BUTTERFLY Mats™ are manufactured from recycled material. In this way, our company actively contributes to environmental protection and sustainable development.

Note: THE GGT BUTTERFLY matting system is used in two arenas at The Kentucky Horse Park

GGT Dust Absorber To Keep Your Arena Dust Free!
During the hot summer months, one of the most widely used products is the dust control product called Dust absorber. Dust absorber is a proprietary protein based formula designed in Europe to magnify up to 30 times its weight in water absorption

Note: Look for our new dust controlling product available in 2016!!

Use The GGT Arena Maintenance Groomer To Keep Your Arena's In Perfect Condition!
One of the most important aspects of keeping a riding arena surface in good working order is the Arena maintenance Groomer or drag, as they are commonly known. GGT has developed its own line of arena groomers that can easily be pulled behind an ATV, Lawn mower or farm tractor. GGT Footing products are distributed through authorized resellers around the globe. Our distributors are available to offer a full custom design for your property as well as offering support for the Do it yourself clientele

Aren't All Textiles The SAME As GGT?
NO! Not all textiles are created the same; some have fiberglass and other products in them. GGT- Footing ™ Company prides itself on its level of quality control and safety to horse and humans.



Call GGT Footing Today!
For over 20 years GGT-Footing™ has been supplying equestrian arenas worldwide with our arena footing additives. GGT-Footing is used at world class facilities and private farms all over the world. We offer dust free footing, Butterfly Matting systems for riding arena base and we offer the arena conditioners to help keep your arena in top performance shape! Our mission is to offer protection of the Equine Athletes that give so much to their riders and owners. Please visit our website to learn more about our offerings: www.ggt-footing.com


---
Contact: Cynthia Brewster-Keating
851 Simuel Road
Spartanburg, South Carolina 29301
Phone: (864) 804-0011
Email:
Website: Click Here To Connect

---