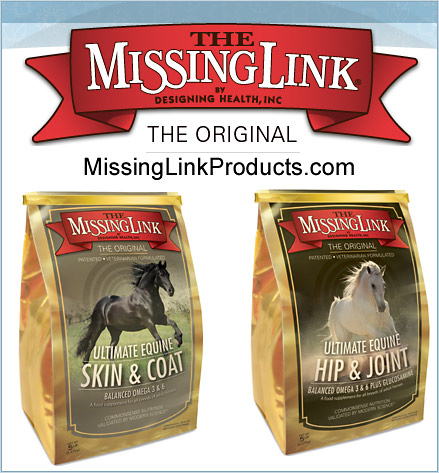 Missing Link Equine (Immunity, Skin & Coat) and Equine Plus TM Joint Support by Designing Health
Make sure your horse's immune system gets the best of support by using Missing Link products today!



The Missing Link Story
Dr. Robert M. Collett, founder of Designing Health, grew up in Colorado where his love of animals started at a very young age. His passion for animals and their health led him to study veterinary medicine at Colorado State University. After graduation, Dr. Collett moved to Southern California and over the next 40 plus years he developed one of the most successful practices in the Western States. He spent a decade researching and then testing countless formulations before finalizing to the current Missing Link formulations. Due to the rigorous ingredient quality control and proprietary production process; a production facility was established in Valencia CA. The Valencia, CA facility is USDA and FDA Registered and produces all of the Missing Link Branded items. Maximum potency is achieved via using the highest premium quality ingredients and then processing through a proprietary / patented cold process.




The Missing Link® Equine Formulas have been developed to target the nutritional gap between what their free range diet provided in nature and what is now common in commercial equine feed. Formulated with natural, quality whole foods and food concentrates, The Missing Link® Equine Formula reintroduces unprocessed, nutrient-rich ingredients into your horse's diet. It's a bit of that Missing open range! Horses are naturally Omega 3 animals, but today, on dry feed, they need the balanced Omega 3 & 6 Essential Fatty Acids and fresh, sparingly processed ingredients of The Missing Link® Equine Formulas. For years, veterinarians and pet owners have added The Missing Link® Equine Formula to commercial foods to nutritionally support:


General Health & Well-Being
Better Digestion
Healthy Skin & Coat
Increased Energy
Quicker Recovery After Surgery or Injury
Less Shedding
Reduced Allergies
Normal Weight
Healthy Immune System
Healthy Digestive System
Less Scratching & Itching
Reduced Odor
Less Joint Stiffness and Pain
Spit 'n Shine Coat
Increased Stamina & Performance
Enhanced Hoof Strength
Soft Tissue, Muscle, Tendon & Ligament Function
Less Dry and Splitting Hooves
Strong, Tough Hooves
Less Inflammation of Muscles, Joints & Tendons
Less Sand Colic & Respiratory Distress
Reduces Onset of Laminitis
Fast Recovery

With a BIG "PLUS™" For JOINTS!…The Missing Link® Plus™ Formula
All the Benefits of Missing Link ® PLUS Glucosamine for the ULTIMATE IN JOINT SUPPORT! The Missing Link® Plus line of products feature a unique blend of Glucosamine, Omega 3 & 6 Essential Fatty Acids, and Trace food components for the ultimate in joint support.

The PLUS™ formula combines the benefits of GLUCOSAMINE with all-natural, human-grade whole foods, carefully chosen for their nutrient profile and synergistic effects. The product is in the form of a granular powder that is easily sprinkled on the animal's regular food on a daily basis according to weight.

In Missing Link Plus™ You Will Find…
Glucosamine to stimulate the production of collagen, the protein that helps support healthy joints.
Omega 3 & 6 Essential Fatty Acids to reduce inflammation and promote joint mobility, a healthy skin & coat and balanced energy.
Enzymes (beneficial bacteria) to maintain normal digestion.
Fiber for Bowel health.
Phytonutrients and traces of various vitamins and minerals important for overall health and well-being.

Equine Formula Ingredients:
Ground Whole Flaxseed, Cane Molasses, Rice Bran, Primary Dried Yeast, Dehydrated Alfalfa, Dried Carrot, Ground Hulled Sunflower Seed, Dried Apple, Ground Barley Grass, Dried Kelp, Lecithin, Garlic And Yucca Schidigera Extract.

Find The Missing Link Dealer Nearest You!
Many find tack stores carry Missing Link--and many horse catalogs like ValleyVet, SmartPakEquine, KVSupply, and DoverSaddlery! Your horse depends upon you for good nutrition. You can ensure he received the best, most complete nutrition possible by adding the Missing Link Products to his diet!
---
Contact: Our Friendly Staff
28410 Witherspoon Parkway
Valencia, California 91355
Phone: 800-774-7387
Email:
Website: Click Here To Connect

---