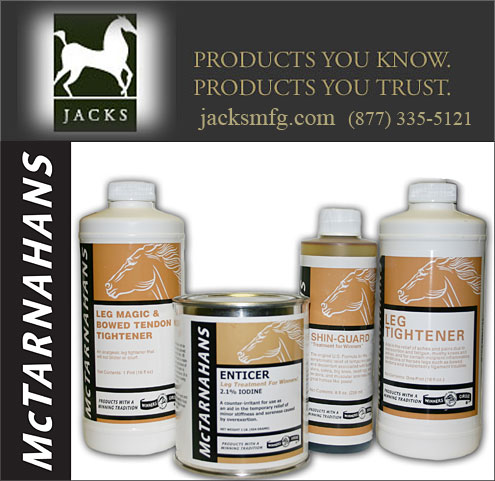 McTarnahans® Leg Care Remedies distributed by Jacks Inc.
Jacks Mfg Inc is a wholesale distributor and owner of the McTarnahans® line of products and/or remedies in the equine industry today.



About Our Company
Founded in 1971, Jacks Inc. is a globally recognized manufacturer and distributor for many of the Equine Industry's finest products ranging from Standardbred and Thoroughbred equipment to the Western, English, Miniature, Foal, and Draft markets. We continue our reputation established by founder Jack Balahtsis of offering unparalleled quality, selection, service and price to continually meet and exceed the needs of our customers.

McTarnahans® Leg Magic & Bowed Tendon Tightener
To be used when a tightener is indicated. McTarnahans® Leg Magic & Bowed Tendon Tightener is an analgesic leg tightener that will not blister or scurf. It is a quick penetrating analgesic tightener excellent for bowed tendons. Formulated over 40 years ago, Leg Magic & Bowed Tendon Tightener produces fast results in tightening of the skin tissue to promote faster healing of the tendon.

Directions: Shake well before using. Use rubber gloves. Saturate area to be treated by applying with brush daily. Hand rubbing (with rubber gloves) will enhance penetration and effectiveness. Bandaging optional if desired. Store in cool place. Cap tightly after using.

Active Ingredients: Aluminum Sulphate 6.16%, Tannic Acid 6.16%,Phenol 6%.
Inactive Ingredients: Deionized Water and Glycerin

McTarnahans® Enticer
McTarnahans® Enticer is a counter irritant for use as an aid in the temporary relief of minor stiffness and soreness caused by overexertion. Most tendon/ hoof injuries are caused by overexertion, resulting in pain, stiffness, swelling, and often lameness. Application of the counterirritant Enticer can help most horses regain soundness in weeks. With the combination of anti-bacterial iodine and pine tar for reducing inflammation it is making Enticer popular amongst many trainers.

Directions: Stir well before use. Clip hair from area where Enticer will be applied and then frugally apply by rubbing in with a gloved hand or small stiff brush. Be careful not to over apply! Application of Enticer is made easier by warming prior to use. Continue daily application of Enticer until blistering, cracking, or scaling of the skin is noticed and then cease applying and leave the site alone. It is best to continue exercising the horse while Enticer is being used. It does not leave a permanent mark.

Active Ingredients: 2.1% Iodine.
Inactive ingredients: Pine Tar, Glycerin, Kaolin, Potassium Iodide, Deionized Water.

McTarnahans® Leg Tightener
McTarnahans® Leg Tightener was carefully compounded as an aid in the treatment of curbs, mushy knees and ankles, buck shins, or certain incipient inflammatory conditions of horses legs such as bowed tendons and suspensory ligament troubles.

Directions: SHAKE WELL BEFORE USING. Clip hair in area to be reated. Have leg thoroughly dry before applying Leg Tightener. Apply once a day with leg paint brush. Work well into roots of hair. For best results, massage leg thoroughly after applying. Leg Tightener may be used under dry or cold water bandages. When using under cold water bandages, be sure to have the leg thoroughly dry of liniment before applying bandage.

Active Ingredients: Isopropyl Alcohol 61.5%, Creosote 5.3%, Camphor 2.8%, Methyl Salicylate 1.5%
Inactive Ingredients: Deionized Water, Redistilled Tupentine, Eucalyptus Oil, Menthol, Guiacol, Oil of Origanum, Oil of Cloves, Oilof Pepperment, Acetone and FD & C Yellow #5.

When and Why Should You Use Leg Tightener?
When the tightener you are using now does not do the following things:

1st Does it have Deep Penetration? Does it reach down to the ligaments and tendons and go to work where a tightener should work?
2nd Does it Hold? This is very important to you, when you set your horse down to hard work or racing. Here is where it counts. You can win or lose here.
3rd Does it leave the skin Pliable? and Normal, or is it just an astringent skin tightener? Don't be fooled by this type of tightener. Tightening the skin, and tightening the ligaments and tendons are two completely different things. If a tightener does not Penetrate Deep Into The Base of the condition, you will not get Long Lasting Results, that are necessary in competition or competitive racing.
McTarnahans® Shin-Guard
The original U.S. Formula, McTarnahans® "Winners Circle" Shin-Guard is recommended for the symptomatic relief and prevention of temporary pain and discomfort associated with splints, osselettes, swelling, tendons, and soft ankles due to overexertion or strenuous exercise.

Active ingredients: Camphor 3.35%, Iodine 5.10%, Menthyl salicylate 9.88%
Inactive Ingredients: Isopropyl Alcohol, Povidone Iodine 2% w/v, Rosin, Potassium Iodide, Gum Benzoin, Gum Myrrh, Styrax Resin, Aloe.

What Do Customers Say About Our Products?
McTarnahans® leg tightener has been an outstanding product. I used it years ago when working as a racing stable groom and it kept the horses going. When I needed something a bit stronger than plain liminent for my Morgan show horse, I remembered this product, ordered it and had wonderful results. My Morgan is back in the ring and will be 100% by the first of next show season. I was so happy to have found it again.
Jo Ann Bush, MA

A friend recommended this product to me for putting on my mares hooves that are very weather cracked, one is even split way up to almost the coronet band. The Enticer does a really good job of killing the bacteria that can cause cracks, and helps keep the hoof moist. This is probably the closest thing to reducine I have used thus far. Seeing how I keep hearing it has been discontinued I believe this Enticer is the new way to go!
Marta S, NC

Get Started Today!
You can find Jack's Products in many local retail stores, horse catalogs and online sources. If you have any trouble, please don't hesitate to call us to place your order-- we are happy to talk to you about your horse, the products that can help you and to serve you today!

---
Contact: Our Friendly Staff
2250 Kenskill Ave
Washington C.H., Ohio 43160
Phone: 877-335-5121
Email:
Website: Click Here To Connect

---