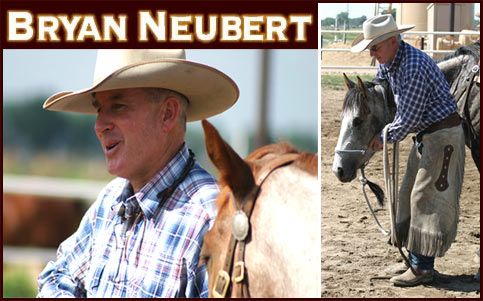 Bryan Neubert Horse Training
Bryan has been featured on PBS and is well respected for his work throughout the horse industry!



About Bryan Neubert
Bryan was raised on his family's ranch near Salinas, California. In his teen years he became friends with neighbor Bill Dorrance. He spent all the time he could with Bill, working with horses and braiding rawhide.

After college he worked with Bill steadily, starting and riding colts on Bill's ranch. During this time Bryan met Bill's friend Ray Hunt and Bill's brother Tom Dorrance. He had many opportunities since those years to work for and with these gifted men. They have greatly influenced and helped him learn what he is able to accomplish with a horse and ultimately with parts of his life.

Bryan has spent 20 years cowboying and riding colts on some of the biggest ranches in Nevada and California. Thirteen of those years were spent as cowboss in charge of cattle, horses and the cowboy crew. He has had valuable experience working with wild horses in Nevada, as well as conducting demonstrations on wild horse handling across the country. He has a video titled Wild Horse Handling and was featured in Western Horseman. See the February '96 issue, "Taking the Wild out of Mustangs" by Jim Overstreet.

Bryan and his wife Patty have been married for over 30 years and are blessed with three children, Jim, Kate and Luke. They all make their living working with horses. Since 1992, Bryan calls Alturas, California home. Alturas is located in the northeastern part of the state. He holds clinics at his home for part of the year and travels the United States and Canada the rest of the year helping people and their horses through his colt starting, horsemanship and cow working clinics. Bryan is eager to share what he has learned. He believes that he is constantly learning and considers himself to be a continual student of horsemanship.



Bryan's Clinics
Semi-Private Five-day Home Clinics

Five days of colt starting and horsemanship. Participants bring a colt to start and an older horse for horsemanship — cow working. We live in beautiful north eastern California which affords us many different types of terrain to ride as well as arena exposure. We have creeks to cross, hills to climb, cattle to work, trailer loading, any horse activity or problems you might want to address.

Colts will get a good solid five day beginning. Horse and horsemanship riders will have exposure to all types of problem solving opportunities as well as refinement in horsemanship and cow working experience.Our home clinics have a limited number of participants to insure personal attention for all those involved. We accept 8 riders and no spectators.

We board and feed your horses as well as feed you a great midday meal and a barbecue on Saturday night. We have saddle fitting and saddle building talks by local artisans. Lots of fun, fellowship and information are on the agenda for these days.

Self-contained camping is available next to our creek. Several motels, as well as camp grounds with shower and laundry facilities are available in Alturas, 10 miles from the ranch.

We are located 10 miles east of Alturas, California in Modoc county. Alturas is approximately 3 1/2 hours north of Reno, Nevada, which has an international airport, or 3 hours east of Redding, California or 2 hours south and east of Klamath Falls, Oregon or west and south of Winnemucca, Nevada approximately 5 hours.





The First Week DVD
Join Bryan, Joe and Jim as they start 20 head of the famous 6666's colts. Watch over 7-hours of video & listen to their detailed narration of The First Week. Jim and Bryan Neubert, and Joe Wolter got together to start twenty-head of colts for the Four Sixes Ranch in Guthrie, Texas for their first week of handling. Join them on this over seven hour video or DVD as they start these colts on their first lesson on catching, leading, gentling, saddling, riding, roping, riding out, hobbling, feet handling, trailer loading, cow-working, gate opening, trailing loose horses and a whole lot of little things in between that can make a big difference. Whether you have one colt to start or a hundred you might benefit from joining them as these horses evolve in The First Week.



Wild Horse Handling with Bryan Neubert DVD
This two hour video shows Bryan communicating with a young, wild horse fresh off the Nevada range. He demonstrates basic horse handling principles that can be applied to any horse. Watching this video will be a valuable learning experience for all horsemen. Through the video, the colt becomes trusting and confident as Bryan demonstrates how he catches, halters, handles the feet, leads and mounts this wild horse for the first time. You will see each step develop, building a solid foundation for the rest of this young horse's life.



Introduction to Rawhide Braiding "The Cowboy's Craft" DVD
This video is approximately two hours long and shows one way of making rawhide, and braiding 4, 8 and 12 strands. It includes all the basic buttons necessary for making reins and romal, bosals, quirts, hackamores, reatas and hobbles. Also included are sources for tools and materials and an insert detailing string measurements for these items. The buttons and braiding are clear and easy to follow. Many people have learned to make their own gear from this tape and some have turned this knowledge into a part or full time business. This video is for the beginner or intermediate braider.

Advanced Rawhide Braiding DVD
This DVD is clear and concise, goes slow enough for anyone to follow! The information shown will definately put more value and professionalism in your rawhide or leather braided cowboy equipment.

Features:

Make a one string long button (Quicker and easier than multiple string buttons.
Make a button and a half (One string button)
Fill in color patterns on a long button
Take a heel knot to under three level (When another color is used it puts two stripes on the knot)
How to interweave another color in the heel knot
Side button (Common on side of hackamores)
Increase Spanish Ringh Button
Our Clinics Can Make A World Of Difference To You-- And Your Horse! Call Bryan or Patty Today !
Bryan and his wife Patty welcome your phone calls so that you can find out about attending or having a Clinic with Bryan or purchasing one of Bryan's comprehensive and informative DVDs. For more information, please contact us today!


---
Contact: Bryan Neubert
PO Box 726
Alturas, California 96101
Phone: 530-233-3582
Email:
Website: Click Here To Connect

---