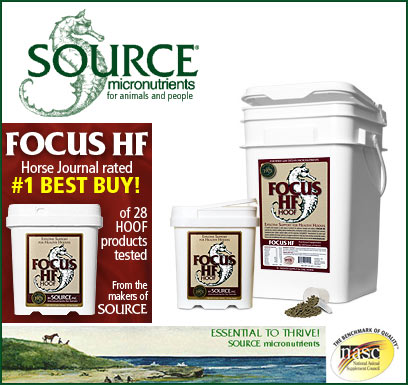 "FOCUS HF" (HOOF) by SOURCE, INC.
FOCUS HF (Hoof) provides specialized nutritional support for horses with poor hoof condition, for superior hoof growth, texture, and strength.


FOCUS HF (Hoof) ... Has What's Missing From Any Other Hoof Product!
A sound hoof is the necessary foundation for an active horse and requires a wide range of nutrients for optimum strength and resilience.

FOCUS HF provides not only key nutrient building blocks such as biotin, methionine, lysine, chelated trace minerals (including zinc and copper), viable yeast culture and lecithin phospholipids . . .
. . . it includes the legendary SOURCE® micronutrients to make it all work!

Hooves are composed of living tissue that require a wide range of nutrients to grow strong, resilient and hard. A deficiency of any of these key nutrients may lead to weak, crumbly hoof walls that grow slowly and won't hold horseshoe nails. FOCUS HF provides the horse with a unique broad spectrum of micronutrients from SOURCE. These nutrients include at least 60 minerals and trace elements in an organic, highly bioavailable form. In addition, seaweeds contain other natural bio-active compounds and co-factors which may be missing from your horse's diet. These micronutrients are synergistic with all the other ingredients in FOCUS HF and will help to increase their effectiveness.
Feeding Instructions
Provide good quality hay and grain, with protein and carbohydrate levels appropriate for the age and demands of the horse; a balanced calcium / phosphorus ratio, an effective parasite control program, fresh water at all times, free access to salt, a good dental care program Feed Focus HF everyday, including race and competition days. Mix one level measure (included in the container) ( 1.5 oz.)(42 gr.) of Focus HF with feed per day. Amount based on 1,000 lb. (450 kg) body weight. Adjust accordingly. Do not exceed recommended feeding levels.
The Source Guarantee
We want every person to have the opportunity to see for themselves the effectiveness of the Source micronutrients found in all of our products. If you are not satisfied with any of the products for any reason, your money will be refunded in full - no strings attached. (Simply enclose proof of purchase.)
About Our Company
More than two decades ago SOURCE president and founder, Susan Domizi was competing on her eventing horse, Hull, with hopes of being on the US Equestrian Olympic Team. "My horse [Hull] had hoof problems and couldn't maintain his body weight. He received the finest feeding program and veterinary care available. I suspected a nutrient deficiency and set out to find something to help him." She found a great deal of Norwegian and Japanese research on seaweeds that scientists and agriculturists here had been able to duplicate. In addition to using information learned while earning a degree from Columbia University in New York, she studied all available data to determine what the American studies had missed. She used this information as a starting point for developing other approaches..
By trying different kinds of seaweeds, different blends, different methods of processing and constantly analyzing the findings she came up with a finely ground, dry mixture that she put in her horse's food. Her horse began to thrive. And that was the first serving of the product that was later to become SOURCE

Focus HF Sounds Great! How Do I Order?
Focus HF is available for your horse in a convenient 3.5 lb. size, which will last one horse for 37 days. It is also available in an economical bulk easy-open 25 lb. size (lasts one horse for 8 months) SOURCE products are widely available at your local feed and tack stores, through online catalogs or web stores, or directly from SOURCE-- just visit our SHOP area at 4Source.com for a complete listing.

---
Contact: Our Friendly Staff
101 Fowler Road
N. Branford, Connecticut 06471
Phone: 800-232-2365
Email:
Website: Click Here To Connect

---