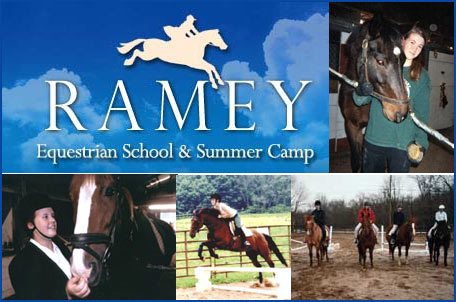 Ramey Equestrian School
"Ramey Equestrian School is dedicated to providing a safe riding environment and quality instruction."


About Joan Ramey
Ms. Joan Ramey is a graduate of Duke University, has a Master of Education from Xavier University, and is a CHA Certified Riding Instructor. She has had a love for horses all her life and always took advantage of the riding programs in the private camps she attended in her early years. Without the opportunity to be a horse owner, she devoted herself to becoming a top tennis player and was ranked as high as #1 in the Northwest and won city titles in both Cincinnati and Chicago. She is a USPTA Master Professional. After moving to Kentucky she acquired two young saddle breds ages one and two. Over the course of three or four years she by herself had the horses under saddle and "parking out" on command. Next she bought two young thoroughbreds at auction and began training them in dressage. One of the thoroughbreds, "King" is now 26 years old and retired and enjoying the company of his two offspring, Princess and Tiara. Ms. Ramey competed in dressage in local schooling shows and had success on Pegasus a Thoroughbred, Scotty, a Hanoverian,and Poco Bueno, an Appendix. While training Pegasus Ms. Ramey took him to a local4-H show and rode in an open class in a western saddle. As the riders were lined up the judge said, "If you had worn a cowboy hat I would have pinned you." But teaching has always been a first love of Ms. Ramey and she has trained riders who have received equine scholarships for college and done well in area competitions. Sixteen horses are owned by Ms. Ramey and used for lessons and in her equestrian camps. Berend, a 12 year old Friesan, and Rajah, an 18 hands high Dutch Warmblood are two special horses at Ramey Stables.




Ramey Equestrian School
Ramey Equestrian School is dedicated to providing a safe riding environment and quality instruction. We believe this gives our riders increased self-confidence both on and off the horse. Our private camp offers professional instruction for beginner through advanced riders, both kids and adults.

Both English and Western riding programs are directed by CHA (Certified Horsemanship Association) certified instructors maintaining a 5:1 camper to staff ratio.
Most riders start in a Western saddle, but move to an English saddle when they gain confidence and become balanced and in control of the horse. Our programs include:
Riding equitation, including dressage and jumping for advanced riders
Horsemanship, including grooming, saddling and bridling, lungeing and stable management
Care and safety for horse and rider are taught throughout all phases of riding programs
Special attention is given to improving the bio mechanical coordination of the rider which improves communication with the horse. By using praise and kindness, our students learn to be attentive to the horse's movements and attitude.

What Sets Ramey Equestrian School Apart From Other Horse Camps?
Ramey Equestrian School accepts only eight campers per session. This allows campers to receive a lot of individual instruction and experience riding different horses. The instructional program consists of horsemanship as well as equation. Emphasis is on the bio mechanics of riding which improves the camper's seat, balance, and understanding of how to influence the horse by the rider's aids. Fun activities are planned each evening and include go karting, a drive-in movie, bowling, and swimming. Campers may bring their own horse to camp.

What Is The Food and Lodging Like?
Healthy home-cooked meals are served in The Lodge dining room. Youth campers are treated to one "fast-food" meal each session. Adult campers go to a local restaurant for two "Dutch Treat" dinners. Campers are housed in The Lodge and cottage. There are bunk beds and campers may request a room mate. Adults have the option of a double or queen bed on a "first-come" basis.

I Have No Horse Experience, Can I Still Attend Camp?
Absolutely! Though most campers have had some experience with horses, some have very little while others bring their own horses. A couple of private lessons would prepare a rider with no experience for her camp experience.

Do You Offer A Camp For Women Only?
Ramey Equestrian School has two 5-day camps for "Ladies Only" -- one in May and the other in September. The camp enrollment is limited to eight. Campers range in ability from beginning to riders who enjoy jumping and dressage. Two instructional sessions are held each day and a short trail ride is often taken at the end of the class to cool down the horse and relax the rider. Lodging, meals and instruction are included in the price of $700 for the five days except for two evening meals which are Dutch Treat at a nearby lovely restaurant.Lectures, discussion and video sessions are held to supplement the arena work. Facilities at the School include The Lodge and Cottage, an indoor arena, outdoor dressage arena,round pen and trails. Instruction is directed by Ms. Joan Ramey, a CHA Certified Instructor.

Should I Continue Riding Lessons After Camp?
Riders are encouraged to continue lessons after camp. Since all of Ramey Equestrian School campers are boarders and come from other areas, M.s. Ramey will often be able to recommend another CHA Certified Instructor for her campers to continue their horse experience.

What Do Campers Say About Ramey Equestrian School?
"The small group size (six - eight of us at one time with two or three instructors) allowed for a lot of individualized attention. Joan is a remarkable talented teacher. She only had to take one look at me sitting on a horse on the first day of camp and she imediately diagnosed and corrected two problems. "Your seat is all wrong", she said. "You're not on your seat bones and you're not in the center of the saddle."Within 45 seconds she had taught me a trick that enabled me to sit properly on my seat bones, which were then centered in the saddle."
Lauren from Chicago

Adult riding at its best!! My wife and I just spent a week at the Ramey Equestrian Center in Rockport, Indiana.
During that time we had intensive lessons every day which greatly improved our riding skills. I had struggled with the two-point position for some time, but within minutes, the head instructor, Ms. Joan Ramey, had identified the problem and fixed it. The facility has many wonderful horses appropriate for riders of every level, Arabians, Anglo-Arabs, Warmbloods, Quarter-Horses and more.

Lessons were intense, with sessions twice a day. Instructions were detailed, clear and easy to understand. Feedback was immediate and constructive. We each had a chanceto ride a number of different horses. Time and weather permitting we also went on trail rides through the area. We also had the opportunity to watch one of her advanced students, who rides competitively, doing complex dressage patterns on a number of different horses.

We were lodged in a very comfortable and spacious apartment on the property and had the pleasure of having most of our meals with Ms. Ramey, whose knowledge of horsemanship is profound. The cost of the program was very reasonable, including room and board. Even with air travel from Boston to Evansville, the total was considerably less than similar programs closer to home.- Herb Lison

"This whole trip has exceeded my expectations and could not have been better. I'm so glad I came. My instructors were so patient and have improved my riding a great deal! They won't believe it back in the barn in Connecticut."
Stamford, CT

Get Started With Ramey Equestrian School Today!
You deserve a camp that helps both young people and adults to learn and enjoy riding as never before. Ramey Equestrian Camp is one of a kind-- the best in the nation. You will love every minute. For more information about our School and to register, please call and talk to Joan Ramey Today!!
---
Contact: Joan Ramey
2354 S 200 W.
Rockport, Indiana 47635
Phone: 812-649-2668/ Cell: 270- 570-3054
Email:
Website: Click Here To Connect

---