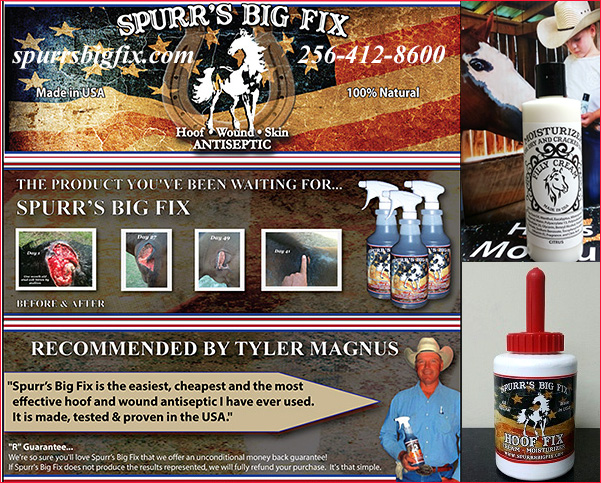 Spurs Big Fix 100% Natural Antiseptic
Spurs Big Fix 100% Natural Antiseptic is a mix of 7 antiseptics that work together to help address several issues like rainrot, scratches, fungus problems, thrush, whiteline, wounds, etc.



Why Is It Called "Spurrs"?
Great question. The answer is that our beloved, beautiful little Shetland pony we all adore is named Spurr. We named the product after him because he is — well adorable! Spurr's Big Fix was developed and perfected by David and Kathy Kimbrough in the heart of Alabama horse country. In addition to both being lifelong horse enthusiasts and animal lovers, David is a highly respected, working farrier with over 38 years of experience.




So How Did Spurr's Big Fix Come To Be?
Being frustrated by the lack of positive results from the number of hoof products on the market, David and Kathy took it upon themselves to come up with a recipe that would meet, not only the needs of a horse's hoof, but would also address many common skin and wound conditions, as well.

After an ideal formula was scientifically developed under the supervision of a chemist, Spurr's Big Fix underwent rigorous testing ensuring that it was both effective and safe. Today, Spurr's Big Fix has been thoroughly tested, both in the field and in the lab. It has been endorsed by numerous horsemen and women… everyone who tries it, loves it!

What Makes Spurr's Big Fix So Effective?
Spurr's is a mix of 7 Natural Antiseptics that work together to help treat several issues. Carefully designed by a leading chemist and in conjunction with horse care professionals, Spurr's Big Fix has been successful in helping thousands of horses across the country.


Spurr's Big Fix Is A 3 in 1 Antiseptic For Hoof, Wounds and Skin!

Hoof Care That is Safe and Effective:
We all know the old saying "no hoof no horse" and Spurr's Big Fix is no less than miraculous when it comes to conditioning dry, brittle or cracked hooves! Farriers love it because they can simply spray it on the foot, wait a moment and trim a much more pliable hoof.

Highly effective on White Line Disease and a powerhouse on Thrush. Literally spray and watch as the black runs out of the crevices around the frog and drips off the hoof. Owners love it because of it's fresh, clean smell and non-staining formula, leaving their barn, hands and clothes free of damaging stain!

As a convenient spray, it's easier to apply than other gooey hoof products, many containing drying pine tar as a main ingredient. Spurr's Big Fix uses non-drying Tea Tree and other essential oils, along with glycerine to help moisturize the hoof.

Wound Care That Really Works … and Discourages Proudflesh!
As they say, a picture is worth a thousand words. Our before and after WOUND CARE images, are not pretty, but they all have happy endings! Spurr's Big Fix is extremely effective product for general wound care. Both antiseptic and soothing the solution quickly penetrates the affected areas and goes to work. And, because it's a convenient spray it reaches those deeper recess so hard reach with thicker ointments. After interviewing many of our users, none have reported proud flesh!

Skin Care That Is Truly Effective and Is Ideal For Re-growing Hair!
Rain Rot? Spurr's Big Fix is very effective for treating Rain Rot as shown in the progression pictures to the right. See what a difference after only two weeks of using the product. Itchy Skin? / Bug Bites? / Skin Allergies? Spurr's Big Fix's conditioning formula soothes inflamed skin quickly while the medication goes to work killing fungus and bacteria. You'll notice a marked improvement your horses skin condition after even the first application.

Rely on Spurr's Big Fix on a variety of skin fungus, Ideal for regrowing hair, mane and tails, too! Spray liberally over affected area daily and see new hair growth appear in days. Use weekly as a preventative maintenance.

What About Help For My Dogs With Hot Spots, Skin Conditions and Wounds?
Spurrs is ideal for dogs! Gentle, safe yet very effective for use with:

Hot Spots and More: Spurr's Big Fix is ideal for use on cuts and scrapes on dogs, and is particularly helpful on "hot spots". Simply spray the affected area and the antiseptic ingredients quickly disinfect the area while the soothing qualities of tea tree and other essential oils immediately go to work.

Got Ticks? Not anymore! Simply spray the tick directly with Spurr's Big Fix and wait a few minutes. The tick will either back out on its own or will readily "pluck" right off your dog!

Sore Muscles on Your Hunting or Working Dog? Spray Spurr's Big Fix on your dogs joints and hip areas as an invigorating brace! The menthol in the formula eases tired muscles and invigorates your dog after a long day hunting or working. An added benefit: your dog will smell better too!
Skin Conditions? Spurr's Big Fix is effective on many different types of skin issues and/or fungus's. This cute little guy was feeling much better after just 3 short days after his first treatment of Spurr's Big Fix.

How do I Properly Treat My Horse's Hoof ?
Spurr's Big Fix comes in a simple, easy to use spray bottle with an adjustable spray tip. For the hoof, simply pick, clean and brush all foreign matter from the hoof. Apply a liberal coating of Spurr's to both the sole as well as the entire outside of the hoof….your done….it's that simple

How Frequently Should I Apply Spurr's Big Fix?
It depends upon the severity or condition of the hoof. For severe Thrush and White Line we'd recommend using Spurr's on an every-other-day basis until the condition clears. Then use once a week for preventative maintenance.

How Fast Can I Expect to See Results on Thrush?
One can expect to see immediate results on Thrush from the first application. Using Spurr's on an every other day interval, one should expect to see no evidence of thrush within a couple of weeks. A preventative maintenance program of once a week should be adequate in keeping your horse's hooves sound.

Will Spurr's Help Brittle Hooves?
Yes, Spurr's will penetrate the hoof wall from every area where it's applied, therefore killing the fungus's that contribute to brittle hooves as well as many other hoof conditions.

Will it Work on Severe Rain Rot?
Yes! Spurr's is highly effective on Rain Rot as well as other skin related diseases, issues, problems. Spray on all affected areas. Repeat application every other day until condition clears.

Is Spurr's Messy to Use?
No, not at all. Spurr's Big Fix has a very pleasant aroma and was designed to be used as a spray- there is no need for the user to even come in contact with the solution if they want to avoid it. Spurr's Big Fix is safe for the horse, as well as for the user. There is no need to worry if you do get any on you. Spurr's will not stain or discolor the concrete floor if being applied in wash stalls.

What Are The Main Ingredients in Spurr's Big Fix?
Tea Tree Oil, Menthol, Eucalyptus Oil, Iodine, Glycerin, Alcohol and other essential oils



What Do People Say About Spurrs Big Fix?
Spurrs Big Fix is the easiest, cheapest & the most effective hoof & wound antiseptic I have ever used. It is made, tested & proven in the USA.
Tyler Magnus—Texas Cowboy Hall of Fame

Simply stated, Spurr's is the Real Deal !! I won't be without it.
Kathy Pinnell—The CARE Foundation
Comforting Abused Rescued Equines

Spurr's Big Fix is a very fine product. It works really well on thrush, white line disease. It does a great job conditioning the hoof, as well. We regularly use it at our school!
Ron Dash —Forge Shoeing School

Spurr's Big Fix works great on my horses! We had a horse with dew poison in its foot, Spurr's cleared it up FAST!
—Ron Henry Mounted Shooting

The day I received my bottle of Spurr's Big Fix, I had an infected hang nail which caused my finger to swell. It was so painful I almost went to a doctor. I put Neosporin and other antiseptics on the finger, over the previous week- to no avail. When the Spurrs arrived— I immediately sprayed it on my finger. Within minutes the swelling started to reduce. Within 2 hours, my finger was looking normal except for a small reddish spot-- and the pain, which had been so terrible, was now merely a small 'discomfort'. I continued to spray on the Spurrs every couple hours. In 24 hours, my finger which had been so miserable for a week was almost completely healed and in 48 hours, there was no sign of my previous infection. I LOVE SPURRS BIG FIX!
Ann Pruitt- Director of InfoHorse.com

Order Spurrs Big Fix Today Starting at Only $26.99 For a 16 Oz Bottle!
You will love the way Spurrs Big Fix seems to "fix" your horse's hoof, skin and wound ailments— and it is perfect for hotspots, wound care and skin ailments on your dog! You order direct from us or at popular catalogs like DrsFosterandSmith.com. Or call us directly and order today!

---
Contact: David Kimbrough
21430 HWY 72
Tuscumbia, Alabama 35674
Phone: 256-412-8600
Email:
Website: Click Here To Connect

---