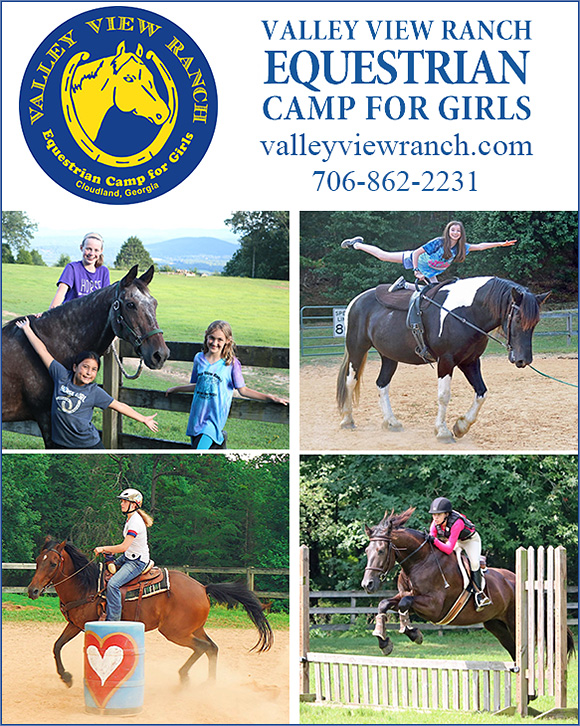 Valley View Ranch Equestrian Camp
Valley View Ranch Equestrian Camp is a private equestrian camp for girls who love horses!

About Valley View Ranch Equestrian Camp
Since 1954, the purpose of Valley View Ranch has been to help each rancher have the full opportunity of horsemanship through instruction, time in the saddle on trails, and the care and responsibility of having her own horse, a'top Lookout Mountain.



Cabins, Staff & Counselors
Campers live in large cabins, equipped with plumbing and electricity, and are supervised by an experienced counselor who soon becomes not only their mentor, but also their best friend. Over ninety percent of our Staff members are young women who have grown up attending Valley View in the summers. They return to pass their love and interest in our program on to the next generation!



Each Camper's Encouraged to Participate in All Five Riding Programs
All classes in all programs are taught using the Certified Horsemanship Association guidelines. CHA is the "Association for Horsemanship Safety and Education". Here are the programs we offer:

English Hunt Seat Equitation- English Hunt Seat is taught under CHA professional instruction, as are all Valley View riding programs. A separate Hunt Ring and barn, and specially schooled horses are available to all girls, beginner to advanced. Classes are arranged according to riding ability and incorporated into her Ranch program. Beginners learn to post first, and then do ground poles and cavelettes. As a rider gains confidence, she will practice equitation over fences in the ring and out in the field. Bring your own horse and enjoy a new companionship amid our mountain scenery.
Stock Seat is Western Equitation- Each rancher has tryouts and is assigned a horse for her stay according to her ability. You can also bring your own horse. Our foundation is built on years of raising Quarter Horses, but we also offer other breeds and colors. Experienced CHA instructors teach equitation and pleasure riding in the Brow Ring. Challenges increase with reining patterns and trail classes. Lessons plus time in the saddle on trails, build each camper's confidence, security in the saddle, and communication with her horse.
The Pony Club Is Our Special Program For Younger Campers!-They have their own horse, their own barn, tack room, and instructors. The Pony Club has beginner to advanced horses and riders. These girls can participate in all programs offered to older campers, and some created especially for them according to their ability. They learn to halter, groom, bridle and saddle, ride, and cool out their mount. Lessons, gymkhana, and trail rides are planned and supervised by our experienced professional CHA staff. Individualized programs are essential for the younger camper's varied attention span, interests, and safety.
Training in Barrels-This class teaches the horse and rider to work together as a precision unit. Our Certified Instructors teach the rider to use her head, hands, seat, and legs to communicate with her mount. Gymkhana games in the Rodeo Ring offer a challenge to all ranchers of all ages and levels. Events start simply with cloverleaf, hairpin, Georgia barrels, and stake race. With practice and coordination between horse and rider, classes advance to quarter horse ability, pole bending, and cross-country rodeo patterns.
Vaulting Is Gymnastics On Our Wonderful Horse "Heyoka"!-Vaulters perform simple and experienced gymnastics on Heyoka, our Belgian-Haflinger gentle giant. Stunts are executed holding on to the sursingle with handles. One instructor teaches and the other controls Heyoka on the lunge line. This makes Vaulting another challenging, safe, and fun aspect of horsemanship. Practice begins on the vaulting barrel where campers learn basic position, mount and dismount, and two stunts. Vaulting is a great confidence builder. Vaulters can master other stunts on Heyoka's back; e.g., kneel, stand, the flag, arabesque, the prince, and then doubles. Enrollment for Vaulting is limited and required before January 1.

Other Fun Daily Activities for Campers at Valley View
Other daily activities include trail rides, arts & crafts, pottery, archery, sports, swimming and canoeing, drama, gymkhanas, and horseshows.

Evening programs: These include campfire stories and cookouts, talent and skit night, movies, songfest, capture the flag, overnight campouts, Cabin Night, Airband, team-building experiences, "Granny Dollar", and many more.
Trips and Excursions: Tennessee Aquarium, Ocoee Whitewater Rafting, Rock City, Incline Railway, Point Park, Desoto Falls, Cloudmont Resort, Cloudland Canyon, Sequoyah Caverns, and rodeos in town.
Counselor-in-Training Program: This program is open to girls age 15 and entering the 10th grade.
Join Our Enrollment Today!
Valley View is a horse lovers' paradise summer camp since 1954! A'top Lookout Mountain, for 60 girls, 8-17; 1 to 9 weeks, 600 acres, English, Western, Barrels, Vaulting, and Trails. CHA instructors teach beginner to advanced riders. Spend 4-6 hours daily with your OWN horse. The Jones family are third generation horse lovers, camp administrators, and equine educators making girls dreams come true! Call or email today for the best summer ever…you can even bring your own horse!
---
Contact: Nancy Jones or Chelsea Carrier
606 Valley View Ranch Road
Cloudland, Georgia 30731
Phone: 706-862-2231
Email:
Website: Click Here To Connect

---