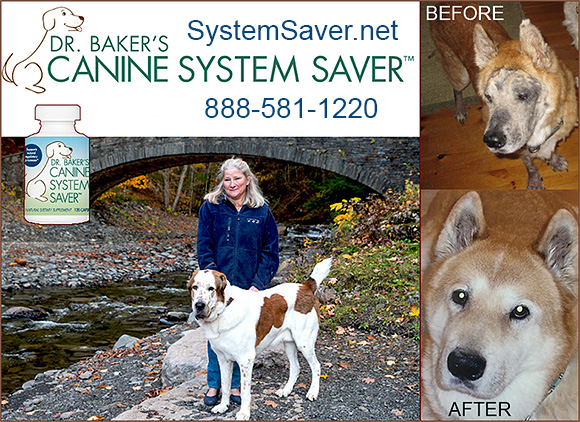 Dr. Baker's Canine System Saver
Dr. Baker's Canine System Saver was developed by a veterinarian to address some of the most common problems facing dogs (and cats) while also providing superior preventive protection.



How Did Dr. Baker's Canine System Saver Come To Be?
Before Dr. Baker's Canine System Saver, there were limited options available for the treatment of chronic inflammatory and degenerative diseases - and they carried serious side-effects. Frustrated by this, and determined to find a better answer, a veterinarian began his research. He believed there had to be a natural solution without side-effects that would slow down the degenerative and inflammatory processes.

After a decade of careful research and testing, he developed an entirely natural supplement with none of the negative side effects of steroids, anti-inflammatories and immunosuppressants. Moreover, he discovered his supplement carried an added benefit he wasn't expecting – it also worked as a preventative rather than just as a palliative. Clinical trials confirmed that he'd hit a home run; it was time to make System Saver (Canine and Equine) available to the public.



So What IS Canine System Saver?
System Saver is an effective, safe, plant-based alternative to corticosteroids, non-steroidal anti-inflammatories, and immunosuppressants. Over the past several years, countless people and animals have taken System Saver with beneficial results.

So How Does Canine System Saver Actually Work?
System Saver's all natural formula activates intrinsic broad-spectrum metalloproteinase enzyme inhibitors.* By encouraging regulation of these tissue destructive enzymes, this formula controls damage done to cartilage and other tissue during athletics, traumatic injury, repetitive activity, and aging. When tissue damage exceeds the ability to repair this damage, degenerative disease occurs. Regulation of excessive tissue destructive enzyme activity permits regenerative healing to prevail once again.

Important Note: Metalloproteinase enzymes are also responsible for activating the biochemical mediators (including TNF-alpha) involved in many chronic inflammatory, autoimmune and immune mediated disorders. By encouraging regulation of these enzymes, System Saver has proven effective in the management of many of these conditions.

Is It True That Canine System Saver Inhibits Inflammation & Has AntiOxidant Properties Too?
Yes! In addition to inhibiting tissue destructive enzymes and inhibiting the activation of inflammatory mediators, our ingredients also have been shown to have direct broad-spectrum (by multiple pathways) anti-inflammatory activity as well as antioxidant properties. These combined activities mitigate tissue destruction, chronic inflammatory disorders, oxidative stress, immune mediated disorders and acute inflammation.

So How Is Canine System Saver Different From Other Joint or Auto-Immune Supplements?
Well… for one, it really works! Unlike other joint support products, System Saver doesn't just supply nutrients for cartilage repair. System Saver provides for the intrinsic regulation of the inflammatory, immune and degenerative enzyme systems. This means that cartilage damage is prevented before it occurs, making System Saver the ideal choice for healthy joint maintenance. When used with a dog already suffering from arthritis, inhibition of additional cartilage damage permits regenerative processes to prevail. At the same time, the anti-inflammatory effect provides relief from pain and loss of function.

Can Canine System Saver Actually Help To Restore Health?
YES! By supporting the regulatory systems that control excessive immune, inflammatory and degenerative activity, it helps restore and maintain health in the face of chronic inflammatory and immune-mediated conditions. By supporting the prevention of these conditions and inhibiting joint damage, System Saver permits a better quality of life for the aging animal. You will find no other supplement that provides such a broad spectrum of benefits.

Canine System Saver manages the processes underlying chronic disorders such as:
~Arthritis, hip dysplasia
~ Chronic Inflammatory diseases
~ Dermatitis
~ Chronic Degenerative Conditions
~ Inflammatory Bowel Disease
~ Geriatric Support
~ Respiratory Disorders

So System Saver Doesn't Have The Bad Side Effects That Steriods and Commonly Prescribed Medications Have?
Absolutely right! If medications harm vital organs or the immune system, what real good are they? Unlike traditional anti-inflammatory medications and corticosteroids, side effects such as gastric ulcers, vomiting, intestinal bleeding, colitis, immunosuppression, and adrenal, kidney or liver problems are not an issue.

Note: Unlike nutraceuticals (chondroitin, glucosamine, hyaluronate), Canine System Saver inhibits the destructive enzymes, rather than just providing nutrients for repairing the damage. Canine System Saver's unique dual action mechanism inhibits chronic inflammation, as well as tissue degeneration.

Biotrope developed this totally unique product to accomplish this by:
~ Inhibiting enzymatic tissue breakdown
~ Regulating the enzymes involved in chronic inflammatory disorders

Why Is Controlling The Metalloproteinase Enzymes Important To My Animals?
Canine System Saver's patented formula is the only source of broad spectrum metalloproteinase enzyme inhibitors. By regulating these enzymes, this formula controls damage done to cartilage and other tissue during athletics, repetitive activity, and aging. These same enzymes are also responsible for activating the biochemical mediators involved in many chronic inflammatory disorders. By regulating these enzymes, Canine System Saver has proven effective in the management of many of these conditions.

So Canine System Saver Is SAFE as Well as EFFECTIVE?
The all-natural plant based formula means that Canine System Saver is safe as well as effective. Its active ingredients are extracted from all natural plant sources: Frankincense, Citrus reticulata, Camelia sinensis, Curcuma longa. Our Veterinary formula is made from the same quality ingredients as our human formula, but is adjusted to meet the needs specific to the individual species. Read about our all-natural ingredients We use standardized extracts to ensure specificity, consistency and purity. We use only vegetarian capsules and extenders in our encapsulated product. (Our equine powder uses all natural flavoring for palatability.)

Note: This product is not intended for use by pregnant or nursing animals or for pediatric use. Please consult your health care professional if you or your animals are taking other medications to ensure there will be no interactions or contraindications. These statements have not been evaluated by the FDA. As such, we are required to state that this product is not intended to diagnose, treat, cure or prevent any disease.

Can Canine System Saver Help With Chronic Skin, Coat and AutoImmune Problems?
Yes it can— and does! When the immune and inflammatory systems fail to respond to the signals intended to govern their response, the host suffers an autoimmune, hyper immune, hypersensitivity or chronic inflammatory disease. A prime example of this is found in cases of chronic dermatitis that persists although the inciting cause (parasite, fungus, bacteria, etc.) has undergone treatment. Many forms of frustrating dermatitis fail to respond to treatment until the intense, out of control inflammatory response is subdued with steroid therapy. System Saver provides a safe, effective alternative to corticosteroids and their negative side effects. System Saver implements the intrinsic regulators of these systems to curb the excessive reaction, permitting a return to the normal, healthy state.

Can Canine System Saver Help My Aging Dog?
Biological and biochemical factors, not time, cause the changes associated with aging. Canine System Saver safely and effectively helps mitigate a number of these factors (increased inflammation, tissue destructive enzymes, oxidative stress) thereby permitting successful aging with a better quality of life.

Age related diseases are the result of the cumulative damage to tissues over a lifetime. When young, the balance between tissue degradation and tissue repair tilts heavily in the favor of regeneration. Most of us first begin to notice the age-related decline in tissue function when we're in our forties or fifties. Our geriatric pets exhibit signs we associate and accept as the unavoidable consequences of aging. Collectively, these signs result in a state of frailty.
These include:

Arthritic signs - stiffness, reduced activity, lameness
Muscle loss with associated weakness and decreased endurance
Decreased cognitive function-confusion, forgetfulness
Increased susceptibility to disease both endogenous and infectious
Canine System Saver contains all natural plant sourced ingredients that indirectly mitigate tissue destruction, chronic inflammatory disorders, oxidative stress and acute inflammation, which are some of the major contributors to aging. Owners of older animals invariably report that their dogs act and feel years younger due to the multiple areas targeted by Canine System Saver. Mobility and behavior show dramatic improvement.

What About My Horse? System Saver Is Still The Answer!
System Saver has both a CANINE and an EQUINE version of the same wonderful formula. Your horses AND your dogs can enjoy the incredible benefits that System Saver has to offer!

Note: Did you know System Saver is available for you (the human) too?

How Long Does It Take Before I Can Expect Results With Canine System Saver?
Some conditions respond immediately. Others, such as very chronic conditions, may take 2-4 weeks. Every animal is an individual so allow for some time for System Saver to start working!

Order Canine System Saver For Your Dog Today!
How much is the health and comfort of your dog worth to you? One bottle of Canine System Saver for your dog has 120 capsules can last up to 2 months and is only $45 + shipping! Let System Saver help restore your dog's comfort, and great quality of life— be sure to call us and order today!


---
Contact: Judy Baker
P.O Box 281
Greenvale, New York 11548
Phone: (888) 581-1220
Email:
Website: Click Here To Connect

---