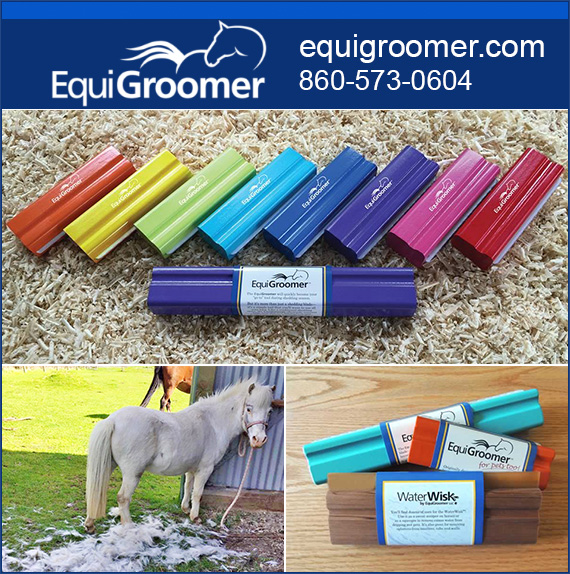 EquiGroomer and WaterWisk
TWO incredible products made by horse woman Cheryl Dauphin: EquiGroomer and WaterWisk!



So How Did The EquiGroomer and WaterWisk Come To Be?
The vision and creation of the incredible EquiGroomer all began when avid horsewoman Cheryl Dauphin decided to break her promise to herself, to never buy a WHITE horse. Says Cheryl, "I never wanted a gray or white horse because I always thought they'd be too hard to keep clean. However, when I met Presidio, aka "Leo" and realized we were the perfect match, I decided to take the plunge. Not long after that dive which, by the way, was in the depths of winter, I discovered my fear of white was not unfounded. Every blanket, saddle pad, cooler and fleece (including the ones I was wearing) quickly became coated in hair which only got worse once he started shedding. To my dismay, I soon discovered that he hated any of the shedding tools I already owned because the large teeth irritated his sensitive Thoroughbred skin. So I began experimenting with a variety of products to see what worked best and settled on a traditional shedding stone. They worked well but wore down to nothing after just a couple of grooming sessions."

See Our Video Demonstration Courtesy of Grosvenor Park Products- below...



So What Sets EquiGroomer Apart From Traditional Shedding Blades?
EquiGroomer, Creator, Cheryl Dauphin says, "I needed to find something that would work like a stone but last like a shedding blade, be gentle on his skin, comfortable for me to hold and easy to find when it invariably found its way on the ground among the stall shavings. After much experimentation, I am proud to introduce the EquiGroomer. It has solved more than just the shedding problem, it has helped Leo's coat stay clean, shiny and soft, which says a lot about a horse who loves to roll in the mud."

So How Can EquiGroomer Help Me Keep My Horse's Coat Looking Amazing?
* The EquiGroomer effectively removes loose hair, dirt and dander on all parts of a horse's body, including their legs and bellies. The EquiGroomer's blade is especially useful for sensitive-skinned animals who won't tolerate the large teeth of a standard shedding blade. In fact, many actually find the grooming process very relaxing and enjoyable.

* The EquiGroomer's design allows the majority of the hair to fall gently onto the floor rather than flying through the air and onto your clothes, face and hands. When the blade fills with dirt or hair, simply blow or brush it off.

* The EquiGroomer not only speeds up the shedding process it also leaves your horse's coat shiny and smooth. Each time you glide the blade along their coat, you not only remove loose hair, but you pull up the dirt and dander that's hiding beneath the surface. You also help bring up the natural oils in their skin which is especially important for show horses that are bathed regularly.

* Only $19.95 and almost every color of the rainbow is available!



Why Is The WaterWisk 7" Sweat/ Bathing Scraper Superior To Other Sweat Scrapers ?
* Well, the WaterWisk is absolutely one-of-a-kind and the best, gentlest sweat/ bathing scraper on the market today! Designed by horsewoman Cheryl Dauphin to be gentle enough for hocks, pasterns, head and face, the WaterWisk is highly effective at removing sweat and water from bathing— all over the body— and in a convenient 7" size!

* If you're looking to save time and mess, then you'll definitely want to add the WaterWisk to your horse's bathing tool kit because it works great at removing excess soap and water from their coat. It will certainly speed up the drying time because it's much more effective than standard plastic scrapers or the tool you may be using now–your hands!

* The WaterWisk was originally designed as a sweat scraper for horses but you'll find hundreds of other uses for it. Use it wherever you have soap or water you want to "wisk" away.

* Only $16.95 and will last for years to come!

Is The Handle of The WaterWisk Really Made From Cedar For Longevity and To Resist Mold?
YES! The handle is made from naturally water- and mold-resistant Cedar so it will never crack, shrink, or break like plastic handles often do. Compared to traditional bow-shaped scrapers, it's very maneuverable over all parts of a horse's body but best of all, its design forces the water onto the floor rather than down your arm, keeping you dry.

Is The Blade Gentle Enough For Boney Areas Like Legs, Hips, and Head?
Yes, and this feature alone will really help you, as a horse person, feel good about using the WaterWisk all over your horse's body to remove water, soap and sweat! The blade is made from tough but flexible polyurethane–the same material silk screener's use–so it's very effective, durable and safe at removing water from the every part of a horse's coat, even on boney areas such as hips and legs.



At Only $19.95 For The EquiGroomer and $16.95 For The WaterWisk, Why Not Order Today!
Your horse is worth it. Keeping your horse's coat clean, shiny, soft and free from the itch and unsightliness of a shedding coat is the responsibility of all caring horse owners. It's the perfect addition to your grooming box not only during shedding season but all year long. There are so many grooming products on the market today, but NONE with all the features, comfort and attention to the needs of horses like the EquiGroomer and WaterWisk. Call and tell us about your horses today!

---
Contact: Cheryl Dauphin
13 Menlo Place
Glastonbury, Connecticut 06033
Phone: 860-573-0604
Email:
Website: Click Here To Connect

---