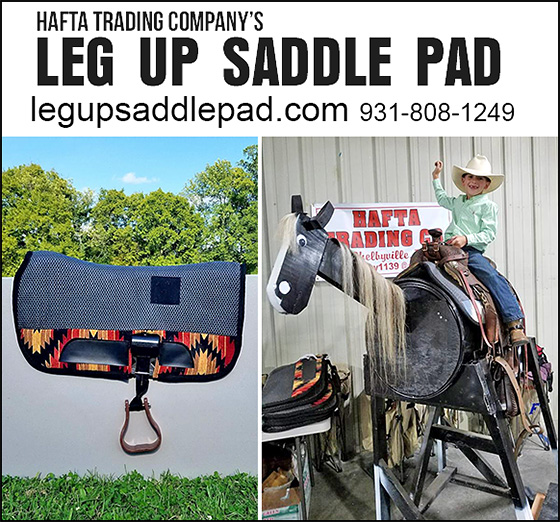 Leg-Up Saddle Pad by Hafta Trading Company, LLC
Whether you use the Leg-Up Saddle Pad or our PORTABLE Leg-Up (use your own saddle pad!) you will love the convenience, safety and freedom it gives you to mount anywhere at anytime!



About The HAFTA Trading Company - and Jim Williams, Inventor
Jim Williams, born and raised in Georgia, is a lifelong enthusiast when it comes to horses. He had shown horses for years, but found most of his enjoyment trail riding. A natural inventor, Jim, owner of the Hafta Trading Company in Shelbyville, TN is the creator of TackyTack Saddle Pads and Saddle Bags and his latest innovation, the Leg-Up Saddle Pad. The Leg-Up Saddle Pad can be used by anyone who desires to ride a horse without being challenged by age, upper body strength or height. Kids will also enjoy the ease of mounting their horse. No more searching for ditches, stumps or rocks to mount your horse while trail riding. Jim Williams graduated with a Textile and Industrial Degree at Georgia Tech and continues his work and dedication to making life easier for both horses and the people who love them.



So What Is The Leg-Up Saddle Pad?
The Leg-Up Saddle Pad is a spring loaded retractor stirrup in a non-absorbent inner orthopedic foam material. Our saddle pads will have three different colors / patterns from which to choose. The purpose of the Leg-Up is to make mounting your horse much easier and safer regardless of height, age, weight, strength,physical condition, or and physical limitations that you might have.

The Leg-Up functions by pulling the retractable stirrup down to a convenient height from the ground. Typically the knee and hip being level which is normally 10 inches to 12 inches, the saddle stirrup is normally 34 inches to 36 inches from the ground depending on height of the horse and rider. Leg-up allows you to mount three times faster than conventional means. The Leg-Up retracts out of your way once in the saddle and the break are released. No more 14 hand horses, ditches, rocks, stumps, or foot stools required. 3 Great Colors To Choose from and only $299
Patent no. 7,023,366

What If I Want To Use The Leg-Up But Keep My Pad? Is There A Portable Leg-Up?
YES! While our riders really enjoy the quality of our Leg-Up Saddle Pad, our PORTABLE Leg-Up is super easy to use, it just slings over your saddle and then you can haul it away when you are done. At only $75 this is a very affordable option for people and you can see how it works in our video below...




How Should I Use The Leg-Up Saddle Pad?
Well, we have found that there are 2 great options for mounting your horse with the Leg-Up Saddle pad-- and we are happy to explain below...

Method I
This is a little more physically demanding, but certainly far LESS demanding than having to mount in the regular fashion without the Leg-Up! In Method 1, you simply lower the Leg-Up, insert your RIGHT foot, take your left foot (mounting foot) into the stirrup and mount your horse. For about 25% of our users, this is the fashion they choose to mount.

1) Make sure your left saddle stirrup is 90 degrees to the horse's side before mounting.

2) Acclimate your horse to the sound and motions of the Leg-Up before attempting to mount (pull the stirrup down and then retract it several times so your horse gets used to the sound!)

3) When placing your RIGHT foot in the mounting stirrup, place your foot as far up to the heel as possible-- do NOT use your toes!

4) After properly placing your RIGHT foot in the mounting stirrup, pulll the toe of your boot 2-3" behind your knee in the vertical plane (most likely your toe will point slightly to the ground)

5) If your knee and hip are parallel to the ground or your knee is 2-3" higher, it is OK. Your leg is set at the strongest point possible. After a little practice the "bunny hop" will not be necessary.

Method II-- using a natural object or a stool for a 1-2-3 step up.
If you can use 3 steps to enter your house, you can get up on your horse... easy and safe. This is the most common way that many of our customers like to do. With this method, you bring your horse next to a natural object like a rock, log or stool, and then, standing on that, you insert your RIGHT foot, take your left foot (mounting foot) into the stirrup and mount your horse. It is the 1-2-3 method. This method is extremely easy, requires almost no physicaly stregnth... is it as simple as climbing 3 steps onto your front porch!

1) Position the horse so that the stirrup hangs directly over the ground object you are using.

2) Pul the Leg-Up stirrup 8-10" below the saddle stirrup and lock in use position.

3) Hold to saddle for balance or stability and place your RIGHT foot into the Leg-Up Stirrup, then stand up on the Leg-Up Stirrup

4) Put your LEFT foot into your own stirrup and sit on your horse.

Note: Practice both-- make your decision or alternate as you choose. Either way, you are mounting your horse more comfortably than every before!

Is There Any Special Training Required For My Horse?
Horses should always be trained to be mounted safely. While you are practicing, have someone you trust to help hold the horse while you acquaint the horse with this new system. Any well trained horse should not find this system alarming, but having a friend to help steady your horse while you and the horse are becoming familiar with Leg-Up is always the best way to start.

Note: Make sure your horse can flex, easily to the left and the right. "Giving to the pressure" is important for all horses and can make a real difference if you should need to stop your horse from walking off while mounting, (or running off on the trail!)

Do I Need A Special Girth?
NO... but to have the ultimate stability (for any ride) your girth needs to be within 4 inches of the rigging ring! Many riders do not realize this and then wonder why their saddles aren't as stable when riding. Make sure your girth is long enough to get within 4 inches (on BOTH SIDES!) of the rigging ring once the horse is girthed up-- and you will notice a big difference in stability-- for ALL riders!

But I Am A Senior Rider, Can The Leg-Up Really Help Me?
You bet it can! The Leg-Up Saddle Pad can help you stay enjoy riding many additional years, and helps you feel younger than your age, because it allows you to mount any size horse. The most functional, creative, and advanced technology in in the horse world in 400 years since the introduction of the stirrup! This fabulous product that is brought to you by the same people Tacky-Tack and Tacky-Too, slip resistant saddle pads!!

Don't Let The Worry Of Mounting Stop You Any Longer! Order The Leg-Up Saddle Pad Today!
We've all experienced the difficulty of mounting- whether it is in the arena, the pasture or on the trail. There are times you NEED to dismount for both convenience and safety, and you don't need the added pressure of worrying if you can get back up in your saddle. The Leg-Up Saddle Pad provides you with an incredible, non-slip saddle pad, and a secure way to mount your horse -- forever! At only $299 (or $75 for Leg-Up without the saddle pad) there is just no reason you can't ride your horse, every day in every place you want to go. Call up Jim and order today and let Leg-Up give you the peace of mind you deserve!


---
Contact: Jim Williams
1436 HWY 64 West
Shelbyville, Tennessee 37160
Phone: 931-808-1249
Email:
Website: Click Here To Connect

---