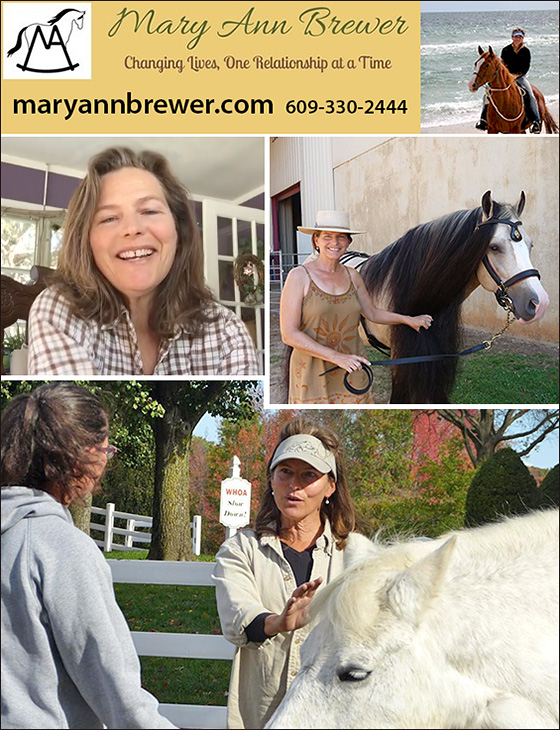 Horse Training Consultations with Mary Ann Brewer
Mary Ann Brewer can help you overcome your fears, struggles and put you on the path to a great and rewarding relationship with your horse-- the kind you dreamed about-- from the comfort of your own home!



Is Your Current Relationship With Your Horse, The Joyful Relationship You Always Imagined?
For some of us, horse ownership has been a dream since childhood! Now that it is a reality, what does your dream horse relationship look like? Are you lying in a big field of grass napping together or are you galloping on the beach bridle-less? Maybe it's a trail ride around your property or maybe going to the horse show or the Olympics! Maybe; you don't ride at all. Allow yourself to remember what you thought it would be like. What did you picture when you finally got your horse – this horse? Is that the reality you enjoy with your horse today— or do you worry every time you ride, or even go to the barn? Mary Ann Brewer can help!



Looking For a GREAT Course To Help Your Spooky and Distracted Horse?
At only $199 (formerly $500!) This 1 single course will be a GREAT help to you and your horse!
In this course you will learn empowering informaiton to to help you Softly Communicate With Your Horse-- EVEN IF...

* Your Horse is spooky and doesn't seem to notice you at all
* Your horse is distracted and doesn't pay attention to you
* Your horse is a mare, stallion, gelding or pony
* Your horse is buddy sour
* Your horse is barn, arena or yard sour

NOTE: and we'll do it ALL without sticks, flags, round pens, disengagint their hind quarters or "showing 'em whose boss"



Do You Struggle With Any (or ALL) of the Following?
• Does he step into your space or push on you?
• When he gets worried about something else and spooks, do you feel unsafe?
• Does your horse pull on the halter and lead rope, lunge line or reins?

When You Ride...
• Do you have to 'keep him going' or 'hold him back'?
• Does he dive for the grass and pull on you?
• Is he spooky? Is your horse barn sour or buddy sour?

What If…

• Your relationship was based on mutual communication, instead of rules?
• You groom your horse in the barn aisle, and dropped his rope on the floor and he stood there and waited until you were done?
• You tied him to the hitching rail while you have lunch?
• When you went to load your horse into the trailer, you just stood outside, gestured to your horse and he hopped in?
• Your horse responded to your light suggestion to come or go and no equipment was necessary?
• Just the two of you could take a walk and be as connected as you and your friend, no calling for his friends or rushing back home?
• You could lay your lead rope on the ground while your horse grazes and you would not need to worry about him stepping on the rope and freaking out?
• When you feed him, he backs up and waits for you to put his food in his bowl and then asks your permission to eat it?

How Would It Enrich Your Relationship If...

• While riding, your horse takes on the responsibility of maintaining gait? It's his job, not yours!
• Your horse took the responsibility of keeping slack in the lead rope? Imagine if you and he never pulled on or pushed on each other, or if he didn't walk in circles around you but just walked beside you, going where you want to go. What would that be like?
• You could pick up and clean all four of your horses' feet from one side while he holds them up for you?
• You could mount and dismount from both sides, with or without the assistance of a mounting block, from anywhere?
• You don't want to ride your horse but you still want a rich full life together?

Now- What If All You Needed Was A Phone, Because There Was a Coach Who Knew Exactly How To Help You?
Well, you don't have to 'wonder'. Mary Ann Brewer has been helping horse women (and men) across the world to have the relationship with their horses, that they always had in their dreams! Mary Ann is highly knowledgeable, warm, kind, fun to talk with— and, most importantly, she knows how to give you the knowledge and courage to find a better way with your horses. She works with first time horse owners, long time horse owners, experienced horse trainers, absolutely ANYONE who was willing to listen to her easy-to-follow- caring program, that will help you develop a relationship of mutual joy, caring and safety with the horse you love.

How Is Mary Ann's Philosophy and Work With Horses So Different?
Says Mary Ann Brewer, "When I was in horsemanship school, I was taught how to be more horse-like. Feel, think, act, play, as a horse. After school, my herd grew and changed. Upon further observation and contemplation, I discovered, there was a way of the individual, and then there was the way of the herd. I found it so much easier to work with several horses at once and realized this was more herd-like and more natural than the "Natural" way I learned. There was more harmony, synchrony and more yes's from the horses and no force-man-ship!

I started observing real clarity in the horse's intention and then learned to create and convey mental pictures to the horses as they did with one another. I started using energy and emotions instead of sticks which is what I observed in the horses. And then the horses chose to be with me, to leave home with only me. They were more connected and confident! "



Is It True That Anyone With Dedication Can Develop A Better, Stronger and More Trusting Relationship With Their Horse?
Yes! And the key is you need to be the change you want to see in the horses! This is another learning from observing herds, even in domestication. When we get really clear on who we are and who we want our horses to know us to be, we show them. This is a universal truth. We are constantly going around the world teaching everyone who we are. We are not pretending to be someone we're not. Not the trainer, not the boss, not the leader, not the guru. We are simply bringing who we are, with all our imperfections, as a gift to the herd. WITH CLARITY! This is the way herds work. Every individual brings their own special skills to make a whole. Who we are BEING is even more important than what we are DOING.

Mary Ann Will Show You A BETTER Way! She Is Going To Show You…

* The 5 simple shifts to create that unbreakable bond with your horses, with total grace and ease, even if you have a notoriously stubborn or headstrong horse.

* How to enjoy your horse's undivided attention and the secrets to how to keep it in all situations!

* Why, "showing your horse, who's boss" is the worst way to create a close bond and how my clients are tickled by their newly created relationships with their horses.

* How my clients have stopped the suffering! They learned positive strategies to get their horses to do what they want, even if they are brand new to horses or have had horses all their lives!

*How to be safe and have fun with your horses in every situation, disappearing the nightmare and actually living the dream you got your horses for!

What Kind Of Program Does Mary Ann Offer?
A program that works and is easy for anyone who really wants a fantastic relationship with their horse. Her, "For the Love of Horses" ™ Program is a 12-week online coaching program for you, since you are the most important person in your horse's life! You receive, No less than two lessons each week, and a live Q&A weekly where you get ALL your questions answered and unlimited video reviewed and tons of support from Mary Ann.

There are 3 Pillars To Her Program:
* Mindset (Learn to think differently)
* Productive Emotion Use (BE, don't DO),
* Physical Strategies to broaden, deepen and widen your shared language.

A FREE Phone Interview With Mary Ann Is The Way To Start!
We'll get really clear on:

• What's working, not working or not working as well as you'd like, in your horse-human relationship. We go deep it takes about an hour.
• Do you want to fix it?
• Can I help you fix it?
• Are we truly fit to work together?

If so, I'll make you an offer to join, if not, I'll steer you in a possible direction and we'll part friends.
If you would like to apply, you can use this link to book a call in my calendar https://maryannbrewer.com/apply. You can also watch this 45-minute introductory webinar to learn more.

Can I Really Do This In The Comfort Of My Own Home Without Traveling Expenses?
Yes! The results will be amazing— Because this is someone you'll BECOME. You won't just learn a tip or a trick or a band-aid to cover over what really needs surgery. This is a step by step process, a place to think from. Along with audio files to listen to, you'll have time to think and do your mindset work and journaling for productive emotion use. There are videos to watch and companion lessons that you should listen to over and over again. When you see your horse, be it daily or a few times each week, you'll include the physical strategies you'll learn. This information is yours forever… and the results are FOREVER too because this is who you'll become, not just what you do!

NOTE: When you come to the live Q&A each week with people from all over the world, you'll know you have found your tribe! It's like being in a 3-month long clinic as you get to know others who are like-minded. You'll learn the answers to questions you didn't even know you had.

Why Do Mary Ann's Methods Work So Well?
I love this question! It's because you're not learning to be like " MaryAnn", you are learning to be the best " YOU", you can be. There is no value in you trying to learn to be someone you're not because this is not honest and occurs as incongruent to horses. When your outsides don't match your insides, horses read this. Have you ever seen someone trying to catch their horse with the halter hidden behind their back and the grain bucket out in front? This is sneaky and dishonest. So is "Don't let him know you're afraid" or the ideas of there are winners and losers! It's not a competition, it's a relationship. You'll naturally become someone your horse wants to be with. You'll throw out the rules of others and start focusing on what's important to you in your herd. Imagine the freedom! You are the perfect person for the horse you have right now.

What If I Am Already A Horse Trainer? Can MaryAnn Help Me Improve?
Yes! That's my goal, the ripple effect. Anyone who wants to learn Relationship Based Horsemanship can. The goal is to be the change we want to see in the horse world. "Never doubt that a small group of committed people can change the world, indeed it's the only thing that ever has." (M. Mead) Since 84% of horse owners in the USA are women, most of them over 40 years old, it also makes good business sense. People have to be taught to be rough with horses. Most of them are naturally soft. My hope is that a kinder gentler way, where we can share space will replace our current system of dominance and submission.

What Do Horse Women Say About Their Experience Working With Mary Ann Brewer?

I have put off writing a testimonial for 2 years because what Mary Ann has done for me and my horse is beyond words. That said, I will try to translate. Simply put, Mary Ann has spearheaded a beginner horseman and young, green, worried, colt blossom into a confident, united, beautiful partnership. Prior to working with Mary Ann my horse was very worried and insecure. When something scared him, he would take off in a very dramatic fashion…blowing, head high, etc. Today… 2 years later, he is a different horse and I am a different horseman.
He is a confident, solid, and happy riding horse. He loves to go on trails, play at liberty, play games on the ground, and hang out with people. When he spooks, it is on a normal level like most horses. No more drama!
Mary Ann is a warm, caring, supportive trainer and friend. She is there for us WHENEVER we need her. I now have a relationship with my horse that I always dreamed of.
Thank you Mary Ann xoxoxox
Shari Kantor

The partnership available between me and my horse continues to expand and grow through the tutelage of Mary Ann Brewer of In the Company of Horses. She shares her horsemanship expertise in a way that is easy to assimilate from idea to action. My feel and awareness around effective communication with my horse continues to evolve. One riding example of this evolution: having learned to form a clear intention for a canter depart, I am able to have that departure with little other cues necessary. This is in contrast to previously needing spurs and a crop to have the same response occur. In turn, this sort of connection creates confidence and trust between myself and my horse and enables us to be effective in numerous settings and circumstances. Ms. Brewer's horsemanship and people skills are excellent; and, joined together, result in a trainer who can transform anyone's ability to ride and play with horses for fun or competition.
Debra G Farber

I found MaryAnn thru my farrier many years ago. I was desperately reaching out for help with a recent killpen rescue I had acquired thru the Another Chance 4 Horse's broker program. Annika was a 4 yo draft cross and had been traumatized so much that you could not even halter her without an explosion. MaryAnn came and after only a week of sessions, Annika was a completely different horse. She also gave me the tools and instruction I needed to be able to continue working with Annika safely and with focus. I cannot sing MaryAnn's accolades enough. Because of her I have FUN with my horse and the relationship I have with Annika is not like any other I have ever had with ANY horse.
Lisa Drahorad

Call Mary Ann Today— She Can Help You Get The Relationship With Your Horse That You Have Been Dreaming Of!
Nothing worth while ever comes without a little effort… but mostly, it is the lack of a place to think from and all the conflicting information on the internet that stops us. Mary Ann has a lifetime of helping horse owners, trainers, even first time owners, develop a happy, willing, joyful partner that looks forward to spending time with YOU as much as you look forward to spending time with THEM. Call Mary Ann for your FREE Consultation Today!

---
Contact: Mary Ann Brewer
240 Pointville Road
Pemberton, New Jersey 08068
Phone: 609-339-2444
Email:
Website: Click Here To Connect

---