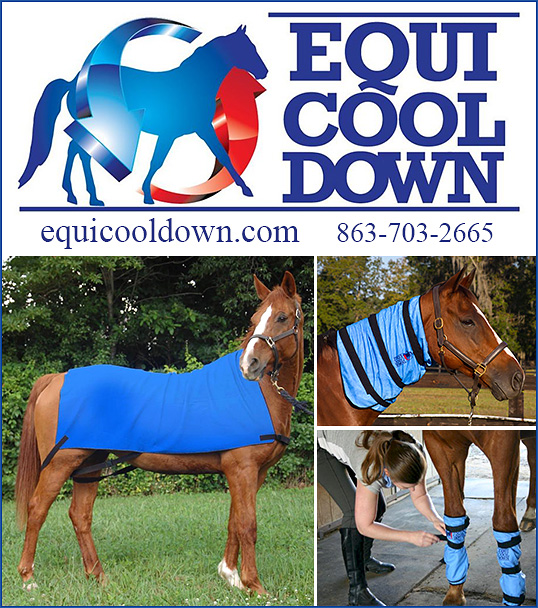 Equi Cool Down™
With Equi Cool Down™ it has never been easier to cool down your horse! When things get hot, Equi Cool Down™ is the answer!
How Did Equi Cool Down™ Come To Be?
Says Jennifer Campbel owner: To be completely honest with you – I rode in my younger years but I don't own horses. So how did I get into this? Well back in the 90's I had finished college and went to work for a recycling company as their National Marketing Manager. In no time flat, I had helped them with the design and development Perma-Flex High Performance Arena Footing which became the first use of recycled tire particles as an arena footing – and it was a huge hit. We had many of the largest, most prestigious centers in the Northeast – not to mention Olympic riders like Jessica Ransehousen as customers and spokespeople.
About 20 years later I had left the recycling industry and was looking for something new to do. A good friend of mine was telling me about a fantastic material he had discovered that stayed cold without the use of refrigeration. He had been marketing this material for human use as towels, headbands and beanies. I asked, "so how big can you make these towels?" He replied "I dunno…you thinking beach blanket size?" I replied "how about horse size?" And that is where the idea for Equi Cool Down started. There were many products available to warm a horse but couldn't think of anything remotely like this to cool a horse…surely that was an even bigger need! Since then I have never been involved with a product that gives so much gratification – we constantly get notes, emails and pictures from customers talking about how happy they were to find our wraps and how glad they were to give them a try. Many of them credit the wraps for saving their horses' life in cases of fever…including one of my own sales reps!


What Are Signs My Horse Is Over Heated and Desperate To Cool Down?
Horses can take colder temperatures much better than they can hot temperatures. Worse, once your horse experiences a heat stroke— it is a pattern that can develop anytime he over heats. Symptoms your horse is over heating and in need of immediate cooling are:
Flared nostrils.
Breathing hard— or worse, panting!
Rising body temperature.
Sweating.
Increased heart rate.
Dilated blood vessels standing out from underneath the skin.
Make Sure Your Horse Cools Down... Both INSIDE and OUT!
Proper hydration and electrolyte replacement for the inside of your horse is key. But what about cooling off the outside of your horse? The tried and true method is cool- or cold-hosing, but for this method to be effective, the water must immediately be scraped off to remove the heat, then start again with multiple repetitions. As long as you have a source of cold water and some time – and an unending supply of free water, which is not the case in drought-stricken areas or city water – this is an effective way to cool your horse down!
Provide instant cooling relief by simply adding water – any temperature will do!
Help stabilize your horse's body temperature.
Minimize inflammation.
Reduce soreness.
Cool your horse's joints and limbs after exercise.
Save water! With droughts and new water restrictions in California and other locales, Equi Cool Down is the eco-friendly choice.
Give your horse an Epsom Salt treatment without the hassle using Equi Cool Down Wraps! Simply dissolve the Epsom salt in some warm water, add to room temperature water, and either soak the wrap or spay on for easy application! Equi Cool Down wraps can be used with any liniment of your choice as well – simply wash the wrap after you are done.

Beyond the body, neck and leg wraps for horses, riders can enjoy the same relief with Equi Cool Down's towel, headband, and helmet/hat-lining beanie, and avoid dangerous heatstroke when out on the trail or showing/training on a hot day.
Note: Just one bout with heatstroke means a lifetime of being more prone to it again!

What Products Does Equi Cool Down Offer To Help Keep My Horse's Cool?
Equi Cool Down offers an amazingly diverse and affordable products for your horse to help keep your horse cool and comfortable, even during the warmest weather. There are even CUSTOM OPTIONS that allow you to embroider your horse's name or stable logo right on our gear.
Perfect for you— or the horse lover in your life! Our Deluxe Combo package gives you everything you'll need to cool your horse quickly, easily and effectively! Contains 1 Deluxe ECD Equine Body Wrap, 1 ECD Equine Neck Wrap, 1 set of ECD Equine Leg Wraps…AND a FREE giant Equi Cool Down Insulated Tote Bag – large enough to carry and store all your Equi Cool Down Wraps! Retail value $394.96…yours for $339.97!
This may be one of our most popular and effective solutions to get your horse cool— fast! COMPLETE BODY COOLING. We've taken our popular Equine Body Wrap and super-size it – covering more than ever before. The body portion has been increased from 60″ x 63″ to 67″ x 82″ and we've added a chest flap and a removable belly flap! What more can a horse ask for? At only $219.99 this will be your 'go to' for quick and long lasting cooling for your horse.
Equi Cool Down's Equine Body Wraps help to cool your horse's body to aid recovery after periods of exertion. Made to fit horses up to 18-hands, the wrap's design holds it in place without restricting your horse's movement. At only $169.99 you will be delighted with the results!
Equi Cool Down's Equine Neck Wrap provides gentle, non-evasive cooling for neck soreness, post-injection swelling or overall cooling via the jugular. The versatile "one-size-fits-most" design using adjustable spandex straps holds the wrap in place without being too tight. At only $74.99 it will be a welcomed addition to your tack box that your horse will appreciate!
So much SAFER than "ice"… helps to soothe inflammation, strains, sprains or even insect bites quickly and easily with Equi Cool Down's equine leg wraps. Designed to ensure a snug yet comfortable fit, these leg wraps won't slide down like cold compresses or ice packs rigged using traditional leg wraps!
At only $44.99 you can't afford to be without them!
By overwhelming popular demand we are proud to introduce to you our new Equine Hock Wraps! Sold in pairs, these new 12″ x 23″ wraps will provide the necessary cooling therapy exactly where it is needed while still allowing the flexibility this joint demands. At only $54.99 you'll be glad to have them.
Limited Edition Equine Knee Wraps! Perfect for injury therapy or for routine therapy for arthritic horses. Safe to use with any liniments or Epsom salt! Hurry while supplies last! This is something that can make a real difference to your horse. At only $44.99 they are worth every dime!
Absolutely – in fact we recommend it! Each wrap is treated with an antimicrobial wash twice which helps prevent mold and mildew so be sure to wash each wrap before storing. Wash in cold water to prevent fading using mild detergent. Fabric softener is not recommended as it may impede absorption.
Help – My Wrap Dried Out! What do I do?
First, don't panic…the wrap is fine! We actually recommend drying out the wrap prior to long-term storage (see ECD Storage Tips). As the wrap dries, the nature of the fabric is for it to become hard & stiff. Don't bend the material when dried out as it could crack, but when you are ready to use it again just soak in any temperature water, or put in washing machine, and it will return to the original state.
Can I Turn My Horse Out With Them On?
It is never recommended to leave the wraps on your horse while unattended. Remember, they are meant to serve a purpose – to cool. Please monitor the wraps to be sure they have plenty of air , while ensuring they stay moist as well
Why Does My Wrap Feel Like It is Getting Warmer On My Horse?
Because it is doing its job! The wrap will pull the heat out of the horse. When the wrap starts to warm and it is still moist – you can apply air by walking the horse or using a fan, but we recommend removing the wrap and waving it in the air. This way you can take a second to feel the skin to judge how much longer you need to apply cooling (place one hand where it was and one where it wasn't). With the body wraps, just put your hand beneath and then gently flap the sides to apply air.
How Do I Store Them In The Winter?
Wash, fold and set aside to dry. The fabric will become hard, which is perfectly fine. Be careful not to bend the hard fabric as it could crack. When you are ready to use the wraps again, simply soak and wring out excess water after it is saturated or throw in the washer. Please see ECD Storage Tips for more information.
What Do Leading Equine Champions, Grooms and Horse Owners Say About Equi Cool Down?
"I would have to say that this product meets and exceeds expectations and performs as well and even better than the manufacturer claims." Karen Chaton, Champion Endurance Rider, Author of "Karen's Product Reviews"
"Grooms and horse owners face a few major obstacles during their daily barn routine: Dirt and sweat. We also need to contend with taking care of our horses, in all sorts of weather and conditions. We are responsible for cooling them out. We are responsible for taking care of their tendons after exercise. We need to help them normalize their body temperatures in some conditions. Then, and only then, do we tend to our own needs. (Which, by the way, are similar to the horse's needs, we just come second.) The entire Equi Cool Down Line of cooling products will help you do those things (for your and your horse). I'll go ahead and tell you that the line of products is vast, and the technology is awesome and the price points are Groom friendly." Pro Equine Grooms (a Grooming Community)
"I did use your blanket with great success on the Friesian I had here in training. He had some major issues with the heat and it did help him to cool down quicker."
Judy is a USDF silver and gold medalist and Graduate Core Instructor for the Balimo Equestrian Program.
"The story of Taxi Boy is quite simple. Taxi Boy is a horse which has big problems with the heat and ever since he's wearing the Equi Cool Down before and after the race he never collapsed again. So we are very happy for him to have this help. " Taxi Boy's trainers, Philip and Bettina Sharer of Switzerland
"The summer heat can take a lot out of your horse. Equi Cool Down products are an easy, affordable way to beat the heat. I love the body wrap and neck wrap for in the stall or even going down the road in the trailer. They are also great for non sweaters. The leg wraps pull heat out and are fast and easy to use."
Caryn Henry WPRA Member, Professional Barrel Racer
"I very seldom jump on the bandwagon for products…..but this, you will love! Probably the best thing I have seen in years and yes I have one. Picalata Farms seal of approval on this one!!!"
Karen Gates-Miscovich
When Logan, an older thoroughbred, collapsed during a trail ride in the hot Florida sun, Equi Cool Down was key in lowering his body temperature. As they waited for the veterinarian, a neighbor had the Equi Cool Down blanket on hand, and after just adding water, the blanket immediately began to cool Logan. Thanks to Equi Cool Down, Logan is now fully recovered and happily back on the trails!"
"I LOVE THESE PRODUCTS!!!! The towels are great to put around your neck if you are riding, or just waiting for your next class. My horse LOVES the body wrap and I have trailered him in it with MUCH success. He suffers from Anhidrosis so keeping cool in the Florida heat is VERY important. I use the large adult towel to put over his neck after warm up but before we go into the ring. The customer service is also AMAZING! Which makes it so easy to love and support the business! Thanks!"
Equi Cool Down Is Affordable, Safe and Highly Effective— Order TODAY!
Horses can take the cold much better than they can the heat. If your horse is performing in the sun, trail riding, has problems with anhidrosis, or you are just concerned that he is miserable in hotter weather, make the small, easy to use, investment and order the wonderful product line at Equi Cool Down today. Your horse's health and well being are in your hands!
---
Contact: Jennifer Campbel
5162 Breezeway Court
Jackson, Florida 32258
Phone: 863-703-COOL (2665)
Email:
Website: Click Here To Connect

---