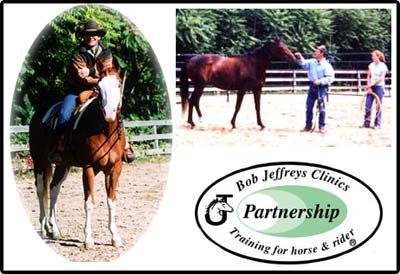 Bob Jeffreys Horse Training
With Bob's "Vowel Method of Applied Pressure"™ riders are taught to gain control of their horses by making requests in a clear, consistent manner, and rewarding the correct reply when given.
Bob Jeffreys Partnership Training for Horse & Rider
Bob's passion for horses and years of personal experience and work with various trainers led him to develop the PARTNERSHIP TRAINING FOR HORSE AND RIDER system. His training methods encompass the most effective techniques available. Bob's unique Vowel Method of Applied Pressure™ enhances the rider's ability to communicate with the horse by gaining control over specific body parts. Bob has taken the time to consider training from the horse's perspective. He carefully analyzes whether the horse is afraid, or simply confused about what is being asked. Through this thorough, thoughtful and concentrated process, Bob has been able to discard many unproductive methods and devices. In addition to communicating with specific body parts, Bob's methods focus on training the horse to become a willing partner, as well as mastering riding techniques that improve this partnership.
About Bob Jeffreys
Bob grew up on Staten Island, NY, and began riding in his childhood. He earned a BBA degree from St. John's University, and after college went to work in the oil business. He traveled all over this country, as well as Europe and southeast Asia dealing with people of diverse backgrounds and culture. When computerization reduced the social part of his work, Bob followed what he describes as a higher calling. Since he was being asked more and more frequently by other horse owners to help them with their problems, he made the career change to horses. Bob enjoys working directly with people, so this choice was a natural for him. He has worked with wide variety of breeds including Quarter Horses, Paints, Thoroughbreds, Morgans, Arabs, Icelandics, Norwegian Fjords, Saddlebreds, and Standardbreds.
Bob and his partner, Centered Riding Instructor Suzanne Shepard, offer a variety of riding clinics, and his Trainer Education Program, which consists of three levels. In addition, he writes a column that is featured in New York Horse, Infohorse.com, and other equine media. He has been interviewed on various TV and radio shows, and has authored a book entitled "It's All About Breakthroughs", which is a must read! Also be sure to view our schedule so you know what clinics Bob and Suzanne are teaching and when they are teaching them!
What Do Customer's Say About Bob And Suzanne?
Bob, I love how well you have broken down the training of the horse into small enough pieces that really helped me understand. My communication with Blue has increased tremendously and this weekend after your clinic I was having much more success with sidepassing, turning on the forehand and haunches as well as backing up. Suzanne, you have wonderful observation skills and helped me adjust what I was doing to make it work better. I got a lot from your visualization exercises and the 4 sets of eyes has really improved my turns. You also helped a lot with getting Blue to gait. Thank ya'll again and I hope our paths cross again. Debbie and Blue.
Debbie Williams
Richmond, Virginia

Were you ever motivated by watching someone else's horses perform? From what I have seen how other horses react and/or perform, I became determined to have a horse that is calm, intelligent, and well behaved. Now lets not kid ourselves, no one is perfect. Not us or our horses. Time is the battle for all working moms, and there is no substitute for consistency. But if you wish for a training program that educates the rider and the horse, go for this. Having back yard horses that have had the safety and quiet of only knowing their barn buddies, riding ring, and very limited trail riding, this was a wonderful, controlled program, that works with the horse at the level both the horse and rider are at teaching how to get control over the parts of the horse. On the last day Knight outdid himself, and left calm, attentive, and secure. We would like to thank Bob Jeffreys and Suzanne Sheppard with their patience and program outline.
Carol J. Fitzpatrick
Accord, New York
Get Started Today!
Visit our website today to get started with the best trainers in the business, Bob Jefferys and Suzanne Shepard!
---
Contact: Bob Jeffreys
168 Tamms Road
Middletown, New York 10941
Phone: 845- 692-7478
Email:
Website: Click Here To Connect

---