Horse Business Advertising
Reach Over a Million Horse People a Year!
We are the leading Horse Industry Information Directory on the Internet.
239-223-6979
If you are a Reputable Horse Business and have a Great Product or Service for the Horse World, we would love to have you join us!
Ann is our Senior Marketing Director, Very friendly and waiting for your call!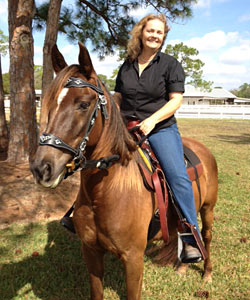 Phone 239-223-6979
Ann & Her Morgan Mare "Sugar"
Effective and Affordable Advertising on InfoHorse.com

85% of our readers are women
* Average age is 19-54 years
* Average horse ownership is 1-3 horses
* 93% of our readers are DOG owners with 1-4 dogs on average
* Income level average is $35,000 - $2,000,000 annually
* 100% of our audience research products before they buy
* 83% of our audience research products found in catalogs and magazines at InfoHorse.com before purchasing Ann@InfoHorse.com

Our visitors are coming here to learn about your horse related product or service (not to chat, look through classified ads or look at horse pictures). They are doing research on services and products they need now and e-mailing the ads to their friends. All articles on InfoHorse.com are advertiser generated and are a great way to enhance your company brand!

Reach your target audience with your message. More than a full page to fully explain and educate horse people. You are reaching people that came to InfoHorse to research and are truly interested in learning about you.
Our Visitors are here to get information - that's why we call the site InfoHorse. Beyond your ad on our site, we place your informative articles on the InfoHorse Home Page where they are read by more people than the biggest horse print magazines. People want to make a informed buying decision and have decided that InfoHorse.com is the best place to research their purchase. Your company needs to be here so you can be considered by them.



InfoHorse.com is a unique and Important place for the serious horse owner and businessperson. Started in 1997 as a place for the horse industry to deposit in depth information regarding horse related products and services and as a way to distinguish InfoHorse.com from the hundreds of link directories in existence at the time (most now gone), we have always emphasized the "Info" part of our name as important to our visitors and advertisers. We are one of the most visited horse sites on the net (top of the top 1%) and the numbers grow significantly every year.

We are still family owned (not owned by a big print magazine) and that has given us the freedom to charge less to our advertisers and give them more exposure by far than a print magazine or a site owned by one. Many of our advertisers are regular people with good ideas and the talent to produce a product or good people starting a career as a horse trainer etc. We have many of the biggest names in the horse industry here as well, all of these advertisers are looking for exposure to the horse public and that is what we are great at.

Advertising at InfoHorse.com is so easy and affordable!
InfoHorse.com ads are super affordable— we offer a FULL YEAR of FULL PAGE advertising for a fraction of the price our competitors. Best of all, we reach over 1.3 MILLION horse owners annually! All ads are ALL INCLUSIVE— all ads include the right for your company to write EDUCATIONAL ARTICLES for the HOME PAGE! ALL our ads last at least a full year, and every ad is included in ALL appropriate categories at NO additional charge! Best of all you reach a huge reading audience of dedicated horse owners! Because we work on a 3% profit margin, our ads are NON REFUNDABLE— a lot of work goes into each and every ad to make it as EDUCATIONAL and BEAUTIFUL as possible.

Call Ann today and let's get started. 239-223-6979
email ann@infohorse.com
Mailing Address InfoHorse.com
1521 Shadowbrook Dr. Keller Texas 76248