Horse Business Advertising
Reach Over a Million Horse People a Year!
We are the leading Horse Industry Information Directory on the Internet.
239-541-8983
If you are a Reputable Horse Business and have a Great Product or Service for the Horse World, we would love to have you join us!

Ann is our Senior Marketing Director, Very friendly and waiting for your call!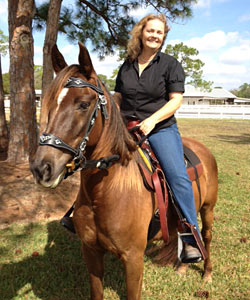 Phone 239-541-8983
Ann & Her Morgan Mare "Sugar"
Effective and Affordable Advertising on InfoHorse.com
85% of our readers are women
* Average age is 19-54 years
* Average horse ownership is 1-3 horses
* 93% of our readers are DOG owners with 1-4 dogs on average
* Income level average is $35,000 - $2,000,000 annually
* 100% of our audience research products before they buy
* 83% of our audience research products found in catalogs and magazines at InfoHorse.com before purchasing Ann@InfoHorse.com

Our visitors are coming here to learn about your horse related product or service (not to chat, look through classified ads or look at horse pictures). They are doing research on services and products they need now and e-mailing the ads to their friends. All articles on InfoHorse.com are advertiser generated and are a great way to enhance your company brand!

Reach your target audience with your message. More than a full page to fully explain and educate horse people. You are reaching people that came to InfoHorse to research and are truly interested in learning about you.
Our Visitors are here to get information - that's why we call the site InfoHorse. Beyond your ad on our site, we place your informative articles on the InfoHorse Home Page where they are read by more people than the biggest horse print magazines. People want to make a informed buying decision and have decided that InfoHorse.com is the best place to research their purchase. Your company needs to be here so you can be considered by them.

InfoHorse.com is a unique and Important place for the serious horse owner and businessperson. Started in 1997 as a place for the horse industry to deposit in depth information regarding horse related products and services and as a way to distinguish InfoHorse.com from the hundreds of link directories in existence at the time (most now gone), we have always emphasized the "Info" part of our name as important to our visitors and advertisers. We are one of the most visited horse sites on the net (top of the top 1%) and the numbers grow significantly every year.

We are still family owned (not owned by a big print magazine) and that has given us the freedom to charge less to our advertisers and give them more exposure by far than a print magazine or a site owned by one. Many of our advertisers are regular people with good ideas and the talent to produce a product or good people starting a career as a horse trainer etc. We have many of the biggest names in the horse industry here as well, all of these advertisers are looking for exposure to the horse public and that is what we are great at.

Advertising at InfoHorse.com is so easy and affordable!
InfoHorse.com ads are super affordable— we offer a FULL YEAR of FULL PAGE advertising for a fraction of the price our competitors. Best of all, we reach over 1.3 MILLION horse owners annually! All ads are ALL INCLUSIVE— all ads include the right for your company to write EDUCATIONAL ARTICLES for the HOME PAGE! ALL our ads last at least a full year, and every ad is included in ALL appropriate categories at NO additional charge! Best of all you reach a huge reading audience of dedicated horse owners! Because we work on a 3% profit margin, our ads are NON REFUNDABLE— a lot of work goes into each and every ad to make it as EDUCATIONAL and BEAUTIFUL as possible.
Call Ann today and let's get started. 239-541-8983

Here are a few unsolicited quotes from our Advertisers (We have many more)
Dear Ann,
I wanted to thank you for all you do for AAHS! InfoHorse.com is the ONLY place we choose to advertise and you have tripled our sales! Thank you again and keep up they good work.
Brenda Hendrix AAHS (American Association of Horsemanship Safety)

Linda from Markel Equine Insurance
"InfoHorse.com is our most successful ad we run. Great prices and folks really do come to you first. We plan to be with you for many years to come" -Linda

Hi Ann,
I think one of InfoHorse's best assets is YOU! You are so kind ans welcoming. You make everyone feel special ( a trait you share with John Lyons' wife, Jody).
Things are going well here. My clients are the best and a number of them came from InfoHorse! Of course I will be signing up for 2008.
Kathy Huggins, JL Trainer Pennsylvania

Ann, I cannot begin to tell you how excited we are with our new partnership with InfoHorse. It has been a true pleasure working with you and your professional team. Thank you for your diligence, attention to detail, and patience as we worked to get our information online. It is so very gratifying/refreshing to work with an organization that truly cares about the customer and conveying a clear, concise message to the masses. Thank you.
We look forward to a very long relationship with you and the InfoHorse family!
Warm regards, Equine-Audio, Inc. Barb Paulsen CEO


This was from Chris Cole at Pennwoods.com as per phone conversation with Ann...
"Ann, we are very happy with our response from InfoHorse.com. You guys are bringing us many contacts. Great job."
Harry Hopkins Stall Shif*ter
Ann,
I just took an order from Canada for one of my cordless shifters. I asked the customer as always how he heard about the Stall Shifter. He told me he saw it on InfoHorse.com. Thought you would like to know that covers my ad cost for the year and I have only had my ad up for a week! Good job! Harry
one week later...
Ann,
Wanted to let you know we took our second order in a month that was referred by our ad in Infohorse. Harry
a couple weeks after that...
Ann,
We are very pleased with the results we are getting from InfoHorse. So far I count 4 sales since August I can verify.
Harry

Phone quote to Ann from Tonia at Humane Mfg (stall mats)
We get far better results from InfoHorse.com than we do on more expensive competitors. InfoHorse.com gets real results and our articles are picked up better on Google when we use InfoHorse.com

Melanie Bowles (author of "Horses Of Proud Spirit")
Hi Ann...
All of you have done such a beautiful job with my ad...I am genuinely
impressed and only wish I'd found you sooner!!! Thanks, so very much to
everyone at InfoHorse who worked on my spot for being so professional and
thoughtful. I'm going to encourage any equestrian friend with something
to advertise to contact you folks. You really are far and away the best horse site...it's easy to navigate and all the pages are equally easy on the eye and you go the extra mile for your advertisers. Again, thank you ! Melanie

Colorado Outdoor Adventure Guide School
Ann,
I just wanted to let you know that we are getting good results from our extended exposure on your site. Many thanks to you and your staff!
Thanks, J. Michael Hammond

Savvy Sport Saddle
Hi Ann,
Just a note to thank you for all your help in getting us up and running on InfoHorse.com. We've been up about two weeks now, and had our first saddle sale yesterday from a customer who read about us on your site. Not bad for two weeks, right? We're so pleased with the quality of the ad your folks designed for us, and your help and guidance through the process has made this a sure winner for us! We look forward to a long and fruitful relationship with InfoHorse.com. Have a great day!
Geri and Spencer Gellert- Savvy Sport Saddle

From Jennifer (P.R. person for Ramm Equine, formerly Ramm Fence)
You guys are great! I am happy to refer you! Keep up the good work! We are thrilled with the attention our ad is getting from your visitors!
Jennifer (Morse Group Advertising)

From Matt at Round Pens And More,
Dear Ann
Thanks for directing the woman looking for the round pen to me. I just paid you 2 days ago and it turned into a $1560 sale this morning. I'd say we're off to a pretty good start! Thanks again!! , Matt.

Alice Ferguson at R&R Summer Camp
Ann, I must get thousands of leads from InfoHorse.com each year. Advertising here has been one of the best things I ever did for my summer camp. Keep up the good work!

Bob Smith - Pacific Coast Horseshoeing School
Hi Ann,
I feel like a politician, I make a $400 investment in InfoHorse.com and turn it into $4,000, for each tuition check I receive during the year!! You guys are great!
Thanks for everything. Bob Smith

Molly Thornton, JL Certified Trainer
Thank you for all your hard work. This has been a very successful site for me. I have received dozens of new clients, including one job that will last me over 9 months. Before InfoHorse.com no one knew I was a John Lyon's Certified Trainer but now I have contacts from coast to coast!
Thanks Ann and Happy Holidays Molly Thornton

Hello,
I have seen two people advertised as certified trainers, one in Maine and one in New Hampshire, but they are not on your list. Who should I contact to find out if they are actually certified? If I don't see them at InfoHorse.com, it really makes me question their validity. Thanks for getting back to me; I really need to know what to do as I am looking to start one of my fillies and want a genuine Certified Trainer from John Lyon's! Your site is WONDERFUL and I have told all my equine friends! Thanks to you, America knows where to go to get John's trainers! Joyce B. New Hampshire

Folks Travel Clear Across the U.S to some of our Trainers!!
Note From Bob Jeffreys:
Thanks Ann,
You are right about the Expressinfo. I live and advertise in New York and last year I booked a clinic in FL, IL, VT and western PA with re-books for IL this year. Of course we have the man coming from AK to do Bob's Trainer Ed. Program this year. All possible because of YOU! So I want to really give you a big thank you hug - can you feel it?
I still get lots of inquiries, I even had a man from Alaska register for Bob's Trainer Ed. Program. He inquired off the InfoHorse JL Trainer page. We are talking some serious stuff when I can get a person to come all the way across the country to learn from Bob. This guy is just one of several thanks to InfoHorse!! :-), THANKS TO YOU! -Lisa Zisa

Contact our Senior Marketing Director, Ann
Phone 239-541-8983
email ann@infohorse.com
InfoHorse.com
3013 SE 19th Ave
Cape Coral, Fl. 33904
To advertise your horse product or service, Contact Ann

InfoHorse.com, Horse Information Lives Here ® 1/27/2020
Contact Us to Advertise to over a million Horse Owners.
All images and content Copyright© 2016 by InfoHorse.com, Equusite.com.
Horse Owners are Dog Owners; Dog Product Information dognowner.com

Articles, Academic Schools, Arena Maintenance, Animal Communicators, Barns, Barn and Accessories, Barn Equipment and Tractors, Breast Collars, Grooming Products for Horses, Hay Feeders, Horse Blankets, Horse Books, Horse Videos, Horse Breeders, Horse Camping Gear, Career Schools, Carts and Buggies, Horse Training Clinicians, Equestrian Clothing, Dogs and Puppies, Horse Fencing, Western Art & Furniture, Horse Property for Sale, Horse Products For Sale, Fly Control, Foal Care, Horse Footings, Horse Gifts, Horse Health and Nutrition, Hoof and Leg, Horse Insurance, John Lyons Certified Trainers, Equine Lawyers, Leather Care, Links , Horse Property, Horse Photography, Portable Horse Stalls, Arenas and Roundpens, Horse Riding Schools, Horse Schools, Safety Products, Services for Horses, Horse Trailers, Horse Shipping, Horse Skin Coat Care, Horse Software, Specialty Trainers, Horse Summer Camps, Tack, Horse Trainers, Treats and Snacks, Truck Accessories, Trucks, Horse Vacations, Western Lifestyle, jewelry Equestrian-International.com G+