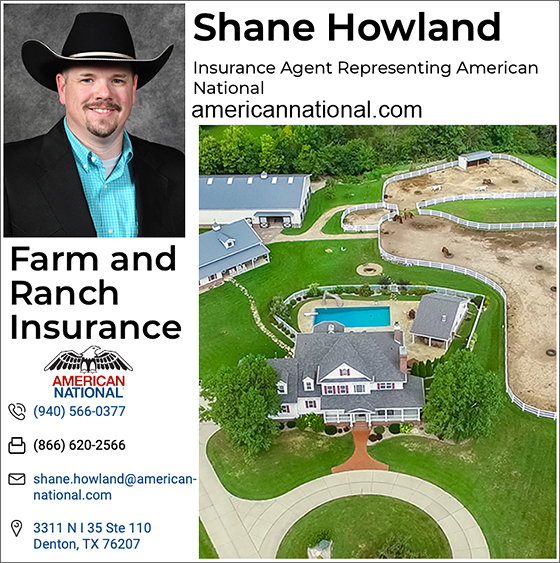 Ranch Insurance with Shane Howland
Shane Howland specializes in RANCH Insurance for your ranch, livestock or farm operation. He will customize just the right amount of insurance to make sure you are covered!

Shane Howland
is an
independent
representative for American National Insurance. Says Shane,
When it comes to horses it's been something I have done and been around since I was a toddler. In High school I competed in the North Texas High School Rodeo Association. Through the years I have raised horse , cattle, sheep, and hogs so my background spans more than just horses. After high school I got a degree in animal science with the plan to go to vet school but in 07 my wife and I were blessed with Triplets (for those that are curious 2 boys and 1 girl) and that shifted my career plans quite a bit. So, I am still helping farmers and ranchers, but now it is to ensure and protect their property, animals and themselves. I love working with, getting to know and help each of my clients. At the end of the day, I know the ranchers I work with all know I am their friend and anxious to look out for their best
interests
.
Note:
American National was once again named to

Forbe's list

of the

top 50 financially trustworthy companies

to do business with!
So, How Do I Know If I Need Ranch/ Farm Insurance?
Glad you asked and the answer is pretty easy;
If you have horses, cattle, goats, sheep, etc. there is a need for you to either have a Farm and Ranch insurance policy or at the least a homeowner's policy with a farm exposure endorsement. Every situation is different and that is where an agent that knows the industry and the need of each client comes into focus.
I know the questions to ask and, wherever possible, I can meet with you on the property to get a good 'eye view' of your particular situation to help protect you from future troubles.
How Is Ranch Insurance DIFFERENT Than "Home Owners" Insurance?
Glad you asked! The main difference is how it is designed. Homeowners policies are really designed for the normal everyday subdivision house. That's not to say if you have a house on some land that a homeowner's policy isn't still right for you. However, if you have any farming/ranching exposure then its time to start looking at a farm and ranch type policy to cover you for the liability of those operations whether you are using your horses for personal use, boarding other people's horses, just have a few cows for the ag exemption, etc.
What If I Have A Horse Training Operation?
Few things are more important to the horse world than good trainers! While you are out there trying to educate horses and keep horse owners safe, we are behind the scenes working to keep YOU and your property safe by making sure you have the correct insurance to fit your situation. As a training facility, this still fits our Farm/Ranch policies. Our policies are designed to be fitted to each individual's operation. Again, we do NOT do "one size fits al".
Every operation is unique,
and each operation faces its own liability exposures whether you run just a boarding facility, teach lessons, or just run goats. So, we sit down with you and have an honest discussion to make sure there aren't any gaps in coverage, so that you are protected, in the event of a claim.
What If I Am A Boarding Stable?
Well, our hat is off to you! Running a quality boarding stable is a lot of work and exercise in patience! You are working with lots of horses, demanding owners, farm help, and even trainers that come on your facility to do training. We will ask the right questions to find out exactly what your particular situation is and then we will design the best, most affordable, highest protection policy so that you can sleep
nights and just worry about feeding and cleaning stalls in the morning! Our goal is to take insurance worry right off the table so you can sleep well every night.
If I am A Property Owner With Just A Few Horses, Do I Need Ranch Insurance?
We have MANY clients in just that position! Its going to depend on the number of horses/livestock that reside on the property. For us anything more than 4 head of livestock doesn't qualify for a home policy and we would move that to a country estate or farm/ranch policy. Anything under 4 you would still have a homeowners policy more than likely but have a farm liability endorsement added to it. Some companies that offer homeowners don't have the endorsement at all or don't cover any claims that arise out of any farm exposure, so we want to make sure that you are protected, but not over insured…just the RIGHT amount of coverage is our goal!
Is It True That Shane Can Bundle My Ranch Insurance With My Auto/ Truck?
Well you just have to KNOW that answer is "YES"! Few things are more 'budget-saving' than BUNDLING! Makes everything so much easier too in the event of a claim. When it comes to bundling we can bundle many lines of business. For instance, we can Bundle Farm/ranch/home with your Auto policies whether personal or commercial
…
. or….We can bundle it with life insurance policies, business owners policies, etc. We
'
ll take a look at what you have, what you need and get you the absolute MOST for your dollar— that is a promise!
Can Shane Help Me With Retirement?
Yes, and it is one of my most satisfying things to do. Making sure that my clients are as comfortable and cared for in their future is mutually satisfying to both me
—
and the clients I am helping! We can help plan
Retirement accounts, whether it be designing or taking over a 401k plan for your business, or if it is for personal needs such as 401K/IRA rollovers. American National offers several great products in this category as well and we are happy to
help create the right one for you!
Will Shane Be My Contact Should I Need To File A Claim?

YES! This is what my client
'
s love— I am HERE for your needs whenever you need me! I will make arrangements with adjusters or help you with claims. You have a problem— you come to me and I am there for you! So, when it comes to a claim, my clients contact me directly to get a claim started, but you do have the
option
to call the company directly to file your own claim. Whatever is best for you. . As a company American National prides itself on a great claims department and experience. So you have several options of contact there, but, never hesitate to call me and I will get you started and make sure you are cared for!
Does Shane Offer Competitive Rates and Coverage Within The Industry?
I am glad you asked that question. I have selected American National for the
very
specific reasons, that they are both highly reliable AND that their rates are reasonable! Rest assured that
our rates are very competitive across all of our product line and especially in the commercial/Ag space. We have a really good placement ratio when it comes to farm and ranch policies especially. Meaning that many of the people we sit down with and run a quote for they move their business to us.
Word Of Caution On Shopping Only On

"

Rates"
We all have heard of people getting amazing coverage,
only
to never have their calls returned or actual payoffs delivered. While rates are important, rates are not our primary concern and I have never sold myself or any of our products on rates. The most important part of any insurance product should be based on the need of the client and to make sure it is covered correctly and are educated on why they are buying the product they are buying. That has and always will be my primary concern that a client is covered correctly regardless of price. Making sure that you are legitimately covered and protected is first and foremost— the fact that I offer very comparable rates, is just the icing on top!
What If My Circumstances Change, Can I Modify My Policy?
This is another great question. You could easily buy more or sell off part of your livestock, or start, or stop to offer training lessons. Whatever it is, we are happy to modify your policy and MOST changes can be made that same day! Just call me and we
'
ll get you set!
Call Shane Today To Make Sure Your Ranch, Farm or Livestock Facility is Covered!
Says Shane:
Well, I hope after reading the information above, that you came away with the knowledge that I CARE about my clients, I work hard to SERVE them and PROTECT them, and their property in every way I can. I don
'
t over insure, and I don't under insure— I take the time to make sure you have WHAT you need, WHEN you need it. My clients are my friends, it is NEVER "just business" with me. I have my cell phone with me and I welcome your calls.
When I work with you, you have a friend in your corner fighting to protect you, your animals and property.
Go ahead, and call me today! If I am on the line helping another client, I'll get right back to you! I am excited to meet you, and, together, we'll figure out just what you need.
---
Contact: Shane Howland
3311 North I-35 Suite #110
Denton, Texas 76207
Phone: 940-566-0377
Email:
Website: Click Here To Connect

---