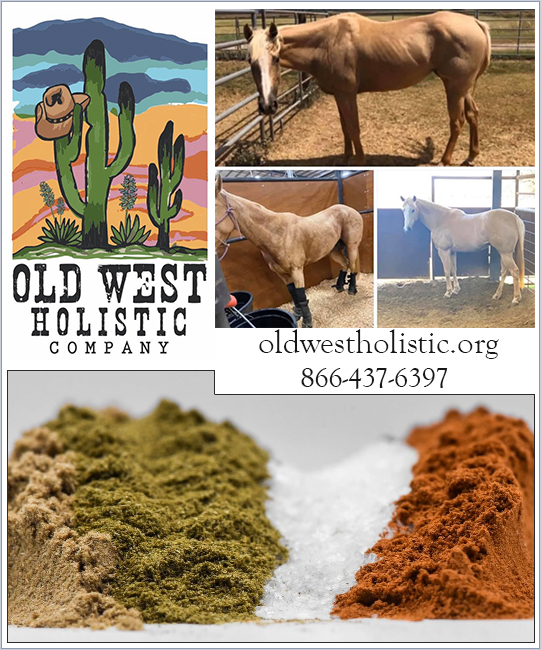 EPMSD by Old West Holistic
EPMSD by Old West Holistic is a 90 day challenge and detox that helps assist the immune system while working to promote the body's innate resistance to pathogens.


About Paige, Horse Owner, Barrel Racer and Developer of EPMSD
EPMSD

was first put to the test in 2012. Paige Conrado, our CEO, was professionally rodeoing when her horse Charm was struck with EPM. After following the vet's protocol Paige still found Charm to be irritable and physically lacking compared to her usual self. Through several avenues of reverse research, a term used when referring to reading studies and educate one's self, she was able to pick 4 ingredients for Charm in attempts to help her.

Soon into the trial period Charm went from looking poor to full bodied and running hard.

Charm went on to successfully compete will into her senior years at a high level, always maintaining her normal physique.
Fast forward to 2016…Paige was approached by a peer with a grimly diagnosed horse. The neurological and muscle wasting were persisting even with multiple medicines put to the test. Vets had ultimately recommended euthanasia. With nothing else to lose Paige took her personal herbs from her tack shed and told her peer to give it one last shot with her home blended "support" herbs. Her peer agreed and quickly left to feed the herbs.

90 days later the horse was making a complete turnaround. His balance was getting stronger and his appetite for life was growing with each day. Fast forward 4 years…the horse lived and Paige knew it was her duty to help more horses facing the same issues. Through self taught processes the product is proudly small batch blended in Hico TX by her team and has helped over 11,000 horses.
Note: This product has gained international attention as well as DVM and Equine Professional recognition across the country.
Can EPMSD Help My Horses With EPM?
We have had many success stories.
EPMSD
can be used on any horse to promote the body's innate resistance to pathogens. Horses are constantly exposed to pathogens— even more so when grazing!
How Is EPMSD Different From Other EPM Supplements?
Our blend is not a treatment for EPM. However, blend does support
the natural function of the systems utilized by the body to overcome environmental factors such a disease and pathogenic infections. Support can be found in systems such as cellular health function, cardiac function, bowel / digestive function, reproductive function, as well as respiratory and lung function.
Can I Use EPMSD With Other EMP Medications?
There is no scientific support noting that our blend will or will not react with EPM treatments. We recommend working with a veterinarian when treatments or ailments are concerned.
Can EPMSD Be Used In the Place of De-Wormers?
Please use veterinary recommended advice when using any deworming products. Your vet will be able to guide you to the right treatment.
Our product has been shown to help support, maintain and promote the body's innate resistance to pathogens.
We recommend pulling fecal tests after 90 days or at least once per year with your licensed veterinarian.
What If I Have An Insulin Resistant Horse?
EPMSD
helps to maintain healthy Blood Glucose levels and for this reason, it is often beneficial to horses displaying symptoms of Insulin Resistance.
What Are The MAIN Benefits That EPMSD Helps To Encourage For My Horse?
Our testimonials come in every month and we are pleased to report that EPMSD helps to support healthy function in your horse in a vast variety of ways.
Normal Physical & Mental Performance.
Cell Function & Cellular Health.
The Protective Layers of the Gut.
Healthy & Normal Bowel / Digestion function.

Normal Stomach PH.
Circulatory & Cardiac Muscle function.
Reproductive function & capacity.
Respiratory Health, Lung function & Oxygen Utilization.
Normal Stamina & Endurance.
Skin Health.
Helps to Maintain:
Blood Glucose levels within Normal Range.
Strong Bones.
Healthy Joints & Connective Tissue.
A Healthy Intestinal Tract.
A Normal Inflammatory Response.

Normal Histamine Response.
Helps to Promote:
Muscle Integrity and Definition.
Optimal Urinary Tract Health.
Cellular Reproduction.
Normal Detoxification.
Is It True That I Take EPMSD For 90 Days— Then Rest For 90 Days?
Yes!

It takes 90 days to proliferate new red blood cells. After taking for 90 days, you would refrain for 90 days and then go back on EPMSD to help maintain health and wellness (so your horse is on it 6 months per year)
How Do I Know This Is Working For My Horse?
You will see a promoted muscle integrity and definition as well as less intake to maintain normal body condition. Your horse may also seem happier with added spark in their eye and 'pep' in their step. Take a look at our

Before/ After

photos and see if YOU can see the difference!
Is It True That The FULL 90 Program Costs Only

$199?
Yes!

It was so important to us that, despite using only the finest, most effective ingredients, that EPMSD was very affordable so that we could help thousands of horse owners world wide. NOW, even veterinarians are starting to recommend as the results have gotten far reaching attention.
What Do Horse Owners SAY About EPMSD?
We have so many testimonials that come to us every week, here are a few!
"Hi Paige, only 2 weeks with hardly any work outs, are you seeing what I am seeing? (photos sent). I'm thrilled!!"
"Good morning Paige! My horses are looking and feeling good with only a couple weeks on your supplement. My 3 year old finally has consistent stool!"
" Ran one of my barrel racers on it after only being on your supplement a week and he has never fired so hard!"
"My EPM gelding has been on EPMSD since Thanksgiving. His eyes are clearer, his hindquarters much more steady. Now he is galloping and has a return to normalcy!"
"First time, in forever, that when I put my ulcer mare's blanket on, she did NOT try to bite me— she is feeling better for sure!"
"Look at my horse's shine (photo sent!) and he is not nearly so moody!"
"My EPM gelding has only been on it a month and already is getting much stronger with a steadier hind end!"
" My Gelding went from partial, hind in paralysis to ID/ Pro money earner!"
"First time in forever since my gelding stood calm for the farrier!"
"My ulcer mare is much calmer"
Doesn't Your Horse Deserve the EMPSD Difference?
We think they do. So many health issues are helped when your horse's body is getting the nutrients he or she needs to maintain health and well being. Give
EPMSD
a try! You (and your horse!) will be glad you did. Take a photo and then another photo 3 months later and see if you don't see— and feel a difference in your horse's performance, behavior and health.
Call Paige and tell her about your horse— and let her help you with an order today!
---
Contact: Jessica or Paige
18625 American Legion Memorial Highway
Hico, Texas 76457
Phone: 866-437-6397
Email:
Website: Click Here To Connect

---